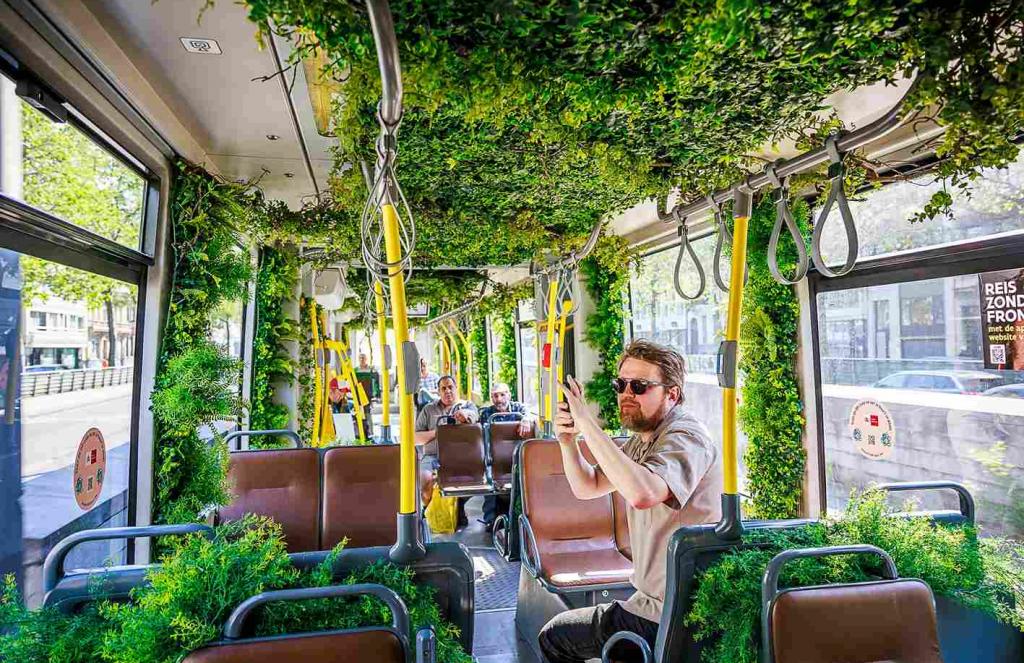 Stepping onto the tram that runs on Antwerp's line 1 can be an awe-inspiring and life-changing experience. Commuters will be amazed to find themselves surrounded by a captivating garden inside the entire vehicle, with plants gracefully hanging from the ceilings and walls, creating a verdant oasis between the windows.
This extraordinary sight is part of the Buurt in Bloom initiative, introduced by the district council, with the goal of inspiring residents to embrace gardening and actively participate in making their surroundings greener and healthier. By transforming the 35-meter-long tram into an imaginative forest, the initiative encourages people to contemplate the possibility of greening any surface imaginable.
Residents living in the central district who are interested in testing their green thumb can request free façade gardens, green garlands, and tree sections, courtesy of district alderman Tom Van den Borne. These green facades go beyond being mere marketing gimmicks; they serve as tangible reminders of the initiative's mission.
To ensure passengers are well-informed about the initiative and don't simply marvel at the transformed tram, a hostess is present on board to provide information. This edition of the initiative follows a successful run last year, which resulted in the creation of over 200 facade gardens, 170 tree sections, and more than 100 green garlands.
Interestingly, while the green garlands can be suspended between houses across the street, it's ironic that one of the conditions is that no tram line runs through the street. Nevertheless, the initiative as a whole provides a unique opportunity for individuals to become urban gardeners and make a genuine commitment to transforming their neighborhoods.
The district takes on the responsibility of removing pavement tiles, installing vertical and horizontal cables, and planting (including potting soil and plant packages with climbing plants). Neighbors, on the other hand, are tasked with maintaining the plants and greenery, fostering a sense of communal involvement in the initiative.