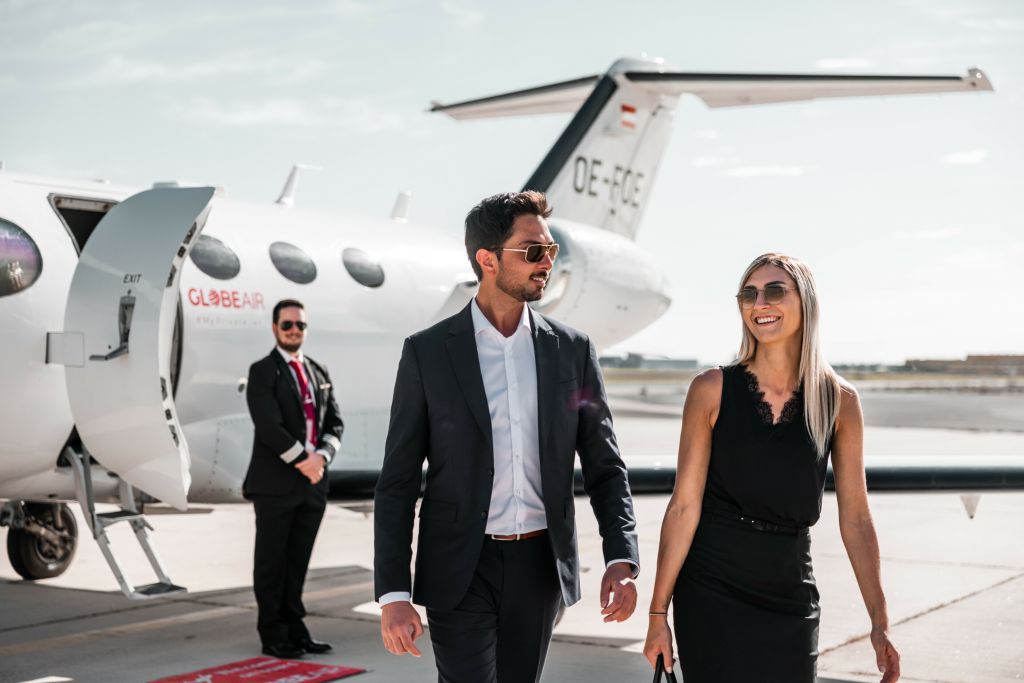 Cryptocurrency has transformed how we think about and utilize money. With the rise of Bitcoin and other digital currencies, individuals and organizations are discovering new and innovative ways to use this technology. One example is to use cryptocurrencies to book a private jet charter.
GlobeAir has also been accepting payments with cryptocurrencies like Bitcoin (BTC), Ethereum (ETH), Bitcoin Cash (BCH) and Dogecoin (DOGE) as a preferred payment method for any private jet booking for more than 3 years via BitPay.
Using this payment method for private jet charters provides various advantages that enhance the experience and make it more enjoyable and convenient.
Cryptocurrency has several advantages over traditional payment systems, ranging from higher security and speedier payment processing to greater flexibility and enhanced privacy.
How do you use Bitpay to book a GlobeAir private jet charter?
Enhanced payment experience creating a seamless journey
Cryptocurrencies, such as Bitcoin and Ethereum, have gained widespread acceptance and broad popularity as payment methods in recent years. One example is booking a private jet using Bitpay, a bitcoin payment processor.
Booking a private jet through Bitpay and GlobeAir is a simple process. First, the customer can visit fly.globeair.com, select their desired flight, and provide their flight itinerary through the online booking portal. GlobeAir will then offer a Bitpay invoice to the customer, which includes the total cost of the flight in cryptocurrency.
You can also contact GlobeAir via WhatsApp or Email and request a specific itinerary. A dedicated member of the GlobeAir DreamTeam will be able to confirm your private jet charter flight and offer an invoice and payment instructions.
The consumer may then pay the invoice using their Bitpay wallet. Bitpay translates the crypto payment to local currency automatically, guaranteeing that the charter firm receives the exact payment for the flight. GlobeAir will confirm the booking after payment is received.
What are the benefits of using cryptocurrency to book a private jet charter?
Crypto payments are increasingly used for luxury activities such as staying in a five-star hotel or enjoying a helicopter trip. Bitcoin and Ethereum, for example, have significant advantages over traditional payment systems, making them appealing alternatives for luxury travel.
The enhanced degree of security is one of the primary advantages of adopting cryptocurrency for private jet charter payments. Additionally, payment processors, such as Bitpay, use advanced security measures to protect against fraud and hacking.
Blockchain technology makes it virtually impossible to break into or fake; as a result, this is why many companies are now accepting cryptocurrency as payment, including private jets!
Another benefit is the speed of the transaction. Cryptocurrency transactions are processed in real-time, which means that the payment is confirmed immediately, unlike traditional payment methods, which can take several days to clear. It is more efficient to make a payment and confirm your trip quickly.
Using cryptocurrency for private jet charter payments also offers greater flexibility and convenience. Travellers can use cryptocurrency from anywhere in the world as long as the customer has internet access and a cryptocurrency wallet. It is especially useful for international travellers who may not have access to traditional payment methods.
Finally, adopting cryptocurrency to pay for private jet charter payments can also offer financial benefits. Digital currency can be less expensive than traditional payment methods, as there are typically lower transaction fees. Additionally, the value can fluctuate, leading to potential savings for the customer.
Cryptocurrency is a safe, secure and convenient way for businesses and individuals to pay for services without intermediaries or third parties. They are making transactions faster, more secure and cheaper than traditional payment methods such as credit cards or wire transfers.
These benefits make it ideal for booking private jets with BitPay at 1% flat rate pricing!