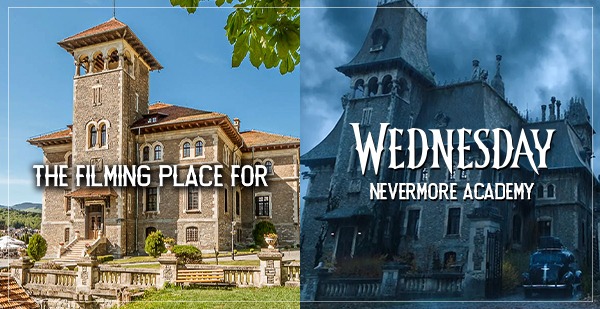 Cantacuzino Castle in Romania became very popular after the release of the series "Wednesday" on Netflix. It was in this castle that the scenes taking place in the Nevermore Academy, where the main character studied, were filmed.
Cantacuzino Castle in the neo-Romanesque style is located in the small town of Bushten in the Romanian Carpathians. Sometimes it is also called Zamora Castle (Zamora Castle) because of its location in the geographical area of Zamora.
The castle was built at the beginning of the 20th century by order of the influential Romanian statesman Gheorghe Grigore Cantacuzino, who was one of the richest men of his time in Romania.
The distance from Bucharest to the town is about 130 kilometers, which can be easily traveled by direct train in less than 2 hours. It is about 30 kilometers to drive here from Brasov, but you will have to make several transfers due to the features of the mountainous terrain.
It is only 1.5 kilometers from Bushteni railway station to Cantacuzino Castle, but you will have to go around a bit.
The total area of the Cantacuzino complex is more than three thousand square meters. The castle building is surrounded by a park, on the territory of which there are a waterfall with a grotto and fountains. The central pavilion exhibits a collection of unique Romanian heraldry representing families related to the House of Cantacuzino, as well as portraits of members of this family. Various temporary exhibitions are also held there. For example, the works of Goya and Dali are currently being shown there.
Anyone can now visit Cantacuzino Castle. An adult ticket, which allows you to visit the castle itself, the Art Gallery and the Sculpture Park, costs 55 Romanian lei (about 12$), but you can visit only the castle and the park for 35 lei (7.5$).
Weissenstein Palace, the sumptuous 18th-century castle featured in Netflix's latest period drama "The Empress", is opening its doors for a lavish stay fit for an empress.