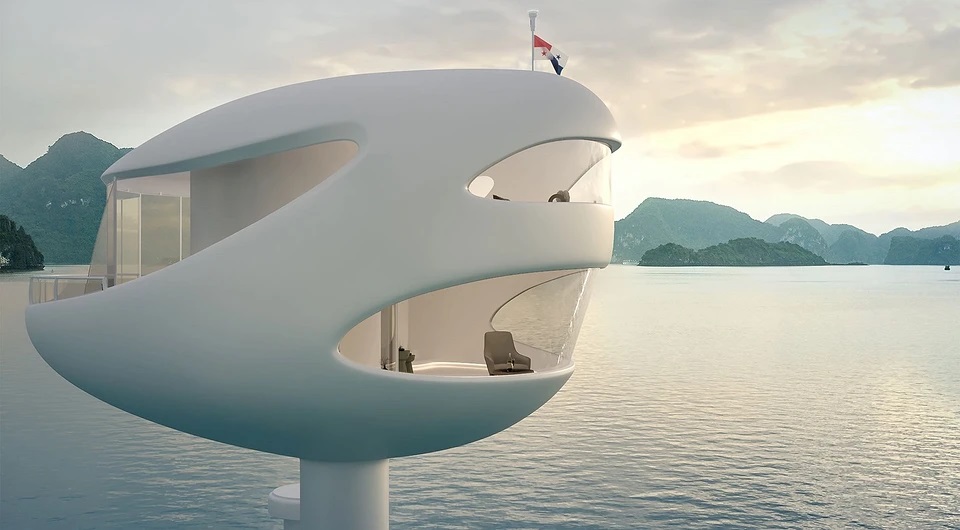 Ocean Builders unveiled their "revolutionary living pods," created in partnership with a team from Waterstudio, the architectural firm that designed the floating houses.
The "world's first eco-restorative homes". These Pods, under construction in the Linton Bay Marina on Panama's north coast, come in three models: the GreenPod, designed to be built on land, the EcoPod, an ecologically and economically friendly option, and the SeaPod, built for an aquatic environment.
The SeaPod was selected for the new project in Panama. In fact, Waterstudio's SeaPod, designed to respond to the needs of seaside resorts, matches perfectly with the expectations of Grant Romundt, the Chief Executive Officer of Ocean Builders.
Smart homes with cutting-edge technology. These floating homes are the point where luxury, technology and ecology meet. Each house will be 2.2 m over the water and will span 250 m2 over three levels. The Pods will have a master suite with a walk-in wardrobe, a bathroom, living room, kitchen and patio. Each home will offer panoramic views of the ocean through immense bay windows.
In addition to their sleek and futuristic design, these floating houses will come with state-of-the-art technology. The homes will be equipped with software allowing owners to control the lights, temperature and water pressure, as well as the sound system and door locks.
With an eye toward eco-responsibility and to minimise the need for travel by boat or other motorised vehicles, drones will deliver groceries, medications and any other purchases to SeaPod residents. An ocean recycling vessel will collect garbage and debris to keep the area clean.
The Pods range from $295,000 to $1.5 million in price, according to the customisation of the home. The first floating houses will be available in Panama by the end of 2023. Ocean Builders expects to build another 1,000 units by 2024. Text's source: en-vols.com.