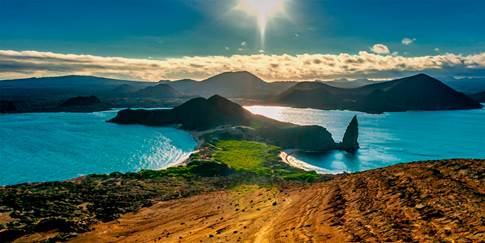 Today, Hilton announced the opening of the extraordinary hotel in the Galapagos Islands – Royal Palm Galapagos, Curio Collection by Hilton, a boutique estate with 21 villas and deluxe rooms brimming with the charm of an Ecuadorian Hacienda. Secluded on a 160-hectare estate in the lush Miconia Highland Forests adjacent to Galapagos National Park, a UNESCO World Heritage Site, Curio Collection by Hilton's newest tranquil sanctuary is a haven for serenity and once-in-a-lifetime wildlife encounters.
"Debuting in a destination that organically welcomes travelers to connect with nature, dream and discover, this momentous opening marks the first international hotel brand in the Galapagos Islands, while making Ecuador the Curio Collection by Hilton brand's 30th country to welcome travelers to its growing portfolio," said Jenna Hackett, global brand head, Curio and Tapestry Collections by Hilton. "With more than 115 unique hotels and resorts around the world, Curio Collection by Hilton properties provide authentic and curated experiences that are both distinctive and draw inspiration from their local communities. Royal Palm Galapagos brings that vision to life, and we look forward to welcoming travelers to this truly one-of-a-kind hotel."
Nestled amid jaw-dropping panorama and unspoiled vegetation on the ethereal Galápagos Islands, located roughly 600 miles off the coast of Ecuador, Royal Palm Galapagos, Curio Collection by Hilton is designed to respectfully maximize guests' interactions with the remote and eco-sensitive destination. Sheltered within a valley between two extinct cinder cone volcanoes, the hotel features nine areas of geological interest from craters to lava tunnels and features newly enhanced accommodations, a reception area, restaurants, and a gym. By the end of 2022, guests can expect a new spa and by mid-2023, the hotel plans to introduce a refreshed pool.
The hotel's 21 villas and deluxe rooms dot the verdant landscape and are adorned with local textiles, earth-toned fixtures and artistic touches, and offer contemporary casual elegance inspired by the natural preserve of the beloved enchanted islands.
The eight deluxe rooms have spacious bedrooms, dining areas and front porches or terraces to bask in the expansive garden and nature reserve vistas. Similarly, the eight villas feature a bedroom, bathroom, jacuzzi room, living/dining room and open fireplaces to relish in the scenic views across the estate and Santa Cruz Island. The executive villas are secluded cottages with a private garden, indoor sauna, living room and dining area with an open fireplace. The largest suite on the property is named in honor of British royals and boasts extreme privacy including two bedrooms, a sauna, private garden areas, an open fireplace, a dining area and more.
For an extra immersive experience, guests can camp at the crossroads of comfort and unspoiled wilderness amidst pristine nature. With three different camping sites, the hotel offers a way to see the diversity of the Galapagos Islands with its overnight camping program.