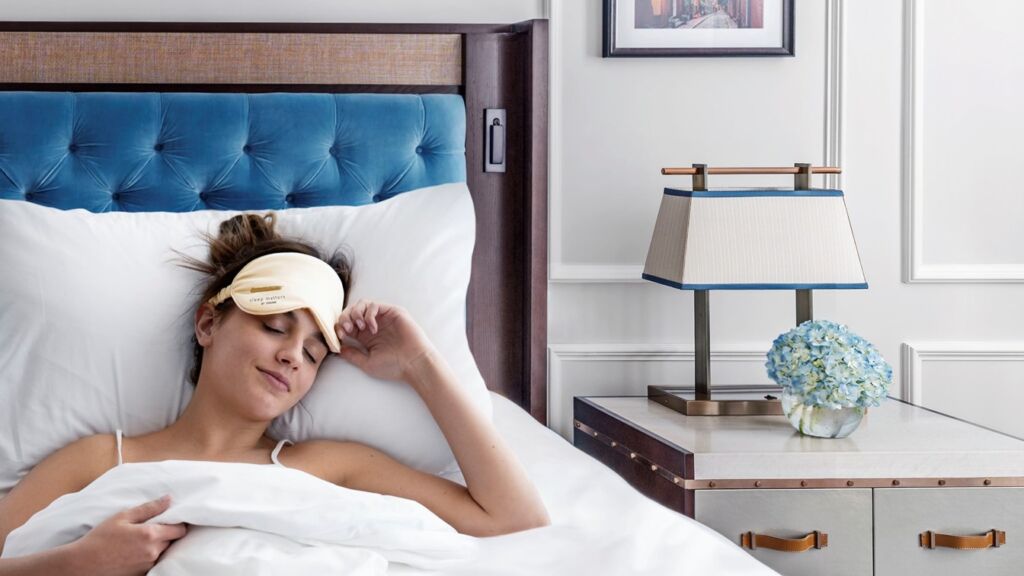 Langham Hospitality Group is helping guests get out of the right side of the bed with the launch of Sleep Matters by Chuan, a comprehensive global sleep wellness programme developed in conjunction with the World Sleep Society.
As sleep plays a vital role in a memorable travel experience, helping travellers enjoy a good night's rest allows for greater enjoyment of a holiday, higher productivity on a business trip, and is the connective element between a hotel and its guests.
Sleep Matters by Chuan rolls out across the globe in time for World Sleep Day (March 18), as The Langham Hotels and Resorts and Cordis Hotels and Resorts, putting sleep wellness at the heart of its mission to help guests rest better in a world where as many as 8 out of 10 people in some global surveys have said they want to improve their sleep.
Langham Hospitality Group's Sleep Matters by Chuan programme has been developed in conjunction with the World Sleep Society's whose mission is dedicated to advancing sleep health worldwide with sleep medicine and scientific expertise. Exclusive elements include a magazine curated by the World Sleep Society as well as elements based around wellness rituals and offerings from Langham Hospitality Group's global spa and wellness brand, Chuan Spa.
"Sleep is one of the essential connections between our hotels and our guests," said Bob van den Oord, Regional Vice President – Operations for North America, Europe and the Middle East of Langham Hospitality Group. "There is a direct link to guest sleep quality and their happiness with their hotel. Sleep Matters by Chuan is deliberately designed to enhance the wellness of our guests with new rituals and habits that they can take home and use long after they have stayed with us."
"Each of our hotels across the world have embraced Sleep Matters by Chuan and introducing their own packages and local elements to delight our guests. We'll be able to introduce our guests to the knowledge of our Chuan Spa wellness concepts in collaboration with the World Sleep Society in one holistic programme, to help them achieve better rest while they are staying with us," he added.
Allan O'Bryan, Executive Director of the World Sleep Society said: "In today's demanding world, regular healthy sleep is a critical foundation to a healthier future. This new global partnership with Langham Hospitality Group aligns with our aim to draw attention to the importance of good sleep for achieving a healthier everyday quality of life."
Guests will have access to a broad selection of offerings at each location:
Sleep Matters Turndown Kit with items to help guide each guest to the best night's sleep possible, including herbal tea; branded ear plugs; cushioned sleep mask and Sleep Tips Cards courtesy of World Sleep Society, a non-profit, professional membership organization dedicated to advancing sleep health worldwide.
Sleep Matters Menu, which allows guests to order a selection of wellness-related items during their stay, including a yoga mat and fitness ball for pre-sleep stretching; weighted blankets, a selection of pillow options and white noise sleep machines; and in selected locations, Chuan elemental oils and lavender bath products for a restful soak before bedtime.
Bedtime reading in the form of a Sleep Matters brochure and a special edition of the World Sleep Society Healthier Sleep Magazine, available in every guest room through a QR code, allowing guests to explore The Langham Hotels & Resorts and Cordis Hotels & Resorts Sleep Matters website, including the Chuan Spa's proprietary Five Elements questionnaire and tips on restful breathing exercises. The Healthier Sleep Magazine was specially curated for Langham and focuses on guest travel. Articles include developing healthy habits for healthy sleep, improving children's sleep, jetlag recovery, circadian rhythms, mindfulness and other useful sleep wellness topics for those on the go.
Spotify playlist of specially curated list of favourite tracks from around the world to help guests relax as they get ready for sleep. Download or stream the World Sleep Society's own playlist for 2022 on Spotify.
Mirror screen by ZENi is the virtual personal trainer in the Sterling Suite at The Langham, London. Studies show that a light workout consisting of stretching and meditative moves like yoga help to improve sleep quality. The Mirror screen by ZENi offers 10,000 classes on demand with a workout to suit every occasion, bringing a personal trainer into your room with you.
The programme will also launch with a series of Instagram Live sessions with experts from the World Sleep Society sharing hints and tips on achieving better sleep.
The Langham Hotels in the United States will also feature SOM, an all-natural, drug-free sleep aid beverage, available in regular and sugar-free options.
The Langham, London has partnered with Hasten, the luxurious all-natural mattress brand from Sweden, which sees a tailor-made bed featured in the luxurious Portland Suite.
Unique CBD experiences as part of their packages will also be available at The Langham in London, Los Angeles and Chicago.
For those seeking deeper solutions for a better night's sleep, The Langham, London is piloting consultations with trusted and renowned Harley Street practice, Sleep Clinic while The Langham, Melbourne has partnered with a TCM consultant as part of their Sleep Matters by Chuan package.
All Chuan Spa locations globally will offer Ear Auricular Therapy for Sleep, while selected hotels will also feature an In-Room Bath Menu.
The pipeline programme for Sleep Matters by Chuan includes a collaboration with StimScience, a startup team of neuroscientists and inventors with a mission to help everybody to sleep better, using personalized neuroscience. Their first product will be Somnee, the only electronic headband to mimic and enhance the brain's natural sleep patterns, safely and effectively improving sleep.