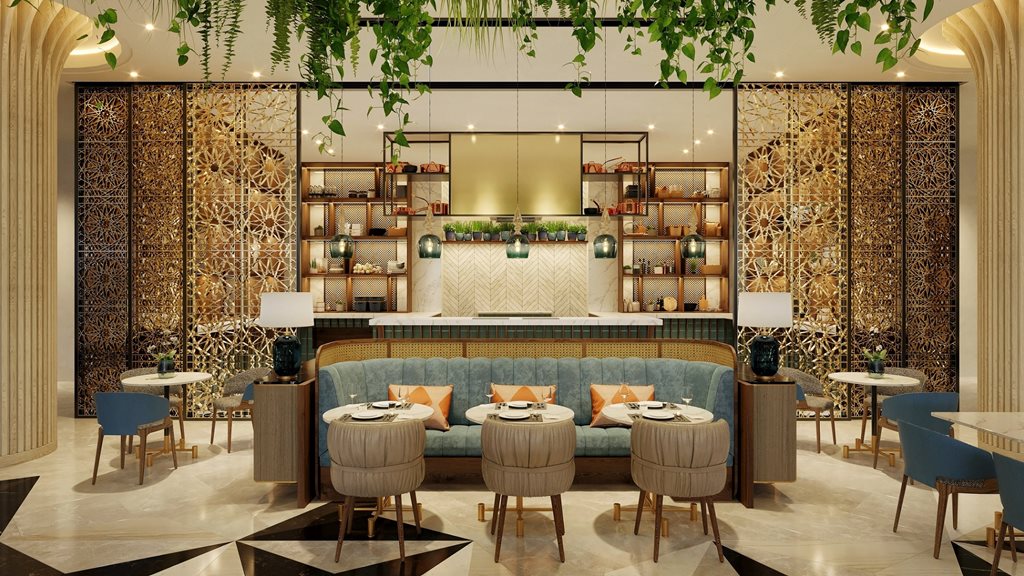 With direct access to the Red Sea waterfront on the secluded offshore of Al Mahar Island and part of the lively port city of Yanbu, arises the upcoming luxury five star Kempinski Hotel & Resort Yanbu, opening later this year. The property will reopen as the leading luxury resort hotel in the Royal Commission of Yanbu in western Saudi Arabia. After a complete closure during the coming months, the existing sprawling complex will be meticulously renovated and repositioned in readiness for the most discerning guests. Offering exclusivity, a bespoke welcome, a place of belonging and a truly private enclave of tranquillity; it will be renowned for its elegance on the beachfront.
In keeping with Saudi Arabia's Vision 2030, the property will cater to myriad travellers, no matter their reason for visiting the area. The Kempinski Hotel & Resort Yanbu will be known as a place for conducting business in addition to being a favoured location for leisure guests. Embracing couples and families from the cities of Jeddah or Al Madinah who seek community club-like experiences, the property will also welcome guests from further afield. Whether booking a luxury couples retreat, a family school term break or a meeting with colleagues, the gourmet restaurants, extensive spa facilities and exceptional meeting spaces will impress. With a comprehensive plan to enhance and upgrade the entire peninsula, the area will be re-energised offering activities for all.
The building plan includes a reduction in the number of deluxe rooms, resulting in 23 spacious additional suites, perfectly complementing the 12 architecturally designed villas and 48 designer apartments, tailored for a bespoke clientele with a taste for the extraordinary. Five high-quality restaurants and lounges will offer exquisite culinary experiences with Kempinski bringing its world-renowned food and beverage knowledge and award-winning chefs to Yanbu. An infinity pool, a fitness centre, a private beach, a marina for excursions to enjoy a day at sea, a diving school as well as spacious meeting and conference areas, which are also particularly suitable for stylish weddings, leave nothing to be desired. A separate and exclusive 3000 sq m Ladies' Spa with its secluded beach, steam baths, hammam, treatment rooms, restaurant and tea lounge, as well as a future prestigious Royal Villa, round off the comprehensive offer.
"We admire Vision 2030 and the Kingdom's strategic planning to create a centre for international trade, linking the East with the West. The expansion of our portfolio in Saudi Arabia is a crucial and important step for Kempinski and we are delighted to be able to offer together with Osama Al-Mutabagani and Al Jazeerah Hotels & Resorts a new luxury hotel destination here in Yanbu," said Bernold Schroeder, Chief Executive Officer Kempinski Group and Chairman of the Board Kempinski AG. "We partner in the belief that a vibrant society is paramount to economic growth and prosperity and we are therefore hopeful that by bringing Kempinski to this part of Saudi Arabia we can contribute to the vision set for the future. The country's heritage alongside its world-class infrastructure and relentless pursuit of developing in a sustainable way fits extremely well with our own company vision. This very special opening on the Red Sea strengthens our commitment to significant growth and adds an extraordinary hotel to our presence in the Kingdom. This follows the Kempinski Hotel Al Othman Al Khobar, our advanced projects in Makkah and Al Madinah and the future project in Al Olaya district in Riyadh. We, at Kempinski, are committed to the collective drive that will see Vision 2030 achieved."
Osama Al-Mutabagani, Owner Al Jazeerah Hotels & Resorts, comments on the management agreement: "We are looking forward to creating an exclusive enclave with impeccable style and high-quality services to meet the demand of today's hotel guests who come with ever-increasing expectations. Together with our partner Kempinski Hotels, one of the world's best luxury hotel operators, we will assure to redefine hospitality in Western Saudi Arabia by revamping this destination for perfect getaways through the finest architecture and contemporary design."
Indeed, the destination of Yanbu has a lot to offer: While in the old town, an important post on the spice route, guests can visit a typical Hijazi building where the famous British military officer T.E. Lawrence lived, the night market Souk Al Lail invites to stroll in the late evening. At Yanbu Lake, one of the largest artificial lakes in the country, a botanical paradise enchants with flora from all over the world, and in the coral-rich bay of Sharm Yanbu, divers find their tourist highlight. In the northeast of the city, Mount Radwa rises to 2,200 m, the highest point in the Al-Nakhil Mountains, known for honey and wild nature and the destination of regular tours.
The future Kempinski Hotel & Resort Yanbu is only 20 minutes away from Yanbu International Airport, which offers domestic flights to Dammam, Jeddah and Riyadh, as well as flights to Cairo, Istanbul, Dubai and Sharjah. By car, it is less than 2.5 hours to Al Madinah and 3.5 hours to Makkah.