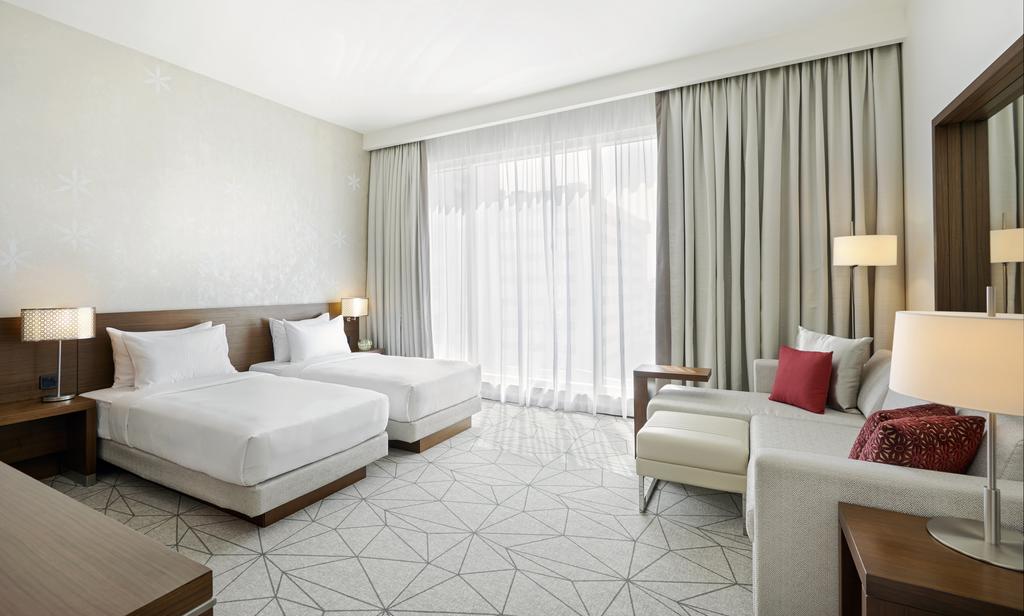 Hyatt Place Vadodara, the fifth Hyatt Place hotel in India, is officially open, expanding the brand's footprint globally in markets that matter most to guests and World of Hyatt members. The new hotel features the Hyatt Place brand's intuitive design, casual atmosphere and practical amenities, such as free Wi-Fi and 24-hour food offerings. Hyatt Place Vadodara has been developed by Nilamber Infratech LLP.
Because Hyatt's efforts are grounded in listening and fueled by care, Hyatt Place hotels combine style, innovation and 24/7 conveniences to create an easy to navigate experience for today's multi-tasking traveler. Spread across an area of approximately 3.14 acres in the city of in Gujarat, Hyatt Place Vadodara is perfectly located for exploring the ever-expanding list of local attractions within the nearby shopping and business districts of the city including the adjacent movie theater, shopping mall and restaurants.
The hotel marks an important milestone for the Hyatt Place brand in India as it joins the other four Hyatt Place branded properties in the country, underlining the brand's popularity amongst guests.
"As the city continues to thrive economically, we are excited to add to the momentum by welcoming guests with an ideal hotel for their stay in the city," said Sunjae Sharma, Vice President & Country Head-India, Hyatt. "With our smartly designed social spaces and guestrooms with separate work and sleep areas, our multitasking guests can easily accomplish what they need to do while on the road."
Hyatt Place Vadodara offers:
117 spacious guestrooms with separate spaces to sleep, work and play, as well as a Cozy Corner sofa-sleeper; the hotel offers a private outdoor garden space in its King Garden rooms and King Suites
Complimentary breakfast for guests featuring a multi-cuisine buffet with live cooking, a range of freshly baked options along with a variety of beverages and a slew of healthy options
Zing, Hyatt Place Vadodara's industrial-themed restaurant, brings an all-day dining experience with buffets and Teppanyaki grills
The Market serving freshly prepared meals anytime, day or night, serving a global and local menu, including scrumptious cakes, muffins and pastries
Necessities program for forgotten items that guests can buy, borrow or enjoy for free
Free Wi-Fi Everywhere throughout hotel and guestrooms
Event Spaces offers 13,696 square feet of flexible, high-tech meeting/function space, including one of the largest pillar-less ballrooms in the city, spread across 5243 square feet and a pre-function area of 3,793 square feet. The hotel also offers a 12-seat Boardroom and a flexible meeting room.
Fitness Center featuring cardio equipment with LCD touchscreens and the city's only infinity pool