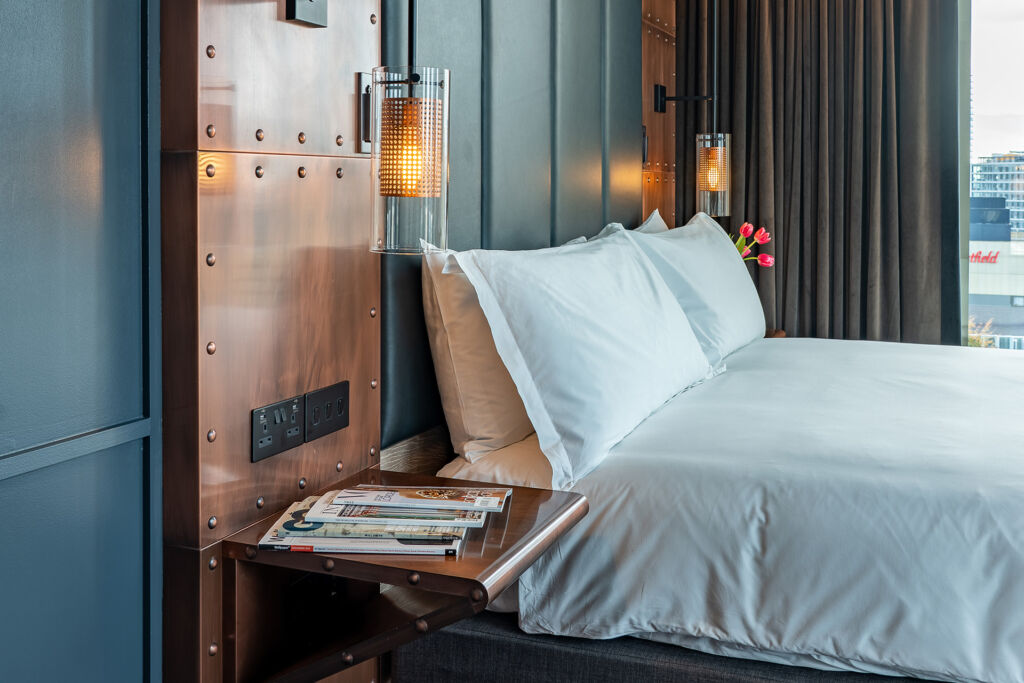 Hilton announces the opening of The Gantry London, Curio Collection by Hilton, Hilton's first hotel in Stratford and the latest addition to the growing Curio Collection by Hilton portfolio. The 18-story and 291-room East London hotel boasts an artisan food market, restaurants, bars and events all under one roof.
Saurabh Kukreja, general manager at The Gantry London, Curio Collection by Hilton, said, "I am excited to bring The Gantry to the fast-developing London neighbourhood of Stratford. With a bold design concept and a compelling product offering, all delivered with a contemporary savoir-faire, we will be pushing the boundaries of conventional hospitality and breaking new grounds."
Stephen Cassidy, senior vice president and managing director, UK & Ireland, Hilton, said, "With almost 60 Curio Collection by Hilton hotels trading or in development across Europe, the Middle East and Africa, we are pleased to open this incredible property as the brand's sixth London hotel. Over the past 10 years, Stratford has cemented its position as a lively cultural hotspot, thanks to world-class shopping experiences, a wide range of exceptional drinking and dining options – as well as, of course, its role as the home of the 2012 Olympics. These qualities, together with the hotel's proximity to major business hubs such as Canary Wharf and the City of London, make the hotel a fantastic option for both business and leisure travellers."
The Gantry's architecture, influenced by Stratford's locomotive manufacturing history, sports a delicate yet distinctive exterior frame formed by slim vertical fins reminiscent of railway lines. The hotel's design draws inspiration from New York's famous Flatiron building, with its narrow triangular footprint and industrial Victorian East London, with an aesthetic that seeps through into the hotel's interiors with regular contrast of raw hard materials and soft furnishings. The hotel's rooms, a mixture of suites and guest rooms, feature copper and dark metal furnishings with natural wooden and velvety textures, all bathed in light from large floor to ceiling windows.
The hotel's prime position allows for quick access to many of Stratford's top attractions. Queen Elizabeth Olympic Park, home to the iconic Olympic Stadium and Britain's tallest sculpture, the ArcelorMittal Orbit, standing at 114.5 metres tall, is a five-minute walk away. Westfield Stratford City, the largest shopping mall in Europe with more than 300 shops and restaurants, is an even shorter walk. Directly in front of Stratford International station — just six minutes from Kings Cross by train — The Gantry is also an ideal option to catch London's most iconic historic sights.
Taking over the first floor, the hotel's main dining spot is Union Social. Flanked on one side by an elegant cocktail bar and open kitchen, with floor-to-ceiling windows and an expansive wraparound terrace, the venue combines the ever-changing landscape of Stratford with an industrial-influenced interior. Coupe at Union Social is The Gantry's very own Sparkling Bar, occupying an eye-catching illuminated counter bar, with its own banquette seating and outdoor terrace. The Gantry hotel sits above The Stratford Grocer & Co.'s bustling food market, deli and coffee shop on the ground floor – set to open fully by mid-January. In spring 2022, The Gantry will also welcome East London's highest rooftop bar and restaurant on its 18th floor.