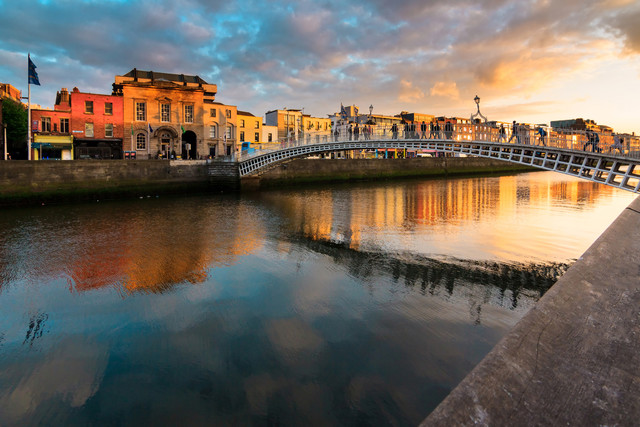 Sunset in Dublin, Ireland
Dublin Airport has launched the latest edition of its flight schedule for the winter season 2021/22. Published in a convenient digital flip book format it shows the airlines, direct routes, services and frequencies available to its passengers from the end of October to the end of March 2022.
Dublin Airport will serve 123 destinations worldwide with 35 airline partners as it continues to rebuild its global reach following the devastating impact on the aviation sector due to COVID-19.
The easy-to-read Dublin Airport guide contains a variety of helpful information such as a list of handy travel tips, passenger safety information as well as the details of all the destinations and frequency of flights served by its airline partners.
Since the last edition was published in September this year, London continues to be the most popular city destination from Dublin. This winter will see 242 London bound flights alone departing Dublin Airport each week.
Over 750 flights will depart Dublin Airport every week, destined for 94 European cities.
With the return of transatlantic travel from November 8, passengers will be able to fly coast to coast direct from Dublin Airport to the USA with 56 flights each week to six destinations, Boston, Chicago, New York, Orlando, San Francisco and Washington DC.
Edel Redmond, Head of B2B and Partner Marketing at Dublin Airport said:
"We are delighted to see such a significant restart to a number of favourite routes in North America and Continental Europe to allow friends, families and businesses reconnect once again. As well as introducing some new routes, it is wonderful to see increased frequency on some of our most popular destinations too, providing even more, choice and flexibility for both business and leisure customers alike."