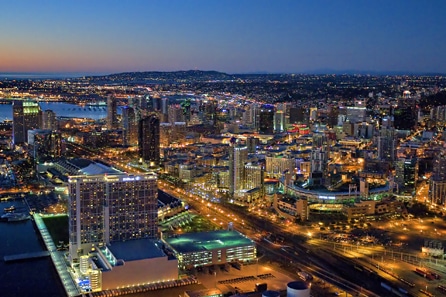 British Airways resumed their nonstop service between London, England, United Kingdom via Heathrow Airport (LHR) and San Diego International Airport (SAN). The resumption comes after British Airways was forced to suspend service in March 2020 due to the COVID-19 pandemic. The airline is the first carrier to resume nonstop service to Europe from San Diego.
"Our global city needs efficient global connections and I'm grateful to British Airways for resuming service to London which will also provide access to other European countries," said Kimberly Becker, San Diego County Regional Airport Authority President and CEO. "San Diego's business community has been asking when this flight would return and after more than a year and a half, we welcome them back. This flight also allows families to reunite and tourists to visit America's Finest City. Regaining service to London on British Airways will provide our region with an economic boost that contributes to our recovery."
"The return of the British Airways London-San Diego service is wonderful news," said Emily Cloke, British Consul General for the US Southwest. "This is a very important route that facilitates strong UK–San Diego economic and cultural links and brings together friends and family. It will once again provide an important bridge for our two countries, as we build back better from the impacts of the pandemic."
The year-round nonstop flights operate three times weekly on Wednesdays, Fridays, and Sundays. Flight BA272 will depart San Diego at 7 p.m. and arrive in London the next day at 1:25 p.m. Flight BA273 will depart London at 1:45 p.m. and arrive in San Diego at 4:55 p.m. All flight times are local.
It is suggested that traveling passengers review the Centers for Disease Control & Prevention's (CDC) international travel recommendations as well as the UK Government's health and travel requirements for the U.S. Before arriving in the United States, air passengers, including U.S. citizens and fully vaccinated people, are required to have a negative COVID-19 test result no more than three days before travel or documentation of recovery from COVID-19 in the past three months before boarding a flight to the U.S.
SAN has an on-site COVID-19 testing option through Carbon Health for travelers wanting to get tested before a trip. Appointments are required and there is a fee for tests. For more information please visit, carbonhealth.com/covid-19-travel-clearance.
British Airways has introduced a number of measures at the airport and on board to look after the safety and wellbeing of its customers and crew. These include social distancing measures, the wearing of face masks, and hand sanitizer stations. Prior to travel customers will also receive details of how they can prepare for their next flight.
The airline is cleaning all key surfaces including seats, screens, seat buckles, and tray tables after every flight and each aircraft is completely cleaned from nose to tail every day. The air on all British Airways flights is fully recycled once every two to three minutes through HEPA filters, which remove microscopic bacteria and virus clusters with over 99.9% efficiency, equivalent to hospital operating theatre standards.