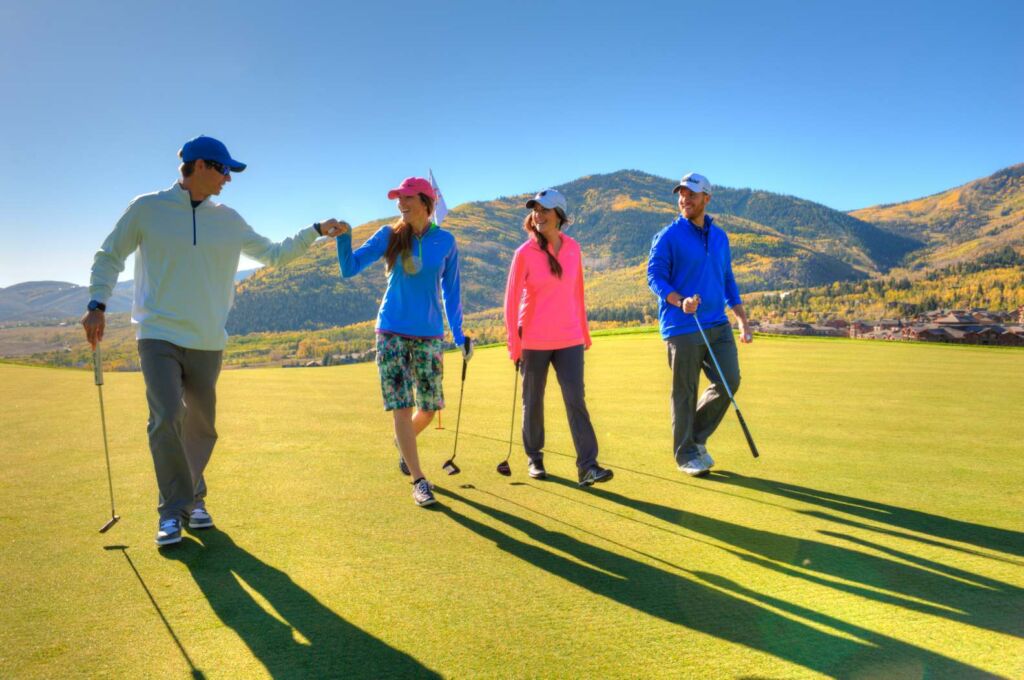 The beauty of the meticulously cared-for courses, the quiet of the fairway, the silence just before the driver connects with the ball. There's so much to love about spending time on the golf course, there's no wonder that the demand for this calming outdoor sport has been on the rise since the start of the pandemic.
According to research by Golf Datatech LLC, the number of rounds played in June 2021 jumped by 23 percent compared to the same month last year. Golf club and equipment sales have also boomed, up a whopping 78 percent this year, indicating that many novice athletes have picked up clubs for the first time, finding a new sport to love.
Here are just four of Hilton's unforgettable golf destinations designed by world-renowned architects. Some even play host to major championships.
Go 'Fore' It in Park City, Utah
Waldorf Astoria Park City in Park City, Utah has booked 22 percent more rounds this year than in 2019 at Canyons Golf, their partner and Vail-managed course. And it's all about location, topography and ideal weather here in Utah. Waldorf Astoria and Canyons Golf sit within the country's largest ski & snowboard resort – the Vail Resorts, owned & managed by the Park City Mountain Resort – where summer weather is nearly perfect every day with mountain breezes and low humidity. Here, golfers can play surrounded by million-dollar views, including world-famous ski runs, Wasatch and Uinta Mountains and surrounding valleys, from every hole. Designed by renowned course architects Gene and Casey Bates, this course winds through 97 acres in the heart of Canyons Village and offers 18 holes of challenging and enjoyable golf.
'Putt' Around in Puerto Rico
Golf is on the upswing in Puerto Rico! Guests and visitors to Hilton Ponce Golf & Casino Resort have booked approximately 1,200 rounds more than they did in 2019 at the on-site Costa Caribe Golf & Country Club. Located in Puerto Rico's second-largest city, golfers can play on the island's first green at this 27-hole championship golf course with stunning views of central mountains and the Caribbean Sea. Not ready for a round of golf? Practice your golf skills at the putting greens, chipping areas and lit-up driving ranges. Hilton Ponce Golf & Casino Resort offers a Golf Stay & Play package including unlimited golf with green fees and golf carts for two adults, continental breakfast for two at La Terraza Restaurant and two welcome drinks.
Green' and Bear It in Palm Springs
Golf demand during the pandemic has also been significantly higher than before at La Quinta Resort & Club, A Waldorf Astoria Resort (named a top golf resort by Golf Magazine, Golf Digest, and more) and its nearby golf course partners. As the Western Home of Golf in America, the resort offers five resort courses designed by masters of the game: Pete Dye, Greg Norman, and Jack Nicklaus. Walk in the footsteps of golf legends on the Stadium Course at PGA WEST, ranked among some of the best courses in the world; home of the PGA TOUR's The American Express Golf Tournament; a par-72 course designed by Pete Dye. The intensity and demand of the Nicklaus Tournament Course at PGA West is tempered by the dramatic beauty and excitement of playing one of the most highly-regarded courses in the Palm Springs area. Others include the Pete Dye Mountain Course at La Quinta Resort, the Greg Norman Course at PGA West, and the Pete Dye Dunes Course at La Quinta Resort.
Aim for an Eagle in La Jolla, CA
Not only has the hotel concierge team at Hilton La Jolla Torrey Pines booked more golf rounds this year than in 2019, but the resort also offers its guests exclusive, guaranteed tee times at the world-famous Torrey Pines Golf Course, the location of the 2021 US Open. The hotel also has a Golf Stay & Play package that includes a round of golf. Graced by the most legendary golfers in sports history, the illustrious Torrey Pines Golf Course is a golf ball's toss away from guest rooms and has everything you need to up your game, including an onsite pro golf instructor and a driving range for warming up