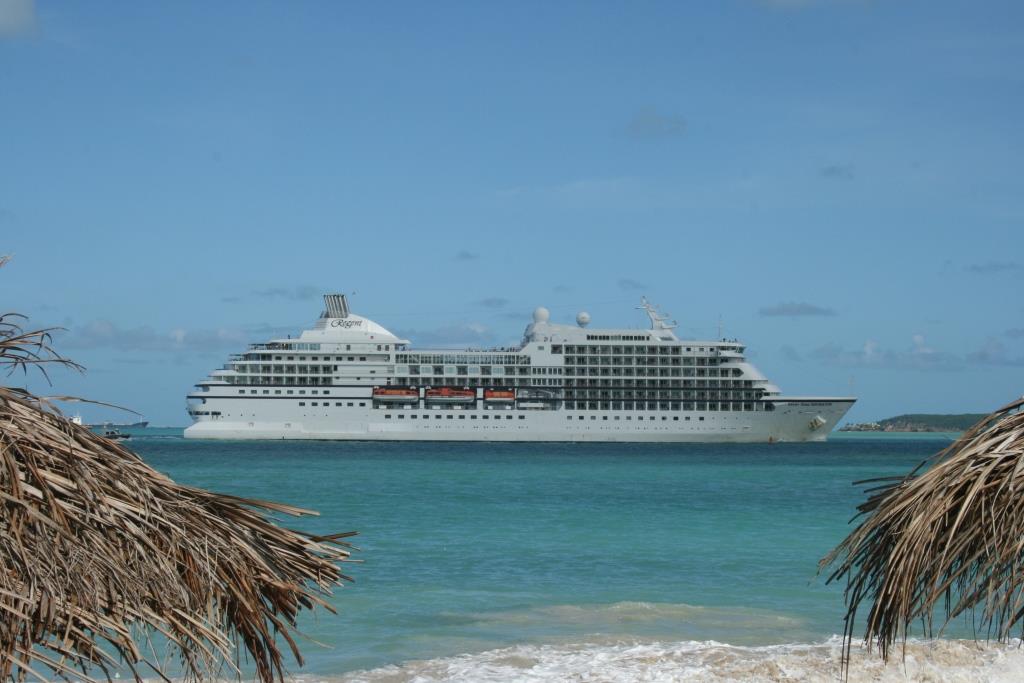 Regent Seven Seas Cruises has revealed its 2024 World Cruise. The incredible voyage goes on sale July 14, 2021 and explores Central America, USA's West Coast and Hawaii, South Pacific Islands, Australia and New Zealand, Southeast Asia, the Indian subcontinent, the Middle East, the Mediterranean, and Bermuda.
Spanning close to five months and 34,500 nautical miles, Navigate the World begins on January 6, 2024, roundtrip Miami, Florida, on board the elegant Seven Seas Mariner®. Over 132-nights the ship visits 66 ports of call across 31 countries and four continents, offering unrivalled destination-immersion with 442 FREE shore excursions, as well as 12 in-port overnight stays and crossings of both the Panama Canal and Suez Canal.
The sailing also provides access to 61 UNESCO World Heritage Sites, the most the cruise line has ever visited on a world cruise. The Gondwana Rainforests of Australia, the Churches and Convents of Goa and Tuscany's Medici Villas and Gardens are just some of the iconic World Heritage Sites that can be explored.
Discerning travellers will also enjoy exclusive shoreside experiences in three destinations – Wellington, New Zealand; Mumbai, India; and Málaga, Spain – as well as a pre-cruise gala in a luxury hotel in Miami.
At an additional cost there are 18 optional land programmes, 11 of which are completely new. The multi-night land programmes could see guests discover Ayers Rock in Australia; fall in love with India's eternal masterpiece the Taj Mahal; and experience the singular beauty of the Great Pyramids of Giza, all in one cruise.
Full voyage details can be found at RSSC.com/2024-World-Cruise or in the dedicated brochure and an enticing World Cruise 2024 video has also been created.
"The past two years we have seen record booking world cruise launch days, which is a testament to our guests' enduring passion for travel and illustrates just how special these voyages are," said Jason Montague, president and chief executive officer, Regent Seven Seas Cruises. "We believe our 2024 World Cruise is our most enriching to date, representing the opportunity for uniquely immersive exploration thanks to access to a huge number of UNESCO World Heritage Sites and hundreds of FREE shore excursions. Add to this the fact that the cruise is on board the elegant, all-suite, all-balcony Seven Seas Mariner, plus an incredible array of luxurious amenities, and I'm sure the 2024 World Cruise will sell out quickly too."
Regent's 2024 World Cruise includes exclusive amenities such as US$550 shipboard credit per guest, unlimited valet laundry, dry-cleaning and pressing, phone time per suite, onboard medical service, a commemorative gift and more. Also included in the voyage fare is the exceptional personalised service, exquisite speciality restaurants, premium beverages in lavish bars and lounges, fantastic entertainment and unlimited internet access found on board all Regent voyages.
Fares start at €59,999 per guest for a Deluxe Veranda Suite, and €164,549 per guest for the indulgent luxury of a Master Suite. Measuring 186 square metres, Seven Seas Mariner's Master Suites boast the sophisticated comfort of rosewood furniture, the finest fabrics, crystal chandeliers and a personal butler. In addition, the expansive Suites have two bedrooms, two and a half bathrooms, a large living room and two private balconies.
World Cruise 2024 in Numbers:
34,500 Nautical Miles
442 FREE Shore Excursions
66 Ports of Call
61 UNESCO World Heritage Sites
31 Countries
15 Seas, Straits, Gulfs, Bays & Channels Cruised
12 Overnight Stays
4 Continents
3 Oceans Cruised
2 Canal Crossings
61 UNESCO World Heritage Sites Include:
Gondwana Rainforests of Australia from Brisbane, Australia
Choirokoitia from Limassol, Cyprus
Medieval City of Rhodes from Rhodes, Greece
Hawaii Volcanoes National Park from Hilo, Hawaii
Churches and Convents of Goa from Goa (Mormugao), India
Medici Villas and Gardens from Tuscany (Livorno), Italy
Archaeological Heritage of the Lenggong Valley from Penang, Malaysia
Tongariro National Park from Napier, New Zealand
León Cathedral from Corinto, Nicaragua
Three NEW Shoreside Experiences, Exclusively for 2024 World Cruise Guests:
Soundscapes in the Garden
February 26, 2024 – Wellington, New Zealand
A small group of guests will stroll through the bushland and manicured gardens of Wellington's
lush Botanic Gardens, followed by a private concert with the Wellington Orchestra and Pasifika
choir.
The Bombay Bazaar
April 2, 2024 – Mumbai, India
Guests design their own traditional Indian handicrafts by participating in cotton weaving, kettle
painting, block printing, and pottery, before being treated to an exquisite dinner and cultural show
hosted by film and television star, Poppy Jabal.
Reservatauro
May 5, 2024 – Málaga, Spain
Hidden in the hills of Andalusia, the magnificent Reservatauro is the venue for an exclusive dressage
demonstration and riveting flamenco show. Guest will also savour Málaga's finest sherry wine, Serrano
ham and a bountiful paella.
18 Optional Overland Programmes, 11 NEW Experiences (all at additional cost):
NEW Australia's Wild Wonders – 3 nights from Brisbane, Australia
NEW Reef Life & Desert Delights – 4 nights from Cairns, Australia
NEW Wolgan Valley Escape – 2 nights from Sydney, Australia
Egypt's Renowned Relics: Luxor & the Pyramids – 1 night from Luxor (Safaga), Egypt
The Jewels of Luxor – 1 night from Luxor (Safaga), Egypt
Ajanta & Ellora Caves – 3 nights from Cochin, India
Himalayan Kingdom of Nepal – 3 nights from Cochin, India
Taj Mahal: Eternal Masterpiece – 3 nights from Cochin, India
NEW Tigers & the Pink City – 3 nights from Cochin, India
NEW Java's Historic Heartland – 2 nights from Bali, Indonesia
NEW The Insider's Java – 2 nights from Bali, Indonesia
NEW Treasured Temples & Orangutans – 2 nights from Semarang, Indonesia
Ancient Temples of Bagan – 1 night from Yangon, Myanmar
Authentic Inle Lake – 1 night from Yangon, Myanmar
NEW The Best of New Zealand – 3 nights from Auckland, New Zealand
NEW Angkor Wat Wonders – 3 nights from Singapore
NEW The Angkor Empire – 3 nights from Singapore
NEW Spain's Incredible Interior – 3 nights from Barcelona, Spain