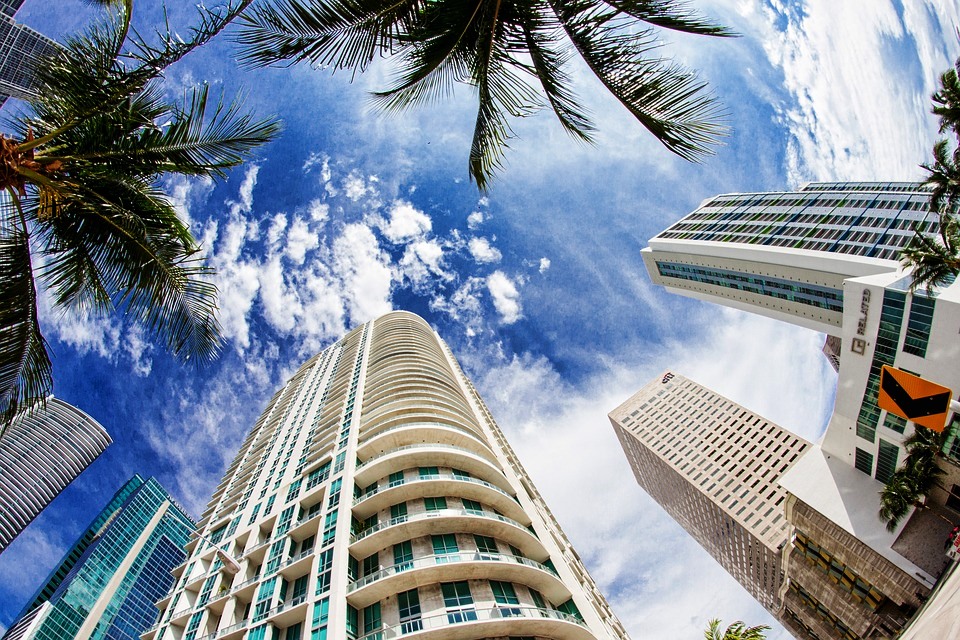 Located in the metropolitan city of Aventura, Fla., the new Hilton Aventura Miami opens its doors March 23, 2021. The upscale hotel is poised to welcome locals, leisure and business travelers, and groups, with well-appointed accommodations, a robust culinary program, artful touches, premium business services and vibrant lifestyle amenities. The 208-room hotel is surrounded by world-class shopping, South Florida's finest beaches, golf courses and casinos and is a short drive from Miami and Fort Lauderdale International airports.
With a sleek, modern-line architecture by Prime Design Associates, the hotel's pristine white and gray exterior wraps an interior canvas of grays and warm neutrals with metallic highlights. A stylized artistic presence is evident by oversized garage murals and the black-and-white lobby and in-room art canvases. The main reception of white marble flooring, cozy leather lounge chairs and a modern glass fireplace frames an extravagant welcome. The well-appointed guest rooms and suites start at 406 square feet, with many boasting floor-to-ceiling windows and most providing sweeping views of South Florida. Additional room features include a segmented leather headboard and modern white couches and desks offset by black and white flooring, accents and artwork.
The hotel's heart is the seventh-floor lobby overlooking Aventura. This elevated deck includes the signature restaurant, Gala, as well as MuseBar, Hilton Executive Lounge, The Reserve, Library and an elevated pool deck with skyline views and private cabanas. The Executive Lounge provides a relaxed, corporate environment for laid-back brainstorming or social gathering, includes breakfast options, coffee and assorted snacks and beverages, and is accessible to those booking executive-level accommodations, as well as locals with memberships. The Library offers a separate gathering area with large-screen viewing and private alcoves to enjoy cocktails and company. Other hotel amenities include a 24-hour fitness center, an eighth-story yoga studio, complimentary Wi-Fi, valet and self-parking garage with electric charging stations.
Hilton Aventura Miami will offer multiple dining options with fresh, seasonal cuisine for all palates. The two signature locations, Gala and MuseBar, are inspired by the Muse's role for the ideas, influence, entertainment and inspiring creative endeavors. Gala serves guests breakfast, lunch and dinner with indoor and outdoor seating and a modern, South American-inspired menu reflective of Miami's love of fresh seafood and tapas. Complementing Gala is MuseBar, a bustling bar offering floor-to-ceiling views of Aventura, specialty cocktails and light bites in a refined yet spirited setting highlighted by a featured centerpiece of silver sculptures suspended high above the bar. The Pool Bar offers hand-crafted salads, sandwiches and other light bites, along with colorful cocktails servicing the poolside cabanas by day and offering an after-dinner retreat by night. The Reserve serves coffee and other on-the-go snacks and refreshments. Individually prepared meals are also available for in-room dining or delivery to area businesses and residents.
Hilton Aventura Miami will serve local meeting needs, weddings and corporate groups as Aventura's second-largest event space with more than 15,000 square feet of indoor and outdoor function space, a grand ballroom capable of accommodating up to 600 persons, six breakout rooms, the area's only event-dedicated kitchen and on-site audio-visual services. As part of its commitment to address safe group travel practices and evolve the event experience, Hilton Aventura Miami will also take part in Hilton's EventReady with CleanStay, a global, industry-leading cleanliness and customer service program specific to meetings and events.
"While the hotel has a prime location right across from the Aventura Mall, we look forward to welcoming travelers and locals alike with amenities beyond the optimal shopping location," said Kai Fischer, general manager, Hilton Aventura Miami. "We plan to create an ambiance that is welcoming to all by offering premium amenities for the discerning luxury traveler, as well as vibrant lifestyle amenities for those seeking to socialize and relax in an upscale, yet laid-back environment. I'm particularly excited to see the Executive Lounge and pool deck come to life. As we move into 2021 and beyond, we look forward to showcasing our grand ballroom and event spaces for special occasions, conferences and weddings."
In accordance with Hilton, Hilton Aventura Miami is participating in the Hilton CleanStay Program to help guests enjoy a clean and safe experience during their stay. The new standards under Hilton CleanStay include a Hilton CleanStay Room Seal to show that a room has not been accessed since being thoroughly cleaned and disinfected, additional cleaning of common areas and items, contactless check-in, innovative disinfection technology and flexible housekeeping options.
"We are thrilled to welcome Hilton Aventura Miami as the latest addition to Hilton's flagship brand. As we continue to expand Hilton Hotels & Resorts' footprint in key destinations around the world, we are pleased to offer guests and loyal Hilton Honors members a new option when visiting the Miami area," said Gary Steffen, global brand head, Hilton Hotels & Resorts. "With more travelers looking to book their next getaway, we look forward to extending Hilton's renowned hospitality and exceptional experiences to business and leisure travelers alike."