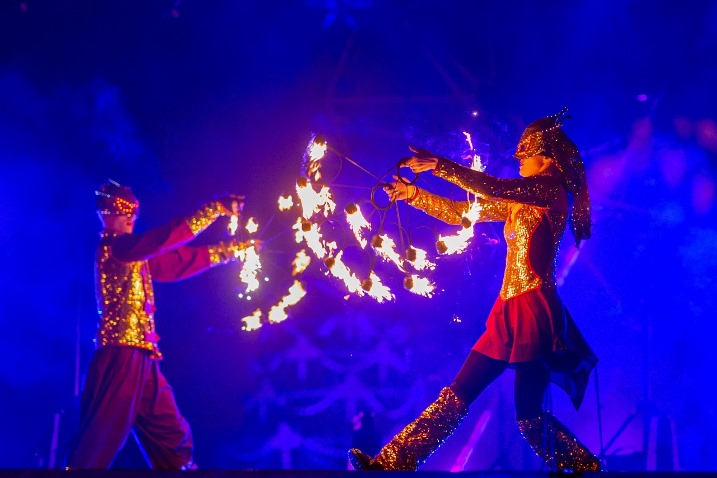 The Northern Capital has prepared a grandiose pyrotechnic show Petrovsky Fire Festival "Christmas Star", which is to be held at five venues in the most iconic places of St. Petersburg. Viewers from Russia and other countries will be able to enjoy a fascinating event just by connecting to an online broadcast on the official city tourist portal visit-petersburg.ru on January 7, 2021 at 20:00.
St. Petersburg carries on the traditions established in the times of Peter the Great. Three centuries ago, the most ambitious fire performances took place during the New Year's Eve and Christmas holidays. In those times, the city had already become the capital of fireworks and fire performances. Pyrotechnics, public entertainment and cannon firing made up an integral part of the winter holidays and festivities.
Today St. Petersburg invites everyone to participate online in the festival of fire! The show program includes colorful fireworks, large-scale laser and light shows, as well as original performances of the theatre of fire.
The spectacle is created by masters of light and laser, artists, 3D graphics and animation designers, who will transform the venues with their art.
The event includes a competition of the most skillful pyrotechnics. Teams from Moscow, St. Petersburg, Yekaterinburg, Kostroma, Nizhny Novgorod, Samara, Syktyvkar and Kazakhstan will demonstrate their mastership. The members of the professional jury, the best international experts in the field of pyrotechnic art from Andorra, Bulgaria, Spain, Italy, China, Malta, Portugal and the USA, will evaluate their skills online. Viewers will also be able to vote for their favorite performance. Voting will take place in the official group of the Festival on VKontakte and Facebook, as well as on the portal https://visit-petersburg.ru.