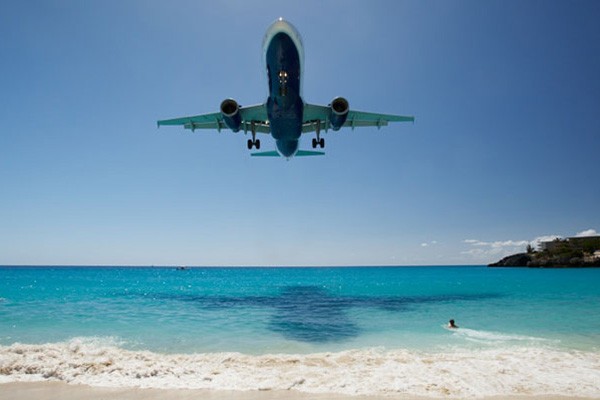 St Maarten (Princess Juliana International) Airport
In order to get to Saint Martin / Sint Maarten, by air or by sea, the Tourist Office provides you with the latest information and regulations known to date concerning the entry into the territory.
Princess Juliana International Airport, Sint Maarten :
Most of the international flights have resumed, as are some regional flights. However, a negative rt-PCR test performed within 120 hours prior to departure to Sint Maarten (last leg in case of connecting flights) is required for all travelers originating from a country that is categorized as high or moderate risk.
An online health authorization application must be filled and approved before your travel : https://stmaartenehas.com/
The rt-PCR test is not mandatory for children under the age of 10.
For more information and up to date travel regulations, please visit Sint Maarten Government's official website: https://stmaartenehas.com/
Grand Case Espérance Airport:
Between Guadeloupe, Martinique and Saint Martin, with the exception of Saint Barthélemy:
Travel is prohibited unless if based on an overriding personal or family reason, an emergency health reason or a professional reason that cannot be postponed.
These conditions do not apply to passengers in transit to and from Paris.
Travelers must present to the airline, before boarding, one or more supporting documents as well as a sworn statement stating the reason for travel available via the link.
For more information and up to date travel regulations, please visit the Prefecture de Saint Martin et de Saint Barthélemy's website.
On the French side, bars, restaurants and shops must close at midnight at the latest.
(Wearing a mask is mandatory from 7 a.m. to 2 a.m. in areas frequented by a large public, such as bars, schools and shops's surroundings, for one month starting Friday September 18th.)
On the Dutch side, nightclubs, bars and restaurants must close at midnight at the latest.
On both sides, social distancing must be respected and wearing a mask is mandatory in closed establishments.
Ferries
Connections between St. Martin and the nearby island of Anguilla are suspended until November 1st. Connections to St. Barthelemy are maintained.
Travel between Saint Barthélemy and Saint Martin (and vice versa) is not subject to any compelling reason.
Marina Fort Louis
The Captaincy welcomes the public from 8 a.m. to 12 p.m. and from 2 p.m. to 5 p.m., Monday to Friday and from 8 a.m. to 12 p.m. on Weekends and holidays.
However, contacts by phone, email and online procedures are preferred – Tel : 590 590 773126
Access to the Marina is possible to those complying with health safety guidelines.
Cruise port
The reception of cruise ships is prohibited on both sides of the island. The refueling of cruise ships is authorized.