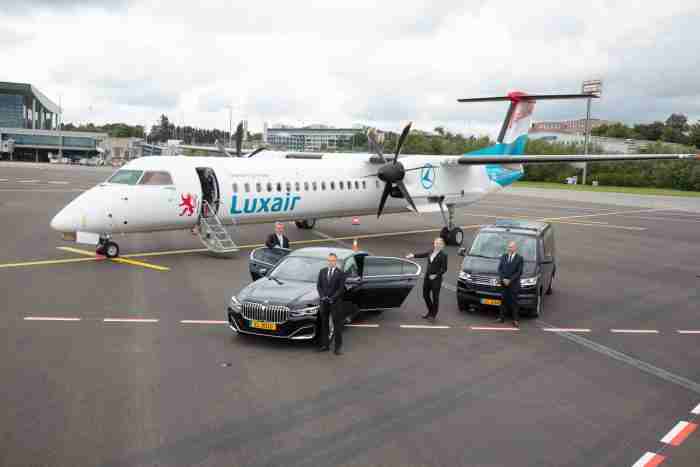 © Vincent Flamion
Offering its customers, a high-end limousine service with top-class drivers for more than four years, Executive Lane, intends to bring more flexibility to its customers by launching its new service "Business Club" in cooperation with lux-Airport. This new service has been installed since May 29 at Luxembourg Airport, in the arrival hall (level -1).
The new service "Business Club", offered to companies and individuals, allows flexibility and punctuality to be combined for journeys to and from the airport, but above all for short distance journeys to all destinations. Large international companies are already members and are taking advantage of this on-demand mobility offer. By joining this club for the payment of a monthly subscription, customers have access to business or premium limousines at a preferential rate, package and by reservation only.
A question to the Head of Business Unit of Executive Lane – Business Club, Andreas Stoermer, on the advisability of setting up at Luxembourg Airport: "The experience of recent years has shown that the points of departure and arrival of our customers are located mainly in the surroundings of Luxembourg-City. To be able to react more flexibly to their requirements, we decided to look for a new site in the immediate vicinity of our customers. Our first choice was the airport, which is perfectly adapted to our new concept because of its infrastructure. "
"lux-Airport usually has a high percentage of business travelers, so we are delighted to launch the Executive – Business Club at Luxembourg Airport. With the implementation of the new tailor-made service, we once again offer our passengers the quality and service they expect", says René Steinhaus, CEO of lux-Airport.
The launch of the Business Club is an important step in the development of Executive Lane's commercial offering. As a subsidiary of the Luxembourgish family business SLG, Executive Lane wants to improve day-to-day mobility and therefore always strives to find new solutions that make people's lives easier.
Booking the Business Club service is possible through different ways: by e-mail request, by phone during office hours or by filling in the contact page on the website.
Always aiming to bring more flexibility to its customers, Executive Lane will soon offer the possibility of booking its services via a dedicated application, with immediate confirmation on the availability of vehicles.
Reliability, comfort, discretion
The offer of Executive Lane and the Business Club is not limited to standard vehicles: it extends to cars of 4, 6, 14 seats and up to the largest limousine in Europe with its 21 seats. Multilingual drivers are trained to transport VIPs and are therefore able to react effectively in any situation.
Whether for individuals or business clients, Executive Lane is continuously striving to meet all market needs with personalized vehicles and customer-oriented service.
Executive Lane – Business Club
Luxembourg Airport
Arrival hall, level -1
L-1110 Luxembourg
Luxair starts its direct service between Budapest and Luxembourg at the beginning of August.