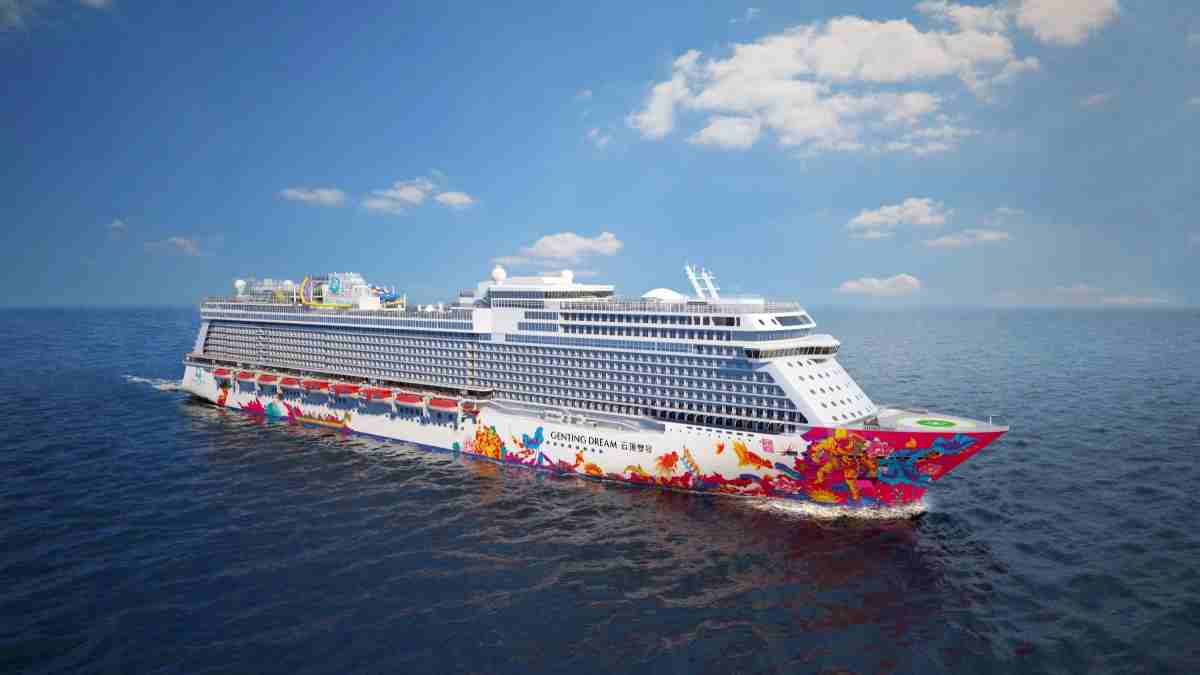 Dream Cruises celebrated the re-start of its cruise service and return to Taiwan with new "Island Hopping" itineraries created especially for the Taiwan market. Dream Cruises will offer new cruises calling into the popular ports and islands of Peng Hu, Matsu Island and Kinmen as well as Hualien, where Taiwanese guests will again be able to enjoy refreshing short getaways on carefree ocean voyages.
The landmark event was attended by a number of important guests from Taiwan including the Minister of Transportation and Communications, Mr. Lin Chia-lung; the Minister of Health & Welfare, Mr. Chen Shih-chung; the Mayor, Keelung Government, Mr. Lin Yu-chang; the Director General of Maritime and Port Bureau, MOTC, Mr. Kuo Tien Kuei; the Deputy Director General of Taiwan Centers for Disease Control, Mr. Chuang Jen-Hsiang; business partners, the media and representatives of Genting Cruise Lines.
"It is a great honour for Genting Cruise Lines to continue its long and fruitful partnership with Taiwan which began over 20 years ago, as we begin on the road to recovery together due to the COVID-19 pandemic and which will bring hope to the global cruise industry as well," said Mr. Kent Zhu, President of Genting Cruise Lines.
"We could not have done this alone and I would like to acknowledge the great encouragement we have received from all the various Taiwanese authorities –namely the Ministry of Transportation and Communications, which demonstrated their immense support of the travel industry; the Ministry of Health & Welfare, for their trust and confidence in us; the Ministry of the Interior for their continuous assistance; and the warm hospitality and advocacy from the City of Keelung –and our travel partners and all of our media friends who have been instrumental in making this day happen," Mr. Zhu continued.
With the backing of local authorities and through their vision to reinvigorate the local economy and the tourism industry, Dream Cruises' innovative island-hopping cruises onboard Explorer Dream will highlight the physical and geographic beauty of Taiwan, allowing travellers to enjoy a long-awaited holiday at sea to scenic destinations along the coastline and outlying islands with total peace of mind. These cruises will also showcase the very best that Taiwan has to offer in terms of its culinary heritage as well as its entertaining cultural heritage.
For a taste of Taiwan, collaborations have been forged with the Council of Agriculture to provide local produce on board Explorer Dream and a new order-to-home service for their "2020 Top 100 Premium Agricultural Products" on the ship. Additionally, guests can sample local brands including Sharetea, Taihu Beer, Tien Hsia San Chueh Noodle Cuisine, Formosa Chang, SunnyHills and Mark's Teppanyaki from Marriott Taipei for everything from bubble tea to local craft beer and popular Taiwanese cuisine.
To offer a truly authentic experience that is close to home, local travel experts have been recruited as Dream Ambassadors, who will offer assistance and guidance to on-board guests in their native languages.
Guests will also see the debut of the new Flexi-Feast dining concept which allows unprecedented flexibility for a completely customized dining experience at sea by allowing passengers the freedom to choose from a wider choice of venues and to dine at their leisure. As well, Flexi-Feast will provide additional peace of mind for guests by helping to ease bottlenecks at certain venues for a more spacious and more comfortable environment