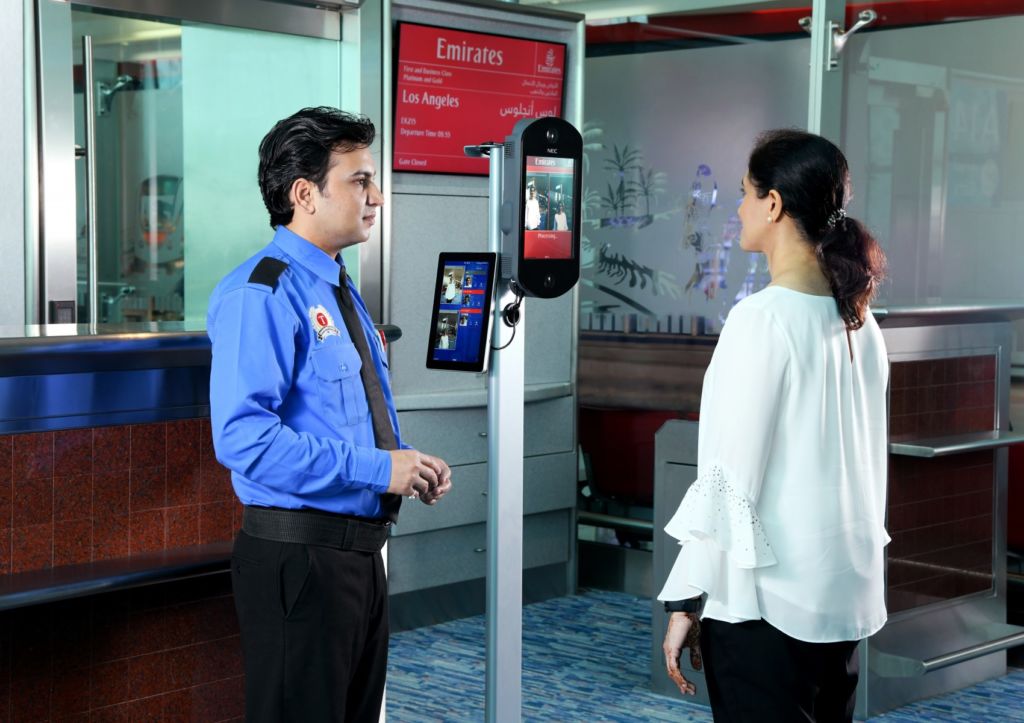 Many of the technologies that are instrumental in supporting the industry in the new normal are currently being used today. However, accelerating their adoption will help to drive increased trust and confidence, which is essential as we contemplate travel against the backdrop of COVID-19. Biometrics and artificial intelligence (AI) stand out due to their potential impact on boosting traveler trust, improving the journey by reducing stress, and removing friction from operations.
Biometrics open up smoother journeys
Traveler identification will become increasingly important to reduce the friction caused by physical touchpoints. The role of biometrics when integrated with portable check-in and bag drop kiosks, security checkpoints and e-gates have the potential to radically transform how we travel.
Using an app, passengers can check-in to their flight at home as an alternative to physical check-in at the airport. Once at the airport, the identity of passengers can be confirmed by cameras installed at various locations including self-service kiosks, baggage drop-off, security gates, boarding areas, and even at access points to airline lounges. This has significant potential to reduce queueing and bottlenecks.
Artificial intelligence to drive better travel experiences
Artificial intelligence (AI) has the potential to be applied across the full traveler experience in many different ways. Thinking specifically about the complexity of choices and variables that travelers will face when considering future travel, AI can be used to simplify recommendations based on a detailed understanding of their needs and requirements.
When traveling, AI can also be applied to reduce the impact of disruption. As lockdowns ease, it is unlikely that the pace of recovery will be linear. Therefore, managing changes and disruption dynamically will be aided by the application of AI. By automatically reallocating flights and passengers, it can help to smooth operations for the airlines and ground handlers, while removing anxiety for the traveler. AI powered analytics will also have a huge impact on helping airlines to minimize expensive disruptions.
From an industry perspective, AI can be used to predict traveler behavior which will better help travel companies to anticipate demand and pricing. This has the potential to be vital to support recovery as different regions and destinations open up to tourism at different rates, and what happened in the past won't necessarily be an indicator of the future.
As the travel industry continues to adapt, modern technology will be vital in supporting travel companies and travelers. Innovation will be a major driver of industry recovery, and to maximize the impact of the two technologies outlined here will require us to work together with customers, developers, startups and partners as we experiment with new ways of doing things. Data-led AI and biometrics have the potential to accelerate and enable industry recovery because they support both operational and commercial readiness, but importantly help us all to become more traveler focused.
Source: Amadeus