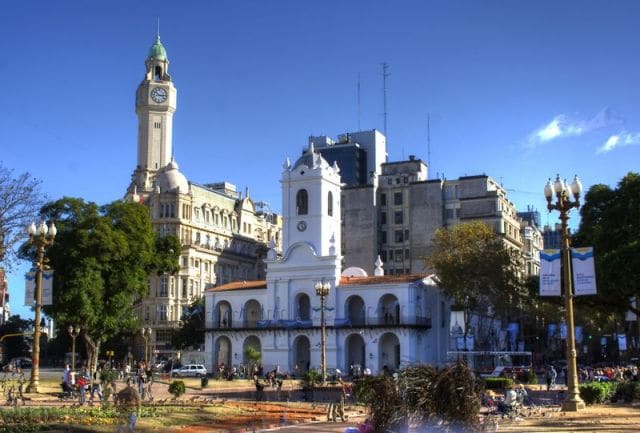 There are few things in life more exciting than planning where to go on one's next trip, considering what exciting, different and out-of-the-blue adventures will be undertaken. The team at Four Seasons Hotel Buenos Aires has taken it upon themselves to help guests create the "Ultimate Bucket List Experience," where guests are guaranteed to have a taste of Argentina through a completely personalised and private experience for themselves and their travel companions to enjoy.
Each of these experiences can be arranged individually, or form an entire itinerary.
From jet way exit to one's suite, Four Seasons will assist travellers from the moment they land at the airport. A private escort will take guests directly from the plane to their hotel room, thoroughly following all safety and hygiene measures, allowing travellers to skip the lines and start relaxing from the moment they set foot in Argentina.
Buenos Aires views from the window. Stay in the Hotel's majestic Owner Suite, located at the 12th floor of the main tower, where guests will enjoy the best views of Buenos Aires, its Obelisk, 9th of July Avenue – the widest avenue in Latin America – and the unique French architecture in the surrounding Recoleta neighbourhood. Guests will have their own private butler waiting and available at every moment to help meet every need, and elevate the ultimate service experience.
Carve one's own dining experience. Argentina is famous for its beef and wine, and Four Seasons Hotel Buenos Aires offers a gourmet Argentine experience, led by Executive Chef Juan Gaffuri, the only hotel chef in San Pellegrino Latin America's 50 Best Restaurants. Join him for a full tour of the best butcher shops in Buenos Aires where guests will learn about local meat, its cuts, and why is it considered among the best in the world. At the end of the tour, guests will choose their own cut of meat to cook together with Chef Juan for dinner.
Argentine meat can't be prepared without a good set of knives. During the afternoon, the Hotel's private car service will take guests to San Telmo neighbourhood, where Juan Carlos Pallarols, one the most prestigious and renowned goldsmiths in the world – he has even made the pope's cáliz (chalice), will be waiting. In his atelier, guests will carve together their own set of knives, with the date and their initials, ready to use for dinner with Chef Juan – a special Four Seasons gift to remember their Argentine trip.
Delight the palate with a private dinner in one's suite. Start the evening with a personalised wine tasting experience in the Hotel's 12th floor terrace overlooking the 9th of July Avenue, presided over famous sommelier Michel Rolland, and Four Seasons Buenos Aires sommelier Dulce Gervasoni. At night Join Chef Juan and sommelier Dulce, to cook and taste together a five course dining menu, specifically chosen during the morning's tour of butcher shops, and paired with boutique and unique Argentine wines only available at Four Seasons Buenos Aires.
Closed door tours for museum fans. Book a closed door tour of Malba Museum with a private tour given by Oscar winning artist Eugenio Zanetti to ensure no crowds.
Polo like the best in the world. Explore the Castagnola family stables, located south of Buenos Aires, owned by one the premier polo families in the world. They will give guests a unique tour of their stables and teach the basics of polo. After class, guests will play a game with Lolo Castagnola and their two sons, members of La Natividad team, one of the best in Argentine polo, sponsored by Four Seasons Hotel Buenos Aires. To end an unforgettable morning, join the Castagnola family for a traditional Sunday asado at their estate.
What would an evening dinner be like in a private mansion in 1920s? In period dress, enjoy a traditional evening of classic Argentine dining and tango dancing entertainment in the Hotel's private mansion for the night, featuring premier readings, singing, and music.
What about theatre fans? Enjoy a private tour of the Colon Theatre, considered one of the best opera houses in the world, followed by a curated showing of the stars of the Colon (ballet, opera, orchestra) in some featured performances from the luxury of the presidential box.
For adventure seekers, this is the opportunity to enjoy the best Argentine culture in Buenos Aires, with the service and safety measures Four Seasons has to offer.