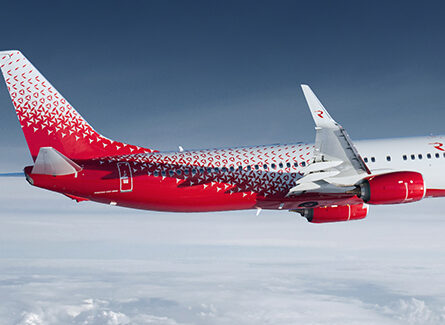 For the first time in the modern history of Vladivostok, Rossiya Airlines launches direct flights between Vladivostok and the Black sea coast. Flights are operated within the framework of a strategic partnership with Biblio Globus tour operator
The first flight from Vladivostok to Sochi took place on July 6, 2020. Flights to Sochi are operated twice a week on Mondays and Thursdays. The programme to Simferopol will start on July 11, 2020, with flights on Saturdays. Direct flights from the Far East will be operated on wide-body Boeing-747-400 with economy and business class cabins. The first flight's load factor was 100%.
Rossiya Airlines will fly to Sochi on Boeing-747-400 from Vladivostok, Khabarovsk, Moscow and Saint Petersburg. In addition, Rossiya's Boeing-737-800 will deliver passengers to the largest city on the Black sea coast from 11 cities of the country: Moscow, Saint Petersburg, Yekaterinburg, Kazan, Krasnoyarsk, Novosibirsk, Nizhny Novgorod, Perm, Samara, Tyumen and Ufa.
The load factor of the first liner was 100%.
— «The change in the tourist market has enabled the airline to develop domestic destinations that have been underestimated so far. Thanks to these changes, Vladivostok residents have the opportunity to spend their holidays on the Black sea for the first time. In the summer season of 2020, we plan to carry about 25000 passengers and perform more than 45 flights», – notedSergey Alexandrovsky, CEO of Rossiya Airlines JSC.
Rossiya together with Biblio Globus offers passengers a comprehensive tourist product. It includes air transportation, transfer, hotel accommodation, and, if desired, all-inclusive meals and tour services.
— «The start of the new tourist season for Sochi Airport was unique. After a long decrease for three months, we have experienced an explosive growth in demand for traditional destinations and expect it to be high in new destinations. The new Far Eastern programme of our partners will allow residents of Primorye to visit resorts of the Krasnodar Krai and during the period of flight restrictions on international destinations to make a choice in favour of Russian resorts», – said Alexey Starostin, CEO of Basel Aero.