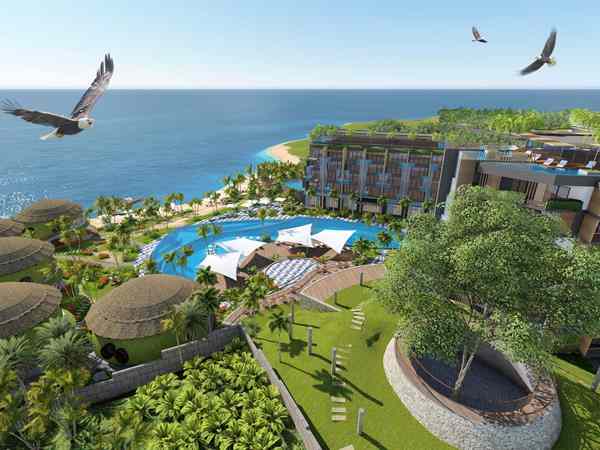 Swiss-Belhotel International is continuing to expand its comprehensive footprint in South East Asia with new development in the exotic beach destination of Mui Ne, Vietnam.
Swiss-Belhotel International remains confident in the exciting tourism market of Vietnam which they have been involved in since 1994. Mr. Edward J. L. Faull, Swiss-Belhotel Senior Vice President Operations and Development – Vietnam and Thailand, said Vietnam's economic elasticity has always been strong and its ability to bounce back after a crisis is impressive, post-COVID will be no different.
Partnering with Mui Ne Xanh Co. Ltd, which is part of the Eagles Group, a development group fast becoming one of Vietnam's most dynamic developers, Swiss-Belhotel International aims to deliver a resort for the discerning traveller, originating from all over Vietnam as well as every corner of the world.
Mr. Gavin M. Faull, Swiss-Belhotel International Chairman and President, said the company was delighted to be partnering the Eagles Group in such an "exciting project". He said: "We are in the midst of a major expansion drive in Vietnam, and Swiss-Belresort Eagle Mui Ne is obviously a key element of that endeavour.
Swiss-Belresort Eagles Mui Ne will be set in a serene location on the pristine shoreline of Mui Ne, an area which boasts a vibrant and rich history intertwined with the Cham Empire as well as a number of exhilarating water sports and outdoors pursuits aimed at the more adventurous travellers.
Opening in the second half of 2023, the 600 key property Swiss-Belresort Eagles Mui Ne will offer a range of food and beverage options; whether it is a meal with their family beside the pool or a sunset drink in the hip rooftop bar, all the while overlooking the breath-taking ocean vista. Guests will also have the option to explore our offerings at our health and wellness centre including; a range of beauty and health treatments, gymnasium, sauna and steam room. State-of-the-art MICE facilities as well as a comprehensive Kid's Club round out the facilities that will make this resort a must-visit for any guest considering visiting Mui Ne.
In order to keep up with the fast-paced and changing world in a post-COVID world, Eagles Group has partnered with a specialist A.I. company and also looking for ways to use Internet-Of-Things connectivity to enhance guest experiences. This collaboration is committed to delivering the Swiss-Belresort experience that guests have come to expect as well as making hotels' operation better sustainability and environmental efficiency.
Swiss-Belhotel International currently has Swiss-Belresort Tuyen Lam, Dalat operating and properties under development in Ha Long and Phu Quoc. They further plan to expand their portfolio in the country to at least 15 hotels and resorts by 2021.
Swiss-Belhotel International ever-expanding portfolio stretches over 20 countries, managing over 22,000 rooms in 130 hotels and projects. Their 14 brands range from luxury to lifestyle and from boutique to budget.