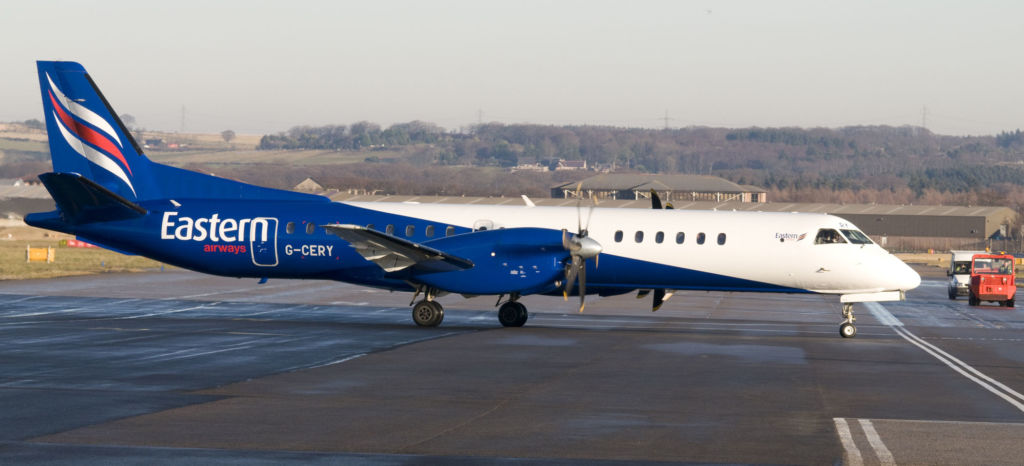 A new summer sun route from Teesside International Airport in the North East of England to Cornwall Newquay in the South West of England will be introduced by Eastern Airways as part of the recovery of UK regional economies.
UK regional airline will start its first scheduled flights from Cornwall Airport Newquay on Monday 6 July with flights operating initially on Mondays and Fridays linking the Cornish coast with the North East of England, Teesside and North Yorkshire. In little over an hour, flights will save a road journey of over 7 hours or rail over 9 hours and provide an easy way to get to some of the UK's best summer beaches.
Flights are now on sale and bookable at www.EasternAirways.com with all fares including 15kg of complimentary hold baggage as part of the quality service offered.
This latest route news follows the airline confirming yesterday it is resuming flying on a number of routes across the UK from 22 June. From Teesside, the airline will operate daily Monday to Friday services to Aberdeen and Belfast City from 22 June, with the long awaited route start from the North East to London City commencing on 6 July.
Roger Hage, Eastern Airways' General Manager Commercial & Operations, said: "As a UK regional airline we are all about connecting the various business and tourism sectors which are vital to the economic recovery of the UK, so delighted to take this first step in serving Newquay from the North East of England when UK travel begins to return for the summer peak. This will offer a quick and easy Cornish staycation destination to our growing Teesside International network."
Tees Valley Mayor Ben Houchen, said: "I am delighted that Eastern Airways has decided to grow its commitment to Teesside International and Cornwall Newquay airports with this new link. It will make it easier than ever for people from Teesside, Darlington and Hartlepool to visit a world renowned tourist destination and take in the attractions like Fistral beach.
"At Teesside Airport, we have the safety measures in place to open up to tourists and business travellers alike, with routes connecting us to all corners of the UK and Ireland, and to a growing number of destinations across the globe. I've always said that investment won't come on a bus, it will come through our airport terminal, so whether you work for a company looking to expand your operations, or a holidaymaker wanting a staycation somewhere new, I look forward to welcoming you to our region."
Pete Downes, Managing Director, Cornwall Airport Newquay, added, "We're delighted that Eastern Airways will be launching services between Cornwall Airport Newquay and Teesside this summer. Given the long distance and journey time of existing transport modes, improving air connectivity between Cornwall and the North of England is vitally important in supporting the recovery of our visitor economy and wider business community, not just as lockdown restrictions begin to ease, but over the long term. We look forward to working with Eastern Airways to make the route a success."
As Covid-19 restrictions begin to ease, services will be carefully re-introduced with extensive cleaning measures on-board and throughout all aspects of the airport. A full anti-bacterial wipe down of all touch points between every service operated and also a comprehensive aircraft night-stop sanitisation will be implemented.
Initially Eastern Airways' usual complimentary on-board service will be limited to facilitate reduced customer contact. The health, well-being and safety of all customers and staff is a priority throughout the journey including airports and on-board the aircraft.
Formed in 1997, the independent operator had moved quickly prior to the Covid-19 pandemic to return back to its own standalone booking facilities after its former franchise partner, Flybe, went into administration earlier in March.
The Humberside Airport based carrier provides a network of routes from airports including Aberdeen, Alicante, Anglesey, Belfast City, Cardiff, Dublin, Humberside, Isle of Man, Leeds Bradford, London City, Manchester, Newcastle, Southampton, Teesside International and Wick John O'Groats.