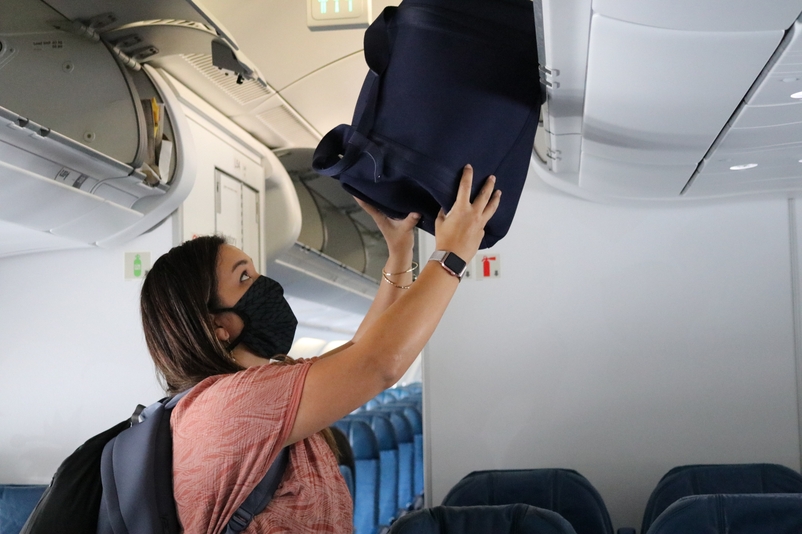 Aligning with best practice guidelines from the CDC, airlines will require all customers to wear a face mask or appropriate face covering when traveling.
Spirit Airlines today announced its newest safety measure to protect Team Members and Guests against COVID-19. Effective May 11, all Guests will be required to wear appropriate masks or face coverings over the nose and mouth to better align with the CDC recommendations about cloth face coverings in public settings.
Hawaiian Airlines is enhancing health measures throughout its system by requiring travelers to wear face coverings starting May 8 and creating more personal space at check-in, boarding and during the flight. The airline, whose airport employees and flight attendants already wear face masks, last month also began electrostatic spraying of cabins – a safe disinfecting technology that provides additional and effective protection against coronaviruses.
Effective May 8, Hawaiian's guests will need to wear a face mask or covering that effectively covers the mouth and nose, from checking-in at the airport to deplaning at their destination.
American Airlines will soon require all customers traveling to wear a face covering (or mask) while on board the aircraft starting May 11. This new requirement is part of the airline's ongoing commitment to prioritizing customer and team member well-being in response to the coronavirus (COVID-19) pandemic.
To align with the Centers for Disease Control (CDC) recommendations and to keep employees and guests safe, face masks will be mandatory for guests starting May 11 and for Alaska Airlines and Horizon Air employees who cannot maintain six feet of social distance from guests or co-workers, starting May 4. This includes pilots, flight attendants and customer service agents.
Delta employees and customers will experience an extra layer of protection starting May 4, as the airline requires all customers to wear a face mask or appropriate face covering. Aligning with best practice guidelines from the Centers for Disease Control, this move comes on the heels of our announcement earlier this week requiring employees worldwide to wear face masks if they are unable to maintain six feet of distance with customers or each other.
Frontier Airlines will begin requiring that passengers wear a face masks over their nose and mouth at the airline's ticket counters, gate areas and onboard Frontier aircraft, effective May 8, 2020. Face coverings have been required for Frontier flight crews since April 13.
JetBlue today announced that starting May 4 all customers will be required to wear a face covering during travel. This new policy will require customers to wear a face covering over their nose and mouth throughout their journey, including during check-in, boarding, while in flight and deplaning. Customers will be reminded of this requirement before their flight via email and at the airport by both terminal signage and announcements. Small children who are not able to maintain a face covering are exempt from this requirement.
Beginning May 3, Southwest is requiring Customer-facing Employees to wear face masks or coverings when interacting with travelers, especially when distancing recommendations cannot be met. Of course, Employees will continue to comply with all local requirements for wearing masks under various circumstances.