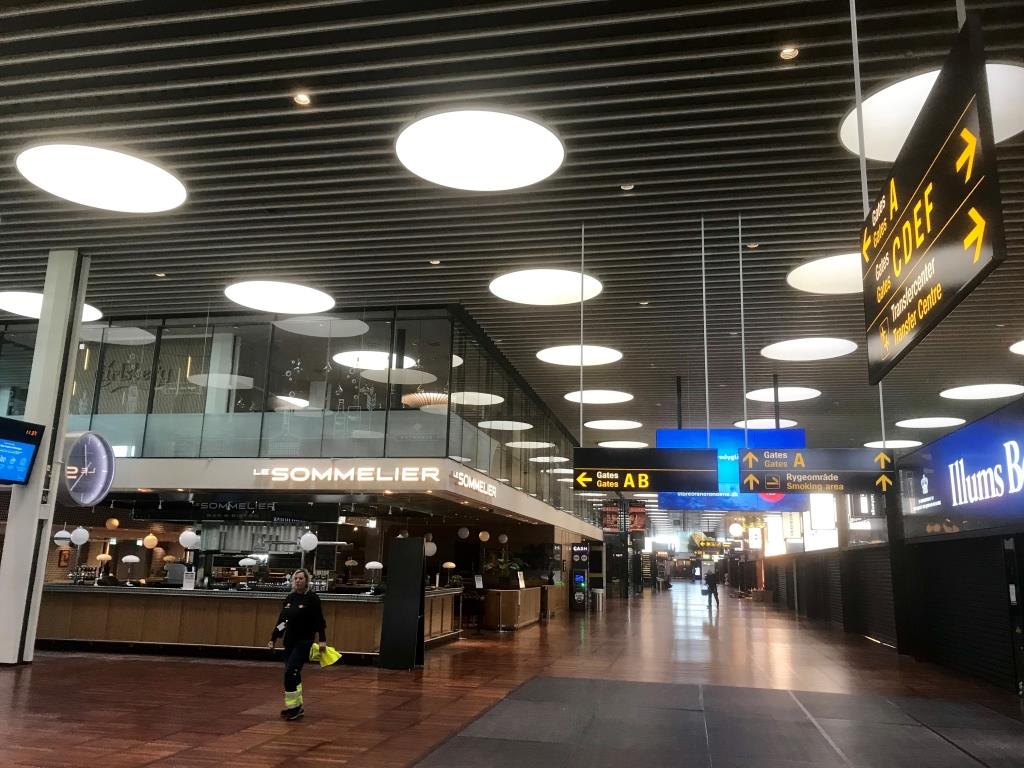 The corona crisis has completely knocked the bottom out of the aviation industry and of Copenhagen Airport. 2,200 employees are temporarily laid off in rotation with wage compensation. Passenger traffic dropped by 98 per cent during the last week of March. Air cargo is the only consolation.
Copenhagen Airport felt the full impact of the coronavirus crisis in the final week of March when passenger numbers plunged by a whopping 98 per cent. In the final week of March last year, a total of 539,258 passengers passed through the CPH terminals. This year, the figure was 16,115.
The total passenger number for March 2020 was 852,984, while for March 2019, it was 2,373,332 – a 64.1 per cent decline.
Total of 142 shops and outlets serving food and drink closed
"Under normal circumstances, Copenhagen Airport has almost 83,000 travellers per day. In the current situation, that figure has dropped below 1,500. With no passengers or departures and arrivals, our entire revenue base practically disappeared in March," says Copenhagen Airport CEO Thomas Woldbye.
"However, as Copenhagen Airport is categorised as critical infrastructure, we need to keep the airport in operation and able to accommodate what limited air traffic there is, such as the specially chartered planes bringing home Danish residents stranded abroad and the extremely vital cargo traffic carrying medicines, electronics and the like," he emphasises.
In the terminals, a total of 142 shops and outlets serving food and drink have shut indefinitely. The only commercial premises still open are two 7-Elevens and one Joe & the Juice café.
"The terminals are eerily empty and very quiet. It's quite unreal," says Woldbye.
Air cargo offers a faint ray of sunshine
For Danish society and Danish businesses, air cargo traffic is the only source of comfort even though it has also been hit hard. Some 75 per cent of the air cargo at Copenhagen Airport is belly cargo carried onboard passenger aircraft. Most passenger aircraft the world over are now grounded. At Copenhagen Airport alone, 90 passenger aircraft have been parked indefinitely.
"Yet, there are still a few passenger aircraft operating. For example, Qatar Airways still flies to Asian destinations. Furthermore, pure air cargo traffic in and out of Copenhagen is growing, and the aircraft are fully loaded. In March, air cargo traffic grew by 23 per cent, and volumes look to really gather momentum in April. In addition, Singapore Airlines is adding a daily cargo flight using an A350 passenger plane, initially for a weekly service," says Woldbye.
"Air cargo is crucial for Denmark. For one thing, it's a way to bring medical equipment to the country, and it's essential for Danish businesses, making up 33 per cent of Danish exports in value terms," he emphasises.
Impossible to predict what the future will bring
Copenhagen Airport is dramatically tightening its belt in response to the very sudden and almost complete halt to aviation. The company is cutting operating costs by several hundreds of million Danish kroner, including in a rotation scheme in which 2,200 of its 2,600 employees (corresponding to 1,600 FTEs) are temporarily laid off with wage compensation. At the same time, a large number of investments and projects have been put on hold.
"The purpose of these efforts is to get through the crisis without having to make any of our highly skilled employees redundant, so we'll be ready when Denmark and the rest of the world will reopen. However, we will have to tighten our belt to the last notch, and we expect to cut costs by up to one billion Danish kroner during the rest of 2020," says Woldbye. He refrains from venturing a guess as to when traffic will return to normal or about the financial impact on CPH.
"The global corona pandemic is evolving day by day, and it's still too early to make any kind of meaningful forecast for the rest of the year," says Woldbye.