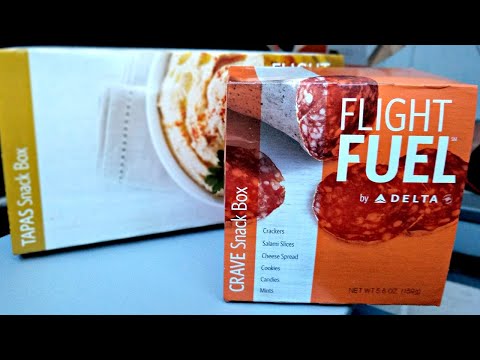 Airlines are adapting quickly as the coronavirus pandemic takes root in the United States. The carriers are changing catering operations and food will now either come pre-packaged or individually wrapped.
Delta is responding to customer and crew feedback amid the evolving COVID-19 (coronavirus) pandemic by temporarily moving to essential food and beverage offerings on board, while also adjusting in-flight service processes on all U.S. domestic and short-haul international flights.
These changes are an effort to lessen physical touch points on board. Similar steps are being taken on the ground in Delta Sky Clubs, and we are evaluating adjustments for long-haul international flying.
Read about Delta's elevated cleaning procedures to keep you safe and healthy at customer touchpoints across the journey
Taking care of customers and employees remains Delta's No. 1 priority, which means we will continue to evaluate and make adjustments while staying in close coordination with the Centers for Disease Control (CDC) and local health organizations to ensure your safety.
In the air
While the signature hospitality that Delta crews are known for worldwide remains unchanged, beginning March 25 customers will start to see the following temporary changes on board on all U.S. domestic and short-haul international flights. Onboard service has been streamlined to include only the following:
Two snack offerings across Main Cabin and Delta Comfort+, as well as in First Class on flights less than 900 miles.
First Class and Delta One meal service on U.S. domestic and short-haul international flights greater than 900 miles will now be replaced by individually pre-packaged, non-perishable Flight Fuel boxes with two snack offerings.
Beverages will be individual bottled water only – no alcohol offerings – across all cabins, with plastic cups and ice also removed during this time.
Preselect and Special Meal service will be temporarily suspended.
Delta previously announced the following temporary onboard changes across all U.S. domestic and international flights:
All glassware, including coffee mugs and champagne flutes, from First Class and Delta One have been removed.
Hot towel service has been temporarily suspended in all cabins.
As always, customers are welcome to bring their own food and beverage on board to enjoy during their travels. A comprehensive list of all temporary onboard changes can be found at delta.com.
On the ground
We have temporarily consolidated our Delta Sky Club operations, discontinued shower service and scaled back our food and beverage options.