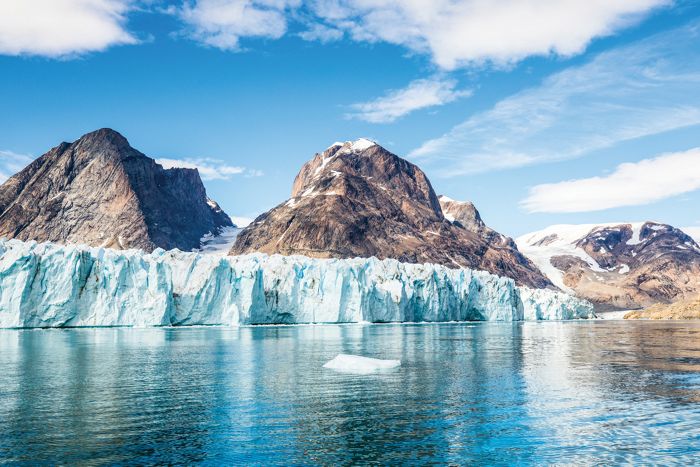 Silversea Cruises today opens sales on the Grand Voyage Arctic 2021—a remarkable 51-port itinerary that connects a range of once-in-a-lifetime experiences.
Between July 16 and September 17, 2021, Silver Cloud will journey between Tromsø and Nome (Alaska), unlocking unique experiences for guests over 63 nights. The cruise line's guests will travel deep into seven countries to witness untouched glaciers, captivating wildlife, and remote communities, while also crossing the fabled Northwest Passage and enjoying two maiden calls—Nordfjordholmen (Melfjord, Norway) and Lysebotn (Norway). Silversea's team of Expedition Experts will enhance the experience with informative lectures, immersive Zodiac tours, and activities ashore, while esteemed guest speakers, bespoke events, and many onboard enrichments complete the offering. Fares for the Grand Voyage Arctic 2021 begin from USD 71,100 per person—based on two sharing and including an Early Booking Bonus.
51 PORTS, SEVEN COUNTRIES, AND TWO MAIDEN CALLS
On this remarkable itinerary that will unlock many unique experiences, travellers will follow in the footsteps of Amundsen, Franklin & Ross by traversing the famous Northwest Passage. This iconic route has long intrigued the most intrepid of travelers and remains a life-defining adventure for many. Historically significant destinations, such as Beechey Island and Gjoa Haven, will enable guests to learn more about the passage's discovery, as they develop a deep appreciation for this pristine region and all that inhabits it.
For guests participating in the full Grand Voyage, Silversea has curated a selection of once-in-a-lifetime events:
• Take private charter flights to the Eureka Research Station and cross the 80th parallel
From Resolute, one of Canada's northernmost communities, Silversea's guests will embark upon a bespoke day trip to the seldom visited Eureka Research Station—one of the coldest inhabited place on the planet—located near the legendary 80th parallel in the High Arctic. Joined by celebrated Polar Explorer and lecturer, Tobias Thorleifsson, travellers will fly by private charter flight, crossing into the Arctic Circle. They will fly over the incredible island of Axel Heiberg, with its unique lunar valley landscape and petrified forests, as you visit the northernmost weather station in North America.
• Soar above the Greenland Ice Cap in a helicopter, before landing on a glacier with a Glaciologist
Exclusive to guests embarking on the full Grand Voyage, a once-in-a-lifetime experience awaits travellers during a call in Nuuk. Silversea's guests will soar high above the breathtaking Greenland Ice Cap in a helicopter, before landing on a glacier in the company of an experienced Glaciologist. Enjoying remarkable panoramic views and expert insight, travellers will learn about these spectacular ice formations from an expert speaker, discovering how the melting of glaciers can impact our planet's natural environment.
• Take a scenic helicopter ride to embark on a traditional husky sled ride atop a glacier
After taking an awe-inspiring helicopter flight to a mountain-top glacier in Qeqertarsuaq, guests will experience a fascinating tradition that endures as a means of transport in just a few places around the world: husky sledding. Reserved only for those completing the full Grand Voyage Arctic 2021 itinerary, this husky sledding experience showcases a historical local custom at its most authentic and promises to live long in the memory.
INTERNATIONALLY-ACCLAIMED GUEST SPEAKERS
Enhancing the experience for guests, many internationally-acclaimed guest speakers will join the Grand Voyage Arctic 2021, inspiring travellers with enriching lectures and sharing their passion for this magical region.
In addition to Silversea's multinational, renowned Expedition Staff, Silver Cloud's epic Grand Voyage will feature the following guest speakers:
• Lewis Pugh: A record-breaking swimmer who has pioneered distance swims around the world, an environmentalist, and a United Nations Patron of the Oceans, Pugh has negotiated Marine Protected Area status for over two million square kilometres of ocean.
• Ann Daniels: The leader of the first all-female team to ski to both Poles, Daniels has now undertaken a project to measure the thickness of the North Pole Ice Cap, leading her team over 1,000 miles of frozen Arctic Ocean.
• Tobias Thorleifsson: An esteemed Polar explorer and lecturer, Thorleifsson holds a Masters Degree in Polar history and has worked extensively on climate literacy projects with the Norwegian Ministry of Climate and the Environment. He has conducted many expeditions in Greenland, Franz Josef Land, Antarctica, and the Canadian Arctic.
• Dr. Chadden Hunter: A celebrated Director and Producer, Hunter has worked on some of the best-known natural history series ever made. He has dodged armed bandits, survived brain-parasites, and filmed everything from indigenous tribes in Africa to being chased by polar bears in the Arctic.
• Thomas Nilsen: Thomas Nilsen is Editor of the Barents Observer, the northernmost English language newspaper in the world. Nilsen reports on stories from northern Scandinavia and the Arctic, covering topics such as security, business development, climate change, geopolitics and cross-border cooperation.
• Mike Stevens: An experienced musician with a humanitarian focus, Mike Stevens has long used his musical talents to engage the Indigenous youth in remote Canadian communities. Stevens founded the ArtsCan Circle charity to teach children new skills, promote self-esteem and creative self-expression.
• Margaret Bertulli: With 30 years of experience of working in the Canadian Arctic, Margaret Bertulli is the former Arctic Archeologist with the Prince of Wales Northern Heritage Centre and a Senior Archeologist with Parks Canada.
"Benefitting from the knowledge and experience of our industry-leading Expedition Team, while enjoying once-in-a-lifetime experiences that showcase the very best of the region's unique wildlife and incredible landscapes, our guests will undertake the journey of a lifetime on the Grand Voyage Arctic 2021," says Conrad Combrink, Silversea's Senior Vice President of Expeditions, Tour Operating and Destination Management. "Our guests will travel in unparalleled comfort aboard Silver Cloud, enjoying fine cuisine, Silversea's trademark level of service, and other luxurious amenities, as they embark upon a unique journey of self-enrichment."
Ultra-luxury cruise innovator Silversea Cruises has opened sales on the world's first ultra-luxury fly-cruise service to Antarctica.