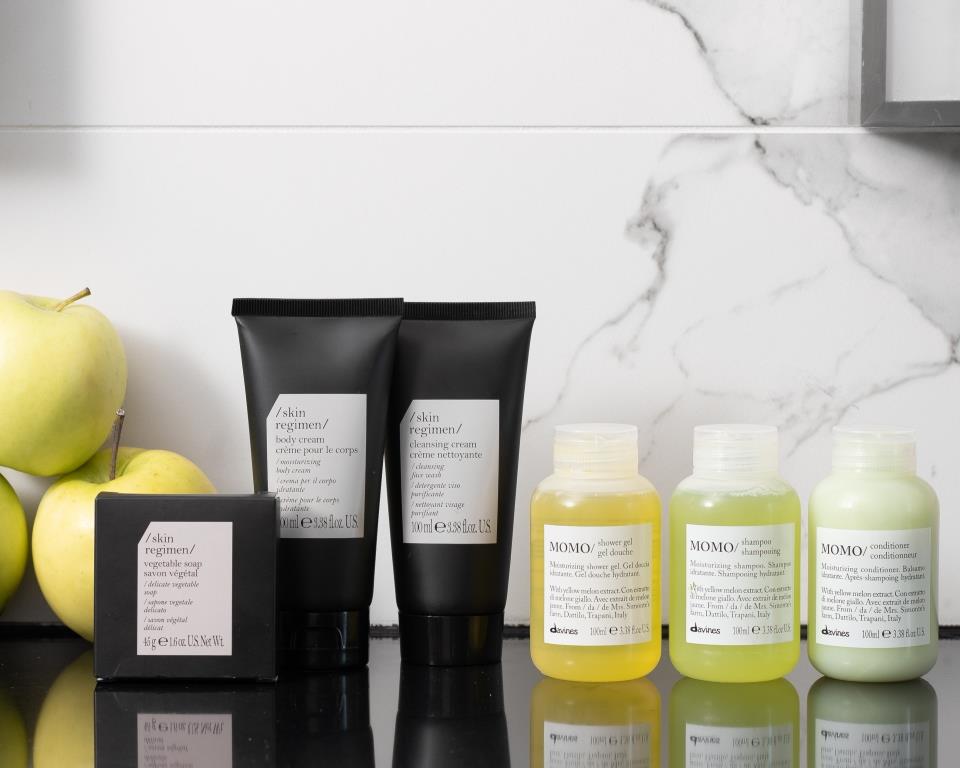 Heads are about to turn. W Hotels Worldwide today unveils its new unisex amenity line with Italy-based, luxury sustainable beauty brands, Davines and /skin regimen/ of the Davines Group. Together, W and the Davines Group – brands with cult followings – will be shaking up self-care routines from Chicago to Chengdu with sustainable skin and hair care products available at all W locations in 2020.
Unbound by traditional definitions of beauty, both W and the Davines Group are champions of self-expression and individuality, encouraging people to act consciously, and feel fabulous wherever they go. From sink to spa, the new line-up of in-room hair and skin care (which replaces the brand's long-time amenity partner, bliss) will now include Davines and /skin regimen/ best-sellers as well as exclusive new formulas, available only to W guests:
MOMO Shampoo
MOMO Conditioner
MOMO Shower Gel (W Exclusive)
/skin regimen/ Body Cream (W Exclusive)
/skin regimen/ Cleansing Cream
/skin regimen/ Vegetable Soap (W Exclusive)
"W takes a bold approach to self-care and this new brand collaboration is no exception," said Anthony Ingham, Global Brand Leader, W Hotels. "In choosing a new amenity line, we road tested many brands and formulations and not only love the way the Davines Group products look, smell and feel, but the values they stand for as a company. We are very excited to bring these products to all of our guest rooms across the globe."
In addition to being the in-room and in-suite brand of choice at W hotels globally, /skin regimen/ and Davines products will also be used at all W Away Spas starting in 2020 alongside sister brand, [ comfort zone ]. Davines is a certified B Corporation and CO2 neutral company that supports reforestation to offset its carbon emissions. In addition, all products are sulphate- and paraben-free. As part of Marriott International's initiative to reduce its hotels' environmental impact worldwide, W plans to offer the new amenities in waste-reducing, full-size bottles by the end of 2020.