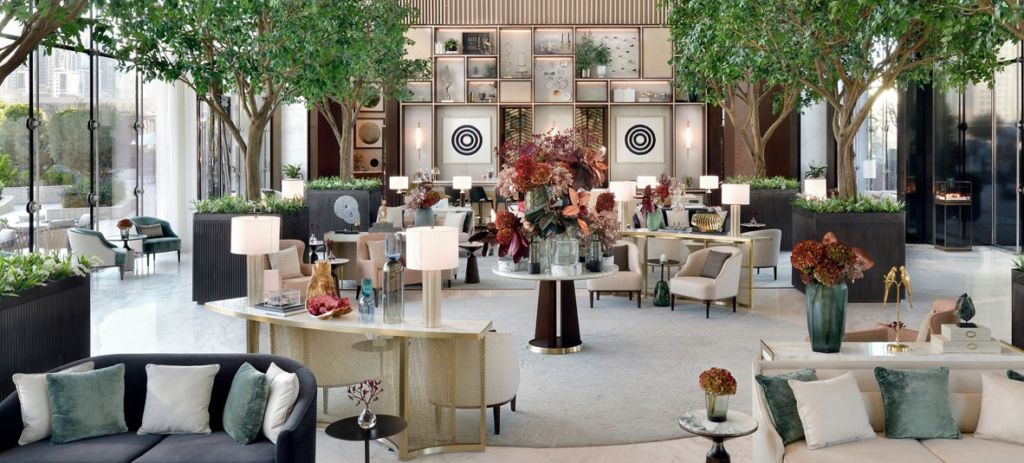 The stunning new Address Sky View by Emaar Hospitality Group located in the heart of Downtown Dubai opened its doors on 22 December 2019. Innovation and culinary finesse are elements that elevate each of the novel dining experiences at the hotel, while wellness is delivered holistically via spa and fitness experiences characterized by a new-age mindset. The latest addition to Emaar's growing portfolio of award-winning hotels in the region, Address Sky View is the perfect place to relax, dine, socialize and be seen.
Minimalistic yet sophisticated, the interiors of the hotel feature the typically elegant Address Hotels + Resorts design which offers an inviting atmosphere for vacationers and businesspersons alike. From the quality of the materials to the composition of the colour schemes, each of the 169 rooms at Address Sky View have been designed with utmost care and dedication. Guests can choose to stay at the spectacular Presidential suite that exudes luxury in every sense, or pick between the executive suites and premier rooms, both offering ultra-modern amenities and equally spectacular views. The waters of the Arabian Gulf beckon through floor-to-ceiling windows, while premium in-room comforts and matchless services are available around the clock, providing a sense of regal luxury to those seeking Dubai's finest hospitality experience.
At Address Sky View, culinary opportunities of every flavour await, delivering immersive experiences of sensorial delight. Experience gastronomic distinction across a remarkable array of restaurants and lounges, where enlivening surroundings and world-class service heighten the experience. Sample an appetizing selection of gourmet preparations from around the world at The Restaurant; centered around the theme of a stylish apartment, The Restaurant features modular spaces – from a living room, lounge, communal and individual dining tables, to workspaces, a media room, a kitchen and an outdoor terrace. For a more relaxed affair, feel refreshed by afternoon tea, light bites and enthusiastic conversations in the exclusive environs of the Lobby Lounge, or catch the sunset at the Pool Lounge, where each evening is made special with the company of a live entertainment.
Those seeking something more laidback can visit The Spa at Address Sky View, a calm and quiet space that offers enriching experiences for every mood and every occasion. On the list of options are bespoke experiences featuring avant-garde water treatments, an array of massage therapies, and beauty solutions combining the curative properties of natural ingredients with intelligent techniques. Tranquility is achieved across spacious treatment rooms and an enchanting spa suite, as well as quiet relaxation areas including an outdoor cabana and vitality pool. The Fitness Centre extends the emphasis on wellness with a positive, invigorating atmosphere. In addition to advanced equipment that caters to a variety of training styles, the impressive facility also features a private studio for personalized routines with professional trainers, a serene studio, and an immaculate zen area.
The two resplendent towers at Address Sky View compose a duet of style and splendor amidst the Dubai skyline, setting a new standard for premium luxury in the scenic centre of Downtown Dubai. Bringing together culinary flair from around the world, paired with stellar recreational facilities and a warm, hospitable atmosphere, Address Sky View promises an experience to remember.