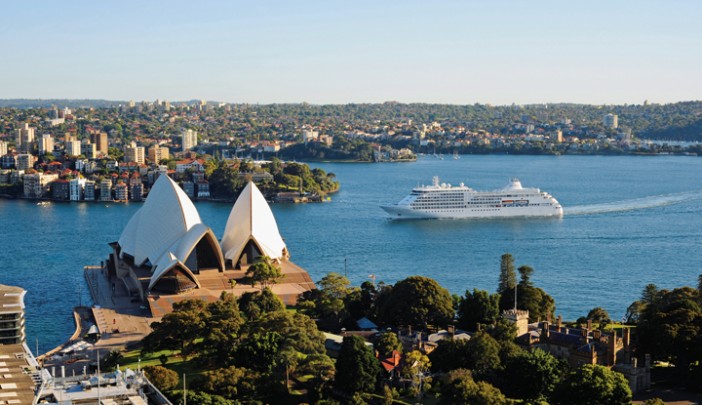 For the first time in history, travellers have embarked on a seven-continent World Cruise. Silversea's Silver Whisper set sail on the Legends of Cruising 2020 on January 6, departing Fort Lauderdale for Amsterdam, where guests will arrive on May 25 having circumnavigated the world. Pushing the boundaries of travel, guests on Silversea's World Cruise 2020 will travel deep into 62 destinations in 32 countries, including the Antarctic Peninsula over three days.
AN EXCLUSIVE BON VOYAGE
Designed by the ultra-luxury cruise line's team of destination experts, many exclusive events will enrich the pioneering 140-day voyage for guests. Many Silversea executives were in attendance at a bespoke bon voyage event on January 5—including the cruise line's President and CEO Roberto Martinoli—as world-cruising guests convened ahead of the cruise. Held at The Breakers, an aptly luxurious resort in Palm Beach, the bon voyage reception enabled the travellers to socialise and share their excitement for the journey to come.
"It was an honour to bid our guests bon voyage ahead of our World Cruise 2020," says Roberto Martinoli. "Legends of Cruising is our most immersive World Cruise to date, offering an unprecedented range of experiences. From Fort Lauderdale to Amsterdam, Antarctica to Aqaba, the variety of destinations discovered by our guests will showcase the authentic beauty of the world like never before. Our guests' enthusiasm for the voyage has been reflected in the exceptionally strong booking numbers."
A COCKTAIL AROUND THE WORLD
Among the array of enhancements planned for the Legends of Cruising World Cruise 2020 is a pioneering new cocktail programme, which will immerse guests in sailed destinations through regional drinks and local ingredients, as well as the fascinating stories behind each. Previewing Silversea's new S.A.L.T. programme, which will be inaugurated with the launch of Silver Moon in August 2020, the new cocktail offering will comprise 62 cocktails that will create a sense of place, inspired by the distinctive characteristics of each visited region. Guests will also enjoy cocktail masterclasses, as they learn to mix their own beverages, and will sample cocktail pairings to discover new flavours. Guests will be gifted a special gift box, which will contain a book full of recipes and the stories behind all featured cocktails, meaning they can continue the party once home.
AN ENHANCED WORLD CRUISE EXPERIENCE
To enrich the experience exclusively for world-cruising guests, Silversea Cruises has introduced a collection of 33 brand new, bespoke shore experiences for 2020 – the World Cruise Collection. Travelers can embark on a musical and culinary journey in San Juan hosted by an acclaimed artist; attend a private performance of a world-renowned folkloric ballet troupe in Salvador da Bahia; delve into the Polynesian culture with a celebrated anthropologist in Moorea; savor a four-course lunch, prepared by a celebrity chef, in Singapore; indulge in a candlelight dinner under the stars in the Red Sea desert; marvel at Caravaggio's masterpieces in Rome's churches and museums; and tour the Royal Yacht Britannia in Edinburgh with the last-serving admiral, among other special experiences.
Also, for the very first time on a Silversea World Cruise, travellers will benefit from Zodiacs activities, supervised by the cruise line's industry-leading Expedition Team, enabling them to indulge their curiosity for discovery under the guidance of experts. In the Antarctic Peninsula, for example, Silversea's Expedition Team members will lead Zodiac tours on which guests are likely to witness penguins, seals and other animals in their natural environment, as well as large icebergs, before landing at designating landing spots for on-shore discovery.
7 Night Europe Cruises from $899! Free Upgrades & Tips on Cunard only at Cruisedirect.com. Plus, Up to $1,000 to Spend On Board!
A strong line up of guest lecturers will enrich a fascinating entertainment programme for guests: John & Tracy Fleming, Michael Buerk, Bill Miller, Tony Leon, Tom Keneally, James Bradley, Mark Elovitz and Piet De Vries will all take to the stage*. Personalised gifts, guest entertainers, local shows, and themed evenings will enrich the experience further still.
THE FIRST-EVER EXPEDITION WORLD CRUISE – 2021
Silversea will welcome guests aboard two pioneering World Cruises in 2021, including the world's first-ever Expedition World Cruise. Offering distinct sets of experiences and differing ways to discover our planet, the Finest World Tour and the Uncharted World Tour will enable Silversea's guests to travel the world on their own terms, as they cruise in superlative comfort.
TRADEMARK COMFORT ABOARD SILVER WHISPER
Aboard Silver Whisper, as on all Silversea vessels, travellers will enjoy Silversea's trademark level of service and luxury accommodations. Each of the ship's ocean-view suites provides guests with the personalised service of a butler; a 24-hour in-suite dining service; a bottle of champagne upon arrival and a drinks bar, stocked with guests' preferred beverages; fine dining, including complimentary caviar on demand, canapes, and a rich offering of seafood and steak; and an array of other inclusive amenities.