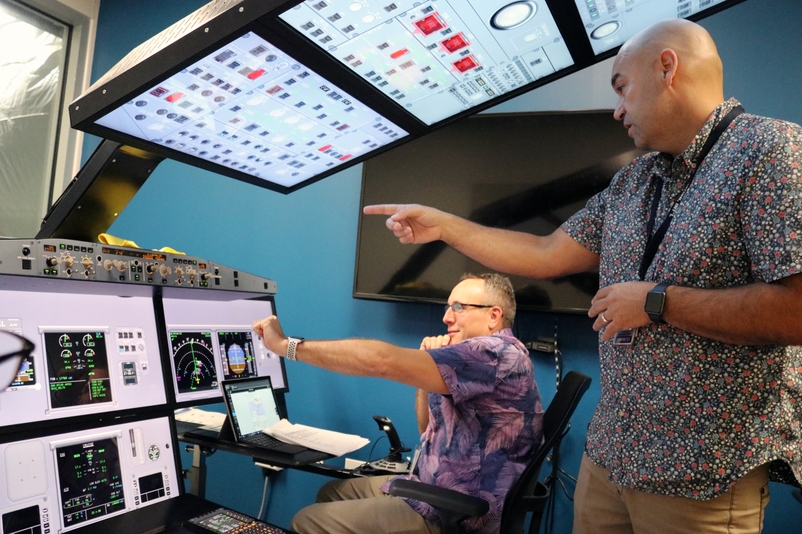 Pilots interested in flying for Hawaiian Airlines can move closer to a seat in the cockpit of Hawai'i's flagship carrier by first joining the company's pilot program as an instructor under a new career pathway.
Candidates hired through Hawaiian's Pilot Pathway Aircrew Instructor program will deliver fleet and ground training to pilots while helping develop courses for Flight Standards & Qualification activities. After one year on the job, instructors will be guaranteed a first officer interview during the next available hiring period. Successful applicants will be added to Hawaiian's first officer hiring pool and be eligible to transfer to a pilot position two years after becoming a Flight Standards & Qualification instructor.
"This new instructor-to-pilot pathway provides an attractive track for pilots seeking to join Hawaiian while allowing us to meet our training needs as we continue to grow the best network for travel to, from and within our islands," said Ken Rewick, vice president of flight operations at Hawaiian Airlines.
Based in Honolulu, Hawaiian's instructors will work in classrooms and advanced flight training devices.
Hawaiian's pilots operate a fleet of 20 Boeing 717 aircraft on a comprehensive network of more than 170 daily flights between the Hawaiian Islands. Transpacific flights connecting Hawai'i to the U.S. mainland, Asia and the South Pacific are operated with 24 Airbus A330 aircraft. The airline also utilizes a current fleet of 16 Airbus A321neo aircraft on flights between the U.S. West Coast and Hawai'i.
This summer, Hawaiian announced the purchase of a CAE Boeing 787-9 full-flight simulator as it prepares to welcome a new fleet of Boeing 787-9 aircraft beginning in 2021.
Now in its 91st year of continuous service, Hawaiian is Hawaii's biggest and longest-serving airline. Hawaiian offers nonstop service to Hawai'i from more U.S. gateway cities (13) than any other airline, along with service from Japan, South Korea, Australia, New Zealand, American Samoa and Tahiti. Hawaiian also provides, on average, more than 170 jet flights daily between the Hawaiian Islands, and over 260 daily flights system-wide.