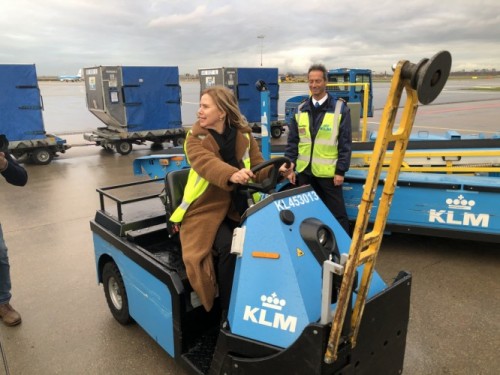 After launching the "Smart and Sustainable" in 2018, KLM is once again showing decisiveness in using electric vehicles around the airport, thereby drastically reducing emissions. During a working visit by Minister Cora van Nieuwenhuizen, KLM showed 93 electric vehicles for the handling of aircraft that have recently been purchased, including 28 electric loading and unloading vehicles for aircraft containers, 47 electric baggage tractors and 18 electric baggage belts. With this, more than 1.1 million kilos of CO2 is emitted per year.
With these activities and a total investment of EUR 53 million over 4 years, KLM – which was named the most sustainable airline worldwide this year – is giving concrete substance to the emission-free airport of the 'Smart and sustainable' Action Plan. In its endeavor to maintain this position, the airline has also recently taken measures in the field of fleet renewal and the development of its own CO2 compensation scheme. In addition, KLM has recently committed itself to the development of the first European plant for sustainable kerosene and an innovative aircraft concept, the Flying-V.
"KLM has taken important steps to make aviation increasingly sustainable. With the commissioning of 93 handling equipment, 60 percent of KLM's total handling equipment is now electric. We take investments in fleet and equipment for the long term and require a healthy financial position from KLM. It is very important that we have clarity about growth opportunities at Schiphol and the position of Lelystad," said Erik Swelheim, CFO KLM.