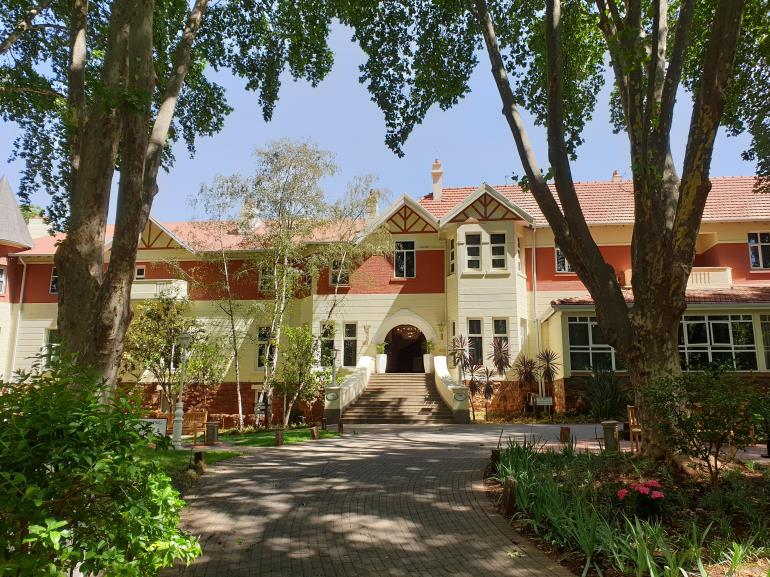 IHG Hotels & Resorts opens the newly refurbished Holiday Inn Johannesburg Sunnyside Park Hotel situated in the leafy suburb of Parktown, Johannesburg. Offering authentic experiences designed to bring friends, family and business partners together for genuine and joyful memories, the hotel is the first Holiday Inn property in South Africa recognised as a Heritage site, with national monument status. The surrounding residential areas are filled with Heritage homes and include numerous Herbert Baker designed homes.
The hotel was built in 1895 and has many features complimenting the picturesque property; a fitness centre, outdoor pool and business centre. Lord Milner who was a British statesman and colonial administrator brought out a horticulturist to design the landscape of the exquisite terraced gardens that guests still enjoy to this day. The gardens cover four acres and include tranquil Koi ponds that cascade through flowing fountains beside 150-year old trees, reminding guests of the very history that charms those who stay at The Holiday Inn Johannesburg Sunnyside Park Hotel.
Our blue plaque status is a testament to the history that the Holiday Inn Johannesburg Sunnyside Park Hotel presents.
The Grand Dame of Jo'burg Architecture
Designed as a neo-queen Anne style suburban villa, by Frank Emley, the Holiday Inn Johannesburg Sunnyside Park Hotel has an elaborate staircase that greets guests in the plush, wood-panelled reception area offering a warm welcome and a journey to the past.
The hotel offers 152 well-appointed bedrooms, including a variety of suites. The décor combines old world charm with modern amenities, offering a taste of the past with a blend of new era architecture. Wooden-panelling and pressed ceilings form part of the lounge area which enable guests to unwind over a crackling fire.
Milner's Restaurant offers a selection of "a la carte" options as well as a generous buffet for breakfast, lunch and dinner.
Set in the tranquil gardens of the hotel, with a wonderful outdoor deck, The Pound & Penny is an English-style pub that caters to the pub-fare-loving patron with traditional dishes.
A breath of fresh air
To escape the hustle and bustle of everyday life, Holiday Inn Johannesburg Sunnyside Park presents the perfect opportunity to relax and enjoy our beautiful gardens or our large outdoor pool. A spacious gymnasium boasts both a ladies and gents steam room.
The Ideal venue for both business and leisure travellers.
Located a mere 25-minute drive from OR Tambo International airport, the hotel is situated close to the Central Business Districts of Johannesburg and Sandton and easily accessible to corporate offices, universities, hospitals and major highways.
From meetings and conferences to weddings and bar mitzvahs, Holiday Inn Johannesburg Sunnyside Park Hotel offers the ideal space to mark any occasion. The Ballroom can accommodate up to 240 people in banquet style seating while alternative meeting spaces can accommodate small groups from as few as eight people in a boardroom setup to a couple of hundred people in one of the eleven conference rooms.
Experience Jo'Burg
Attractions in the neighbourhood include the Apartheid museum, Constitution Hill, The Jo'Burg Theatre and areas such as Braamfontein, Maboneng, Victoria Yards, Milpark's 44 Stanley and Newtown.
The hotel is also close to major shopping centres, golf courses and a short distance from Zoo Lake, the home of the Coronation Fountain, a Johannesburg heritage symbol.
The 54-hectare Johannesburg Zoo is one of the very few places in the world where you can meet Siberian tigers and white lions and is just 2.9 km from the Hotel.