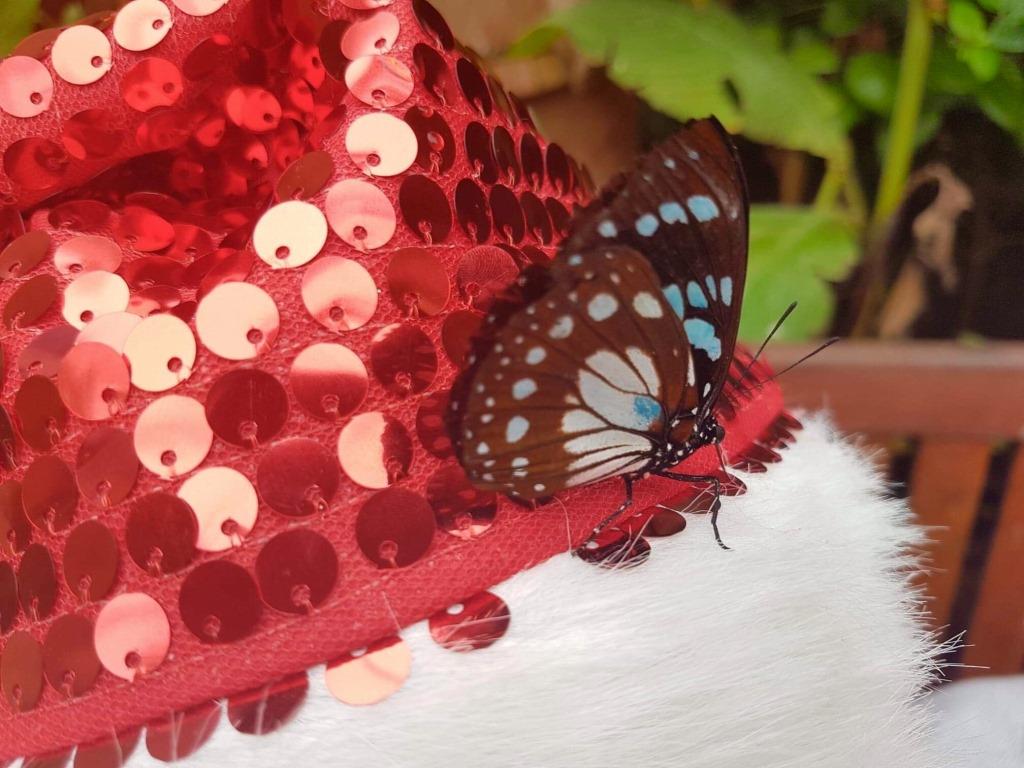 The Stratford-upon-Avon Butterfly Farm is the perfect tropical place to escape the cold and extremely wet weather this Christmas! With constant temperatures of over 25°C, the popular attraction is the ideal place to take family and friends during the festive holidays.
Discover the stunningly beautiful Christmas Butterfly, also known as Papilio Demodocus. The Butterfly is part of the Swallowtail family and sourced directly from butterfly farmers of the Kipepeo Project, a community enterprise based in and around the Arabuko-Sokoke forest in Kenya. Kipepeo is Swahili for butterfly and the project provides a sustainable income for the people of this area, demonstrating that conservation can be achieved whilst still earning a living.
Visitors can also see the new high bay lighting system recently installed at the Farm which is a combination of red, white and blue LED lights. Even on the dullest of days the Rainforest Flight Area is now drenched in light and colour enabling the butterflies to stay active for longer.
From 27 December – 5 January children and adults can take part in twice daily 'Meet the Mini-Beast' handling sessions in the Discovery Zone with the Education Team. Visitors can hold creatures such as a Madagascan Hissing Cockroach, giant African Millipede, African Land Snail and a variety of Stick Insects.
The Nature Inspired Gift Shop is a treasure trove of gift ideas and a great place to buy stocking fillers and nature inspired gifts. Season tickets are also a lovely gift idea for family and friends and are available to purchase in the Gift Shop or to order by phone on 01789 299288. Anyone that purchases an annual season ticket between 14 November & 31 December will receive one extra month for free!
Jane Kendrick, Marketing Manager at Stratford Butterfly Farm said "Escape this horrible wet weather and enjoy our lovely warm tropical conditions over the Christmas holidays! Along with thousands of tropical butterflies including our Christmas Butterfly, Meet the Mini beast handling sessions, plus browsing in our Gift Shop, we have all the ingredients for a magical Christmas this year!"
To see hundreds of spectacular butterflies, insects, reptiles and spiders visit the Butterfly Farm from 10am to 5:00pm, last entry 3.30pm. Open every day of the week except Christmas Day. For more information including admission prices and group rates, please visit the website at www.butterflyfarm.co.uk or telephone on 01789 299288.