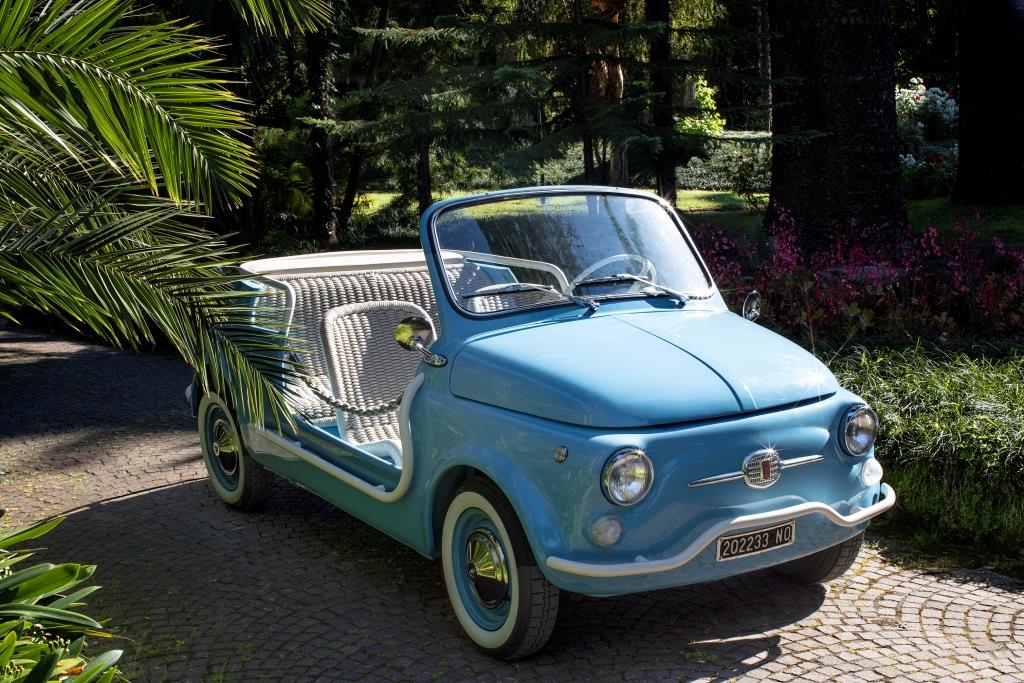 Hertz Italy has unveiled the latest addition to its "Selezione Italia" (Italian Collection): a customised electric version of the classic 1960s Fiat 500 Spiaggina. The Fiat 500 Jolly Spiaggina Icon-e is being launched as part of an exclusive tie-up with the iconic auto design house, Garage Italia.
The exclusive partnership gives Hertz Italy customers the unique opportunity to hire a reinvented, all-electric modern classic this summer – a once-in-a-life time experience bringing together the best of classic motoring and design, with a radical modern Garage Italia twist.
Hertz chose the Fiat 500 Icon-e by Garage Italia as the perfect addition to Italy's summer season. Based on a vintage Fiat 500, adapted to become a playful, eco-friendly convertible, the custom-built Spiaggina features a rear-wheel drive electric retro-fitted motor, hand-woven seats in natural rope, and heritage bodywork, with matching rims completing the high-end finish.
Available to rent from early July, the new launch sees the further expansion of Hertz's successful Selezione Italia offering, which brings together the best of "Made in Italy" iconic cars and high-end personalised service, to create a bespoke, luxury motoring experience.
Massimiliano Archiapatti, General Manager of Hertz Italy said: "We are very proud of this new initiative with Garage Italia, offering our customers a fun-to-drive, tailor-made electric Fiat 500 that sports true Italian flair. Selezione Italia is much more than a rental offer, it's a philosophy; it's the way we honour the relationship with our guests. In Italy we are proud of our traditions, of our distinctive culture that embodies authentic design, fashion, food, art, but most of all, hospitality – all embedded in Selezione Italia. We constantly seek new driving experiences for our customers, and with Garage Italia we can offer our guests something unique."
Enrico Vitali, CEO of Garage Italia: "For Garage Italia it is a great opportunity to be able to launch together with Hertz a new business line linked to the Icon-e project. In a perfect blend of tradition and modernity, aesthetic research and production craftsmanship meet technological innovation and electric redevelopment, in the name of sustainability and style."
Vincent Gillet, Vice President of Marketing International, Hertz, said: "For Hertz's first collaboration with Garage Italia, we wanted to create an iconic offering, embodying the ethos of Selezione Italia, and provide our customers an exclusive, high-end, playful once-in-a-lifetime experience. This is a truly electrifying addition to the Selezione Italia – but there's a lot more to come. Watch this space for details!"
The Selezione Italia now includes the following main models:
• Abarth 595 Competizione e Turismo
• Abarth 124 Spider
• Alfa Romeo Giulia Quadrifoglio
• Alfa Romeo Stelvio
• Alfa Romeo Giulia Veloce
• Alfa Romeo 4C
• Fiat 500 Cabrio
• Fiat 500 Jolly "Spiaggina" Icon-e by Garage Italia
• Fiat 124 Spider
• Maserati Ghibli
• Maserati Levante and Maserati Levante Hertz Limited Edition.
• Maserati Quattroporte
Customers choosing Selezione Italia benefit from a make-and-model guarantee – meaning that the car booked is the one they drive away with – combined with exclusive service and dedicated staff to offer a high-end rental experience.
Selezione Italia is the latest example of Hertz's commitment to meet every customer's need including offering the best premium fleet options and luxury, tailored experiences across its markets. Earlier this year Hertz launched its British Collection in the UK – a premium customer service rental offer, featuring a suite of Best-of-British services and products, with models including the Land Rover Discovery Sport and the Jaguar F Pace, E Pace, XE and XF.