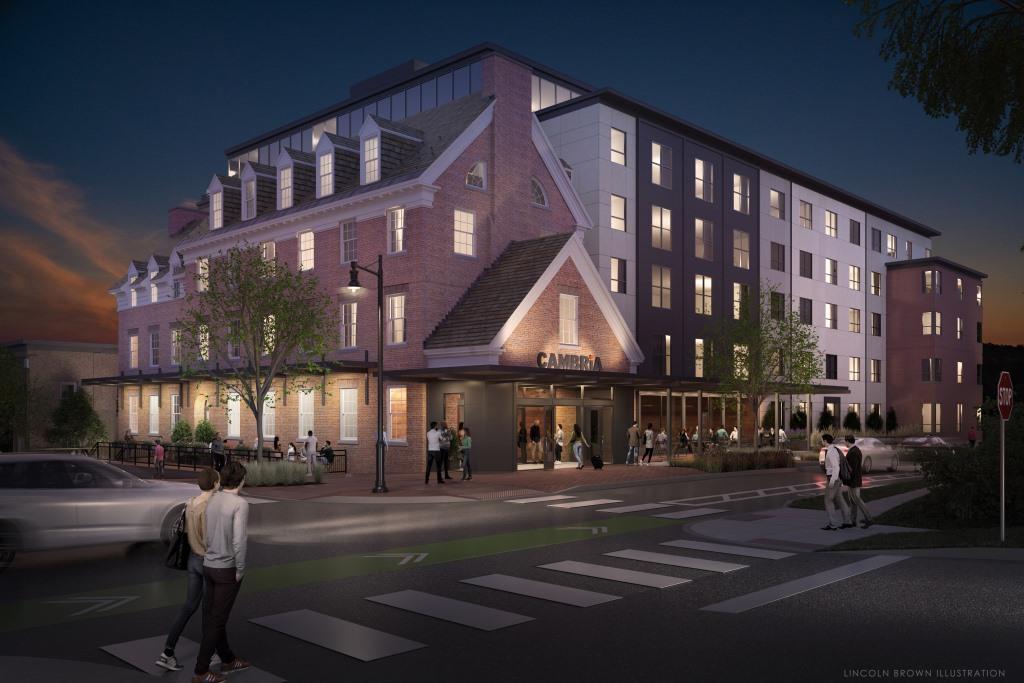 Cambria Hotels will be expanding to Vermont, following Choice Hotels International, Inc.'s agreement with Hospitality Funding Inc. and TQP Capital Partners to develop a 142-room hotel, slated to open in 2021.
Located at 266 College St., the new Cambria hotel in Burlington will preserve the historic façade of the existing structure, which was built in 1934 and formerly housed the Greater Burlington YMCA. Located on one of Burlington'sbusiest thoroughfares, the hotel is a few blocks from the University of Vermont (UVM) and the UVM Medical Center—the state's largest university and medical center, respectively—as well as Champlain College and The Church Street Marketplace, an outdoor, pedestrian-friendly shopping district.
"The Cambria Hotels brand excels at delivering a best-in-class experience, and developers notice its enduring success," said Mark Shalala, vice president, franchise development, upscale brands, Choice Hotels. "We are thrilled to bring the first Cambria to the Green Mountain State. Burlington, a vibrant college town with a rich history, is the perfect place to start."
Cambria Hotels is designed for today's time-starved travelers looking for moments to connect to people and places through modern conveniences. The Cambria hotel in Burlington will feature the following amenities:
A rooftop bar and restaurant with sunset views of Lake Champlain—ideal for a nightcap or formal event
Multi-function meeting space, equipped with versatile technology and reliable essentials
Immersive, spa-style bathrooms with Bluetooth mirrors
Contemporary and sophisticated guestrooms, complete with modern fixtures, abundant lighting, and plush bedding
Onsite dining featuring freshly made food, local craft beer on tap, wine, specialty cocktails, and small bites
State-of-the-art fitness center
Locally inspired design
"Choice Hotels' experience in cultivating developer relationships and the resources they provide helped lay the groundwork for our agreement," said Scott Silver, chairman and CEO, Hospitality Funding. "My roots in Vermont and Burlington, as well as collaboration with the Greater Burlington YMCA, give me great insight into the sense of community here. The unique blend of a bustling metropolis and the coziness of a tucked-away town sealed the deal for the development of this Cambria Hotel."
"Our Cambria will have the first and only rooftop restaurant in Burlington," said Thomas Prins, Principal of TQP Capital. "The views and vibe of the rooftop will be amazing."
The Burlington Cambria will be operated by Hostmark Hospitality, a hotel management firm based in Schaumburg, Ill., which has been managing hotels and resorts for 54 years.