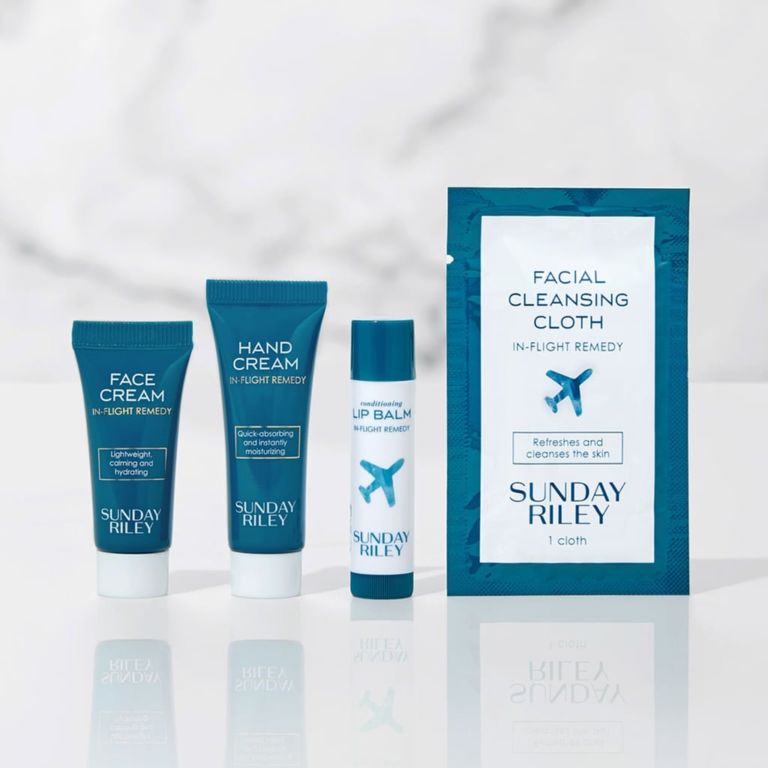 According to the Huffington Post, there comes a time in every skin care obsessive's life when he or she discovers the life-changing magic that is Sunday Riley. United Airlines customers now have an opportunity to experience Sunday Riley products made exclusively for the global traveler with the upcoming roll-out of new amenity kits featuring what is frequently described as a cult beauty brand. This new collection will begin its roll-out later this month on board and in United Polaris lounges and United Club locations with shower facilities.
Using employee and customer research, United selected award-winning Sunday Riley as its new skincare partner based on the brand being a pioneer in green technology and high-performance skincare, with a philosophy that skincare is a vital extension of self-care and overall wellness for today's global traveler. Combined with United's industry-leading Polaris business class experience, this partnership provides customers with the amenities needed to feel refreshed while traveling.
Headquartered in Houston, which is one of United's largest hub markets and where Sunday Riley herself was born and raised, her eponymous brand is recognized as a high-performance skincare line with formulations that are powered by science and balanced by botanicals to provide visible, fast results.
"Sunday and her team really took the time to understand how travel and the aircraft environment affects our customers and formulated an in-flight remedy that complements their journey with United from beginning to end. By elevating the skincare products offered on our planes and in our lounges, we can continue to lift the experience customers have when traveling with United," said United's Vice President of Marketing Mark Krolick. "We are thrilled to be working with a trailblazing businesswoman and entrepreneur who is making a global impact from our Houston hub."
"Being a part of the United experience gives us the opportunity to be with our customers wherever they go. We love being able to elevate the amenity offering and connect with an entirely new audience as they get to pamper themselves in the air. With these new exclusive products, customers around the world can feel and look their best while on their journey," said Sunday Riley, founder and CEO.
Sunday Riley Onboard
United will offer three cabin-specific amenity kits featuring Sunday Riley products:
United Polaris business class: Amenity kit will feature four Sunday Riley products: a lip balm with pomegranate seed oil and shea butter to boost hydration; a face cream with a blend of botanicals to hydrate and soothe skin in-flight; hand cream containing a nourishing blend of shea butter, cocoa butter and rose hip seed oil; and a facial cleansing cloth containing peppermint extract to balance oil and invigorate skin.
United Premium Plus: Amenity kit will include the lip balm and hand cream.
United premium transcontinental: Amenity kit will include the lip balm.
Premium cabin lavatories on dozens of aircraft in United's fleet will also offer a face mist and hand cream formulated by Sunday Riley, as well as other new products, like the Garment Groom 2-1 spot cleaner and fabric freshener created by Murchison-Hume.