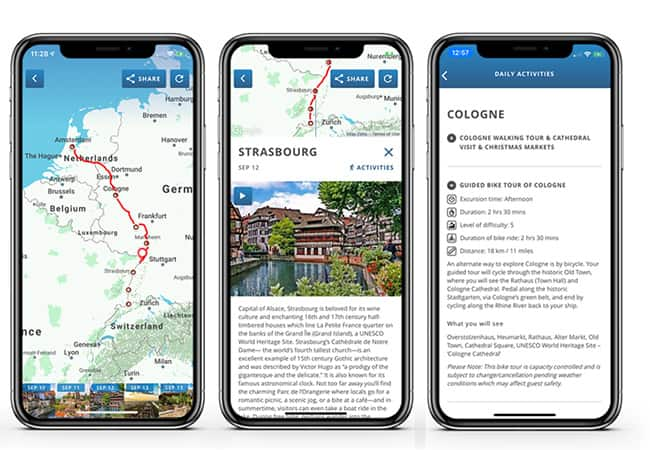 AmaWaterways today announced the launch of "myAmaCruise," a new mobile app designed to expand the ways guests can engage with and share their AmaWaterways river cruise experiences. Available for download on the App Store or Google Play prior to embarking on all AmaWaterways' European and Vietnam and Cambodia itineraries*, "myAmaCruise" makes it easy for guests to access information about their itinerary, store their photos in one simple and accessible location and share those memories with family and friends back home. Noteworthy features include:
Live Itinerary Tracking, an interactive map that follows the ship's journey throughout the cruise and showcases details of each stop
Mobile Daily Cruiser, up-to-date information regarding onboard activities, details on the shore excursions available and port of call information
Personal Cruise Album, a library of photos taken, with tagging on an itinerary map, which can be easily shared with family and friends during and after the cruise
Email Postcards, a fun way to help guests connect with those at home — at the touch of a button — automatically sending e-postcards with images in each new port visited during their cruise
"As we continue embracing innovation in all areas of our business, it is very important that we use technology to meet the evolving needs of our guests," said Rudi Schreiner, president and co-owner of AmaWaterways. "We were the first river cruise line to offer complimentary Wi-Fi throughout our ships and with this new app, we're happy to now provide even more ways for our guests to stay connected and share their experiences with friends and family."
In addition to the launch of the app, AmaWaterways has enhanced cellular data plans throughout its European ships and added more viewing options on its stateroom Entertainment-On-Demand system than ever before. Combined with fiber optic land lines in every European port where a ship docks for a minimum of six hours, AmaWaterways now offers the fastest Wi-Fi on Europe's rivers, making it easy for guests and groups to roam on the river. Those staying in spacious suites on the revolutionary AmaMagna will also enjoy mobile Wi-Fi devices that allow complimentary internet connection as they explore the most breathtaking and culturally rich towns and villages throughout Europe. On board, guests will delight in the expanded Entertainment-On-Demand system, which will offer hundreds of movies and TV shows with new releases being added each month.
"With the "myAmaCruise" app, our guests will now have all the information they need to make the most of their trip, in new and exciting ways," said Kristin Karst, executive vice president and co-owner of AmaWaterways. "With so many diverse, included excursions and beautiful destinations to visit during an AmaWaterways journey, 'myAmaCruise' makes it easier for our guests to share the memories being made in real time."
*excluding Portugal