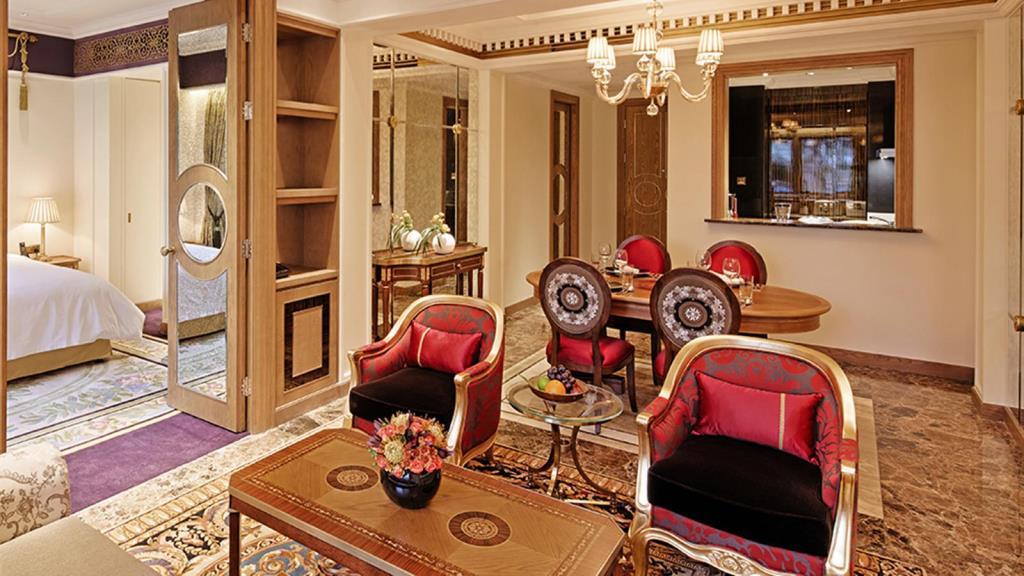 Nestled between the commercial and executive sides of this vibrant city is the new Jumeirah Living Guangzhou offering 108 rooms, 18 suites and 169 luxurious residences. The two sophisticated skyscrapers stand impressively among the cosmopolitan skyline, giving discerning guests and residents of Guangzhou a quick and convenient escape from the inner city to what feels like a whole new world of abundance and luxury.
Dual design, beauty in two ways
The south tower is designed with a more traditional sense of luxury and indulgence. The hall and main entrance exude neoclassical architecture, with spacious rooms, double-height ceilings and marble surfaces. The lines of symmetry reflect the layout of a grand palatial residence. This aesthetic continues into the residential accommodation, with traditional carvings occupying every surface of the room, from the doors and architraves to the cornices. Flowers have also been incorporated into the design, referencing Guangzhou's colourful history and the English rose.
The north tower offers a slick approach to luxury, designed to be chic, sleek and polished. Not only does this contemporary aesthetic employ a sense of simplicity and elegance, it also seamlessly integrates elements of East meets West in every detail, catering to the needs of Guangzhou's growing young executive population. The city is the third largest in China, and is regarded to be a prominent business hub, welcoming visitors from all business tiers
and backgrounds.
Elevated residential experience
Inside Jumeirah Living Guangzhou, guests and residents can discover the finest hospitality presented by Jumeirah, the world-renowned luxury hospitality expert. In each room, guests have access to an Illy coffee machine and selections of TWG tea. Amenities will also be available for pet owners.
The hotel houses club-like leisure offerings, including a spa and gym, indoor and outdoor swimming pools, an executive club, as well as an outdoor patio space for private events.
Also found on the property is Winter Mall, the go-to destination to find some of the world's most illustrious luxury brands, offering guests unrivalled retail therapy and relaxation, as well as a much-coveted VIP personal shopper experience.
Innovative dining concepts and culinary experiences
The hotel's signature dining ethos incorporates multi-sensory technology to serve food, harnessing elements of gastronomic theatre to create an immersive dining experience. Spectacular visuals, paired with themed music and lighting, will be projected onto the walls to highlight the culinary creations of the celebrated in-house chef. The hotel also offers healthy dining options in all outlets for guests and residents to enjoy. Organic and sustainable products from Chinese farmers will be used to create nutritiously balanced dishes. Adhering to the hotel's beverage philosophy, an indigenous selection of wines and artisan products will also be served.
The hotel's stylish Fashion Lounge will host a series of deluxe fashion shows and product launches. Highlights from the lounge include a custom-designed fashion afternoon tea set and artisan pastries from the Master Patisserie shop.