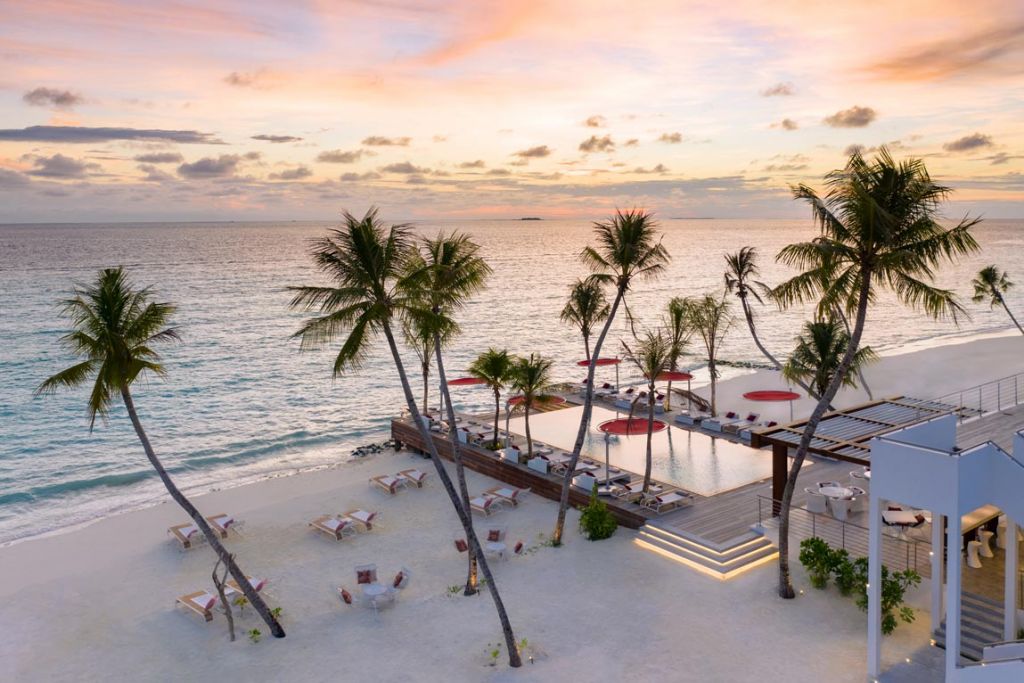 It's a bold statement for a five-star resort to declare they do things differently in a destination renowned for its extraordinary hotels — but LUX* has ripped up the rulebook with this innovative, imaginative, intimate all-new interpretation of the ultimate Maldivian experiences…
PENTHOUSES IN PARADISE
'Awestruck' is the word our first guests used when describing their reactions as they stepped off speedboat and seaplane. In true LUX* style, the warmest of welcomes greeted guests, along with Maldivian drumming and dazzling dancers in colourful sarongs. Coconut palms gently arch over pathways leading to the beach and over-water villas, inviting a sense of exploration as discerning guests seek out their private hideaways hidden beyond the hibiscus. Simple yet refined, LUX* North Malé is perfectly planned to so that guests are given an incredible amount of space, amid with sleek pared-back decors in soothing whites, with tasteful touches. Every villa is outrageously spacious, with bathrooms as big as the bedrooms and stunningly spacious outdoor showers. Expansive terraces await, heaven -sent for landmark celebrations – host your exclusive barbecues or a special-occasion party on your own penthouse rooftop. Having so much space to yourselves is the definition of true luxury.
A PRIVATE VIEW OF THE FINEST LANDSCAPES
Walk the outer loop in less than half an hour. Here on this idyllic isle, villas feel like your own private world all over again within this soul-stirring tropical setting. Forward-thinking architecture sees windows flung open, tempting you to live life in the greatest outdoors. Every rooftop promises a different perspective on Maldivian panoramas. Look out from up higher at that big blue expanse — the only movement you're likely to see is birds swooping into the foliage or dolphins rippling the water's glossy surface. The Indian Ocean's palette is never predictable and always enthralling. In that always-summery sunshine, the sky and sea can be a deep, deep blue. In the evening, that same landscape is resplendent in pastels — snap a vivid orange sunset one night and the next admire purples and violets. Stroll pure white sandy beaches and beautiful shells insist you pause to admire them. Step out from any edge and go snorkelling and tick off tropical fish from a lengthy checklist. Dolphins, stingrays and turtles are among the characters in this thriving reef, brought to life by the on-site marine biologist.
DYNAMIC DINING, UNRIVALLED SERVICE
Float through a resort which celebrates nature at its purest, yet thanks to the LUX* spirit, you know this is an island which thrums with heart and soul. Never formal or fussy, the team presents a unique style of service, which demonstrates unswerving attention to detail and a dedication to anticipating every need in advance. Healthy yet indulgent — that's the theme of the eating and drinking at LUX* North Male Atoll. Breakfast is a tempting spread of colours, flavours and cuisines; lunch and dinner and everything in between, is gloriously à la carte. Much more than a place to pause for mealtimes, Glow gazes out at an awe-ensuring infinity pool, which melts into the lagoon. Here in the restaurant, culinary experts host masterclasses, sharing skills and secrets about the most special of ingredients from truffles to WHAT ELSE. Inti, too, is utterly inventive, serving plates large and small of Peruvian-Argentinian- Japanese delights, blending Latin American flavourings with Asian seasonings. At Beach Rouge, splashes of red accenting the vibrant blue are a welcome surprise. Here's where you'll find the more sociable of our islanders, eating, drinking and soaking up that vitamin D from a sun lounger or swaying to the gentle basslines… It's a dream scene for long lazy lunches and suppers under the stars. Let the live band or DJ to lure you onto the dancefloor later with Beach Rouge's signature sets of upbeat house and gentle electro.
NATURE-ENHANCED SPA TIME
Floor-to-ceiling windows and first-class therapists are features of the LUX* ME spa set along its own jetty. On the opposite end of the island to the buzzing beach club, it's a corner of complete calm where views are only ever interrupted by elegant long-winged birds gliding across the horizon. Flower-filled gardens are framed by trees stretching over as though in graceful yoga moves. Those who like their luxury served with kindness and care, be assured this resort is sensitive to the environment, conveying where it can that life us best lived with a conscience. There are no single-use-plastic shockers or disposable containers — we pride ourselves on refillable glass water bottles and ceramics for the highest-quality amenities. Check out the boutique and spy only sustainable fashion brands.
GO WITH THE FLOW
Playful but sophisticated, fun but finessed — the world-renowned vibe of a LUX* resort is infectious. Time at LUX* North Malé Atoll is free of fixed schedules. Stand-up paddleboard when the mood takes you, or be whisked away to a secret sandbank for sunset cocktails. Pad around the island to find ICI for an exotic house-made ice-cream. Or charter a superyacht and let the captain chaperone you to Turtle Point, a sanctuary for marine life. Every moment here matters.
Rates start from €911.– per double room accommodation villa per night on a Bed & Breakfast basis (excluding taxes, service fee & transfers).