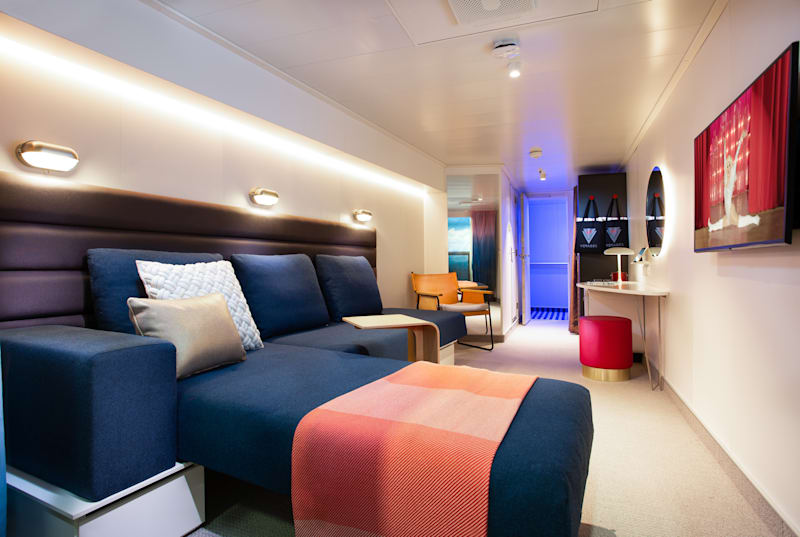 With less than two weeks until bookings open, Virgin Voyages has revealed the Scarlet Lady's destinations and cabins.
Sailors will head off on four and five night voyages to the Caribbean. They'll travel in uber yacht style with Virgin Voyages' patent-pending cabin design, featuring the Seabed, a completely new transformational bed that converts from full-sized bed to lounger. The Seabed allows Sailors the opportunity to transform their cabin from a quiet hideaway to relax, to a place to revel among friends.
The Scarlet Lady will sail a number of Caribbean voyages giving Sailors four or five night Havana After Dark itineraries featuring an overnight stay in the Cuban capital, five-night Mayan Sol voyages to Costa Maya, Mexico, or five-night Dominican Daze voyages to Puerto Plata, Dominican Republic.
Sailors will embark on their journey aboard Scarlet Lady from Miami, where they can toast to the Magic City's colourful evening skyline as the ship sets sail at 7pm.
Aboard the Scarlet Lady, Sailors can enjoy all the action of numerous food and drink venues and then retreat to their own private hideaway overlooking the ocean. Plus 93 per cent of cabins offer an ocean view – and 86 per cent come with their own Sea Terrace. The sea will be the star of the cabins, with the patent-pending cabin layout designed by PearsonLloyd Design of London with Virgin Voyages' Design team. It uses clever architecture to optimise space and views of the ocean.
The cabin has been custom-created to accommodate the Seabed, which was specially engineered and handcrafted by Walter Knoll in Germany. The idea came from the convivial nature of cruising and gives Sailors more space in the cabin for socialising and spending time with friends. It also eliminates the unspoken awkwardness of inviting friends over with no place for anyone to sit but on the bed. Now, Virgin Voyages Sailors can enjoy their cabin in two distinct ways – to relax or to revel.
In true Virgin style, the cabins feature mood lighting that will automatically adjust to enhance the time of day based on where the ship is in the world, reflecting the blue seas and the gold to purple sunsets of the Caribbean waters. Cabins will feature PIR presence sensors, sending the cabin into energy saver mode when it is empty, with blinds closing and air conditioning adjusting to eco-saver temperature, conserving energy to support the company's commitment to operate one of the cleanest fleets at sea.
There are 1,330 cabins aboard the Scarlet Lady and 78 Rockstar Suites. Cabins come in six categories: roomy XL Sea Terrace cabins, Sea Terrace cabins, Sea view cabins, Insider cabins, Social Insider cabins that sleep up to four in a chalet-style bunk, and solo insider cabins designed and priced exclusively for the solo traveller.
The Scarlet Lady's inaugural 2020 season will open for bookings this Valentine's Day, February 14th. On this special day, Virgin Voyages will reveal more details relating to the onboard experience as well as an additional destination to be featured on all voyages.