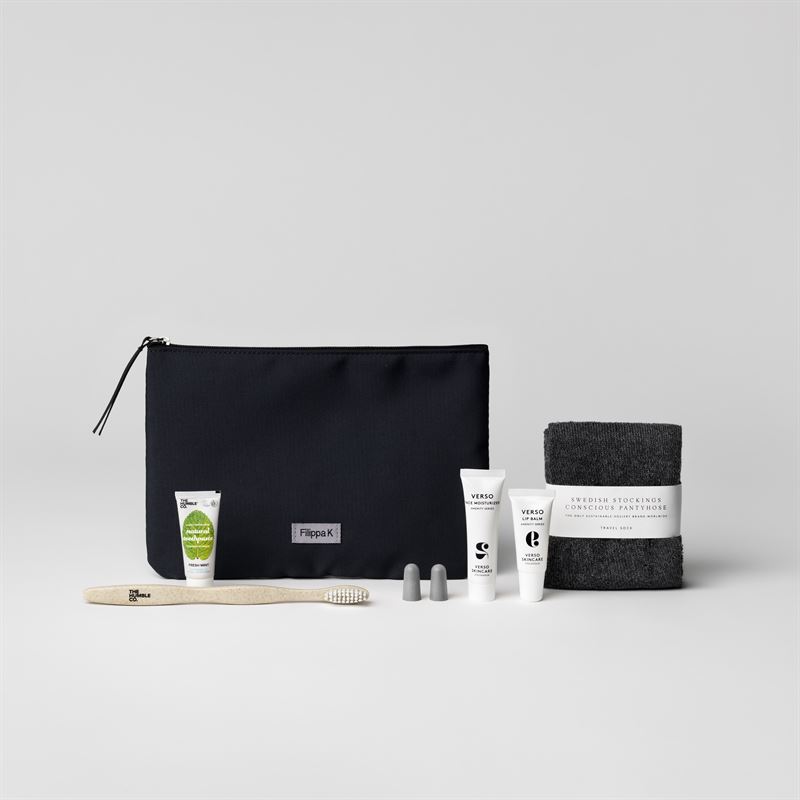 SAS takes one step further on the way towards a sustainable journey. From mid-December, travelers in SAS Business Class will be able to enjoy a new SAS Comfort Kit with products from selected Scandinavian brands. Innovative design, solid craftsmanship and respect from both a social and environmental aspect were the selection criteria.
Travelers can now enjoy a new sustainable kit on board flights between Scandinavia and US or Asia. The SAS Comfort Kit consists of carefully selected Scandinavian products.
The SAS Comfort Kit are a continuation of SAS' long tradition of working with innovative Scandinavian designers. It consists of five products from prominent and forward-thinking Scandinavian brands. Not only are they the perfect combination of products to help ensure a pleasant trip, they also share the values of supporting and promoting a sustainable lifestyle.
The SAS Comfort Kit will be available for SAS Business Class travelers on board long-haul flights between Scandinavia and USA or Asia from mid-December.
Each SAS Comfort Kit contains:
Washbag and eye mask: Filippa K, heading towards entirely sustainable production by 2030. Modern and stylish washbag in three colors, petrol, nude and black. Discreet but total blackout eye mask in black.
Dental care: Humble Co, toothbrush with cornstarch handle and natural fresh mint flavor toothpaste
Socks: Swedish Stockings, made from recycled material and using environment-friendly dyes. Soft and warm socks in graphite gray
Skin cream and lip balm: Verso Skincare, a pioneer challenging industry conventions. The products are made with as few ingredients as possible to reduce environment impact. Slightly scented and gentle skin lotion made exclusively to match the air quality and environment on board and a refreshing lip balm with a hint of mint.
Ear plugs: Swedsafe, uses a highly developed quality control system to reduce emissions. Discreet color and perfect fit.