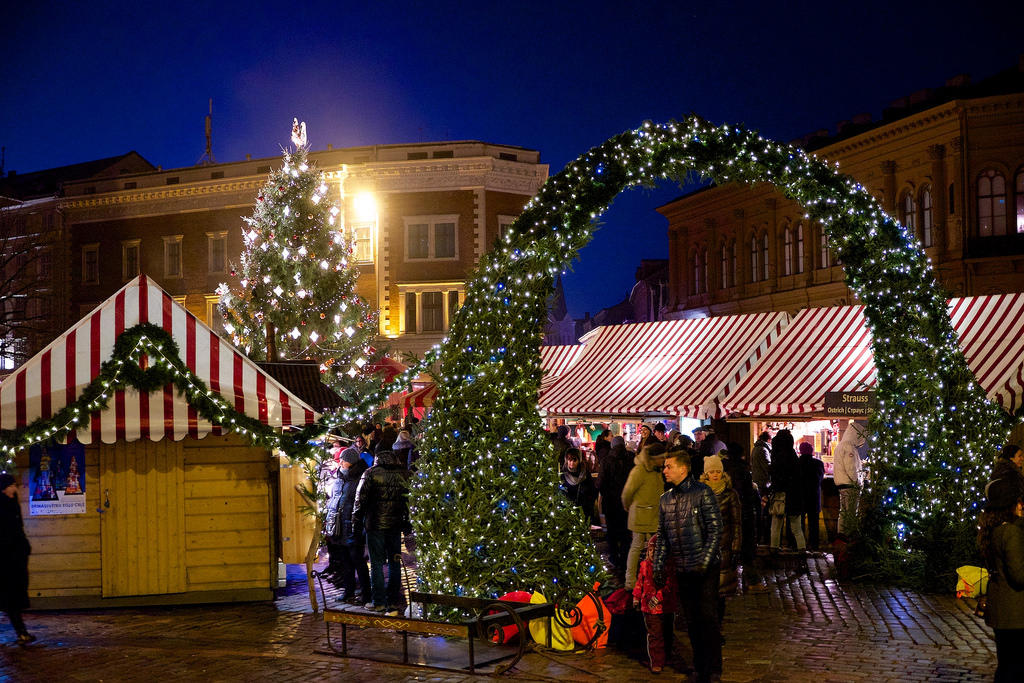 Riga is the bargain choice for a festive shopping break in this year's Post Office Travel Money Christmas Markets Barometer, published in the week that Advent markets get underway across Europe. A winning combination of rock bottom meal and drinks prices and by far the lowest flight-and-hotel package costs helped the Latvian capital take top spot in the survey of 10 European cities for the second year running.
The price tag of £499 for a two-night Riga break for two people – comprising return flights, B&B accommodation, airport-city centre transfers, two evening meals for two with wine, coffee and festive drinks and snacks at the Christmas Market – was marginally lower than last year (-1.1 per cent) and 44 per cent cheaper than in Copenhagen (£884), the most expensive city surveyed. A big factor was that its two-night package price of £327 was £84 lower than its closest competitor (Stockholm, £411) and nearly half the cost for Vienna (£601).
Runner up Prague registered the biggest year-on-year barometer price fall of 12.2 per cent. At £592 for the two-night break for two, the Czech capital scored well because it was easily the cheapest city for meals, drinks and other Christmas Markets staples, while package prices were among the best value of those surveyed.
Another Baltic capital, Tallinn (£606) completed the Eastern European 1-2-3 at the top of the barometer table, although Christmas Market visitors can expect to pay almost eight per cent more for a break in the Estonian capital this year.
In fourth place, Berlin (£631) has emerged as best value for a festive break in Western Europe in this year's report – £59 cheaper than Lille (£690). Barometer prices have fallen 9.5 per cent since last year, making Germany's capital £68 cheaper than another German city Munich (£699), which boasts one of Europe's best-known Christmas Markets. A lack of budget-priced packages and an 8.5 per cent rise in the cost of meals and drinks helps to account for the increased cost of a Munich Christmas Market break.
Andrew Brown of Post Office Travel Money, which accounts for one-in-four of all UK currency transactions, said: "Our advice to people planning visits to a Christmas Market city is to do their homework carefully before booking. It's well known that tourist staples are cheap in Eastern European cities, but Berlin also looks great value for a Christmas Markets break this year and, closer to home, Lille is also a good option."
Berlin and Munich are among five cities where savvy shoppers can also save on designer brands away from the Christmas Markets. When Post Office Travel Money compared the cost of 10 fashion, beauty and high-tech items, it found that shoppers can slash up to 13.3 per cent off the London cost (£1,619) of the 10 items in Lille (£1,404) and almost as much as that in Vienna, Riga, Berlin and Munich2.
To add to this, the Post Office found that there are rich pickings to make on individual items in all of the Christmas Markets cities except Copenhagen. Shoppers can slice almost 24 per cent off the London price (£399) of an iPad Mini 4 128GB in Lille (£304) or 17.5 per cent (£329) in Berlin. Better still, there are savings of over 40 per cent to be made in Lille, Munich, Prague and Riga on a GoPro Hero 7 camera – £379 in London but £194 in Europe (Riga: -48 per cent). In fact, the camera is cheaper in seven of the 10 European cities than in London.
Luxury cosmetic and fragrance brands like Marc Jacobs, Calvin Klein and Clinique also offer UK shoppers significant savings on the Continent. Marc Jacobs Daisy Eau de Toilette (50ml) costs £55 in London but is 24 per cent cheaper in Prague (£42). Calvin Klein CK One (50ml) for men costs £29 in London but just over £20 in Vienna – almost 30 per cent less. Clinique eye shadow palettes and lipsticks are over 11 per cent lower than the London price in Prague, with even bigger savings of 25 per cent or more on the eye shadow in Riga and Vienna.
But it is not all plain sailing when it comes to finding bargains, says Post Office Travel Money's Andrew Brown: "Shoppers could come unstuck if they don't check prices carefully before reaching for their wallets. Our research found big price variations across Europe and bargain-hunters could find themselves paying more than in the UK, particularly for fashion items.
"We found examples of Levi's 501 jeans costing over 50 per cent more in the Scandinavian cities surveyed, while splashing out on a pair of UGG boots could set shoppers back 25 per cent more in Prague than in London.
"When they get to the till, shoppers should think twice before reaching for their credit or debit card as they run the risk of extra non-sterling transaction charges for paying on plastic. A great way to avoid this is load money onto a Post Office Travel Money Card, which is accepted at millions of retail outlets and does not incur these transaction charges."
Holidaymakers planning trips to the European Christmas Markets can purchase euro on demand at over 9,000 Post Office branches, while the other European currencies featured in the Post Office Travel Money report are available over the counter at more than 1,600 branches. Euros can also be ordered online at postoffice.co.uk for same day collection at selected branches, for next day collection at any branch or home delivery.