Six Senses Crans-Montana marks the first resort and residential project in Switzerland for Six Senses Hotels Resorts Spas, in the picturesque Alpine destination of Crans-Montana. Slated to open in 2021, the resort and residences will both be managed by the award-winning Six Senses hotel group.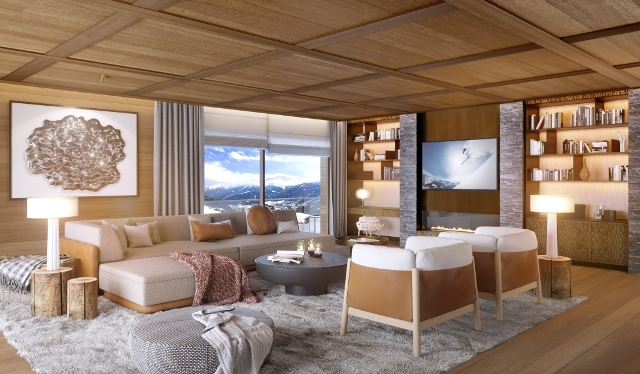 Construction of the resort began in October 2017, and the development partner on the project is 1875 FINANCE, an independent financial advisor and international leader in wealth management. With its sumptuously furnished 47 apartments and 17 residences, Six Senses Crans-Montana will be a unique comprehensive offering in what is one of the finest and most beautiful ski areas in the Alps – as desirable in the height of summer for walking and cycling as it is during the ski season.
17 private properties with access to all hotel services – 13 of which are for sale internationally
The property is nestled in the heart of the spectacular Swiss Alps and has been built to blend harmoniously with its surroundings, providing residents and guests with stunning views and the perfect place to relax and retreat from the hustle and bustle of everyday life. The resort's 47 units are divided into spacious rooms and suites; there are also 17 private residences for sale, of which four have been sold already. Residences range in size from 2,260 to 3,550 square feet (210 to 330 square meters) and include four- and five-bedroom apartments, with two- to three-bathrooms and three-bay garages.
London-based property consultancy Sorores have been engaged to work on the global business development of the project, working in partnership with local agents BARNES. Depending on size, prices start at
USD 6.2 million (CHF 6.3 million), and Six Senses Crans-Montana has a license to sell 13 residences to non-residents of Switzerland as second homes – making this a rare opportunity. This resort is one of the last in Switzerland where non-residents will be allowed to acquire residential property.
"Switzerland is a very important milestone for us, and we're looking forward to the launch of the Six Senses resort and residences in Crans-Montana," said Bernhard Bohnenberger, president of Six Senses Hotels Resorts Spas. "We are also very happy to work with 1875 FINANCE, the project coordinator and the investor representative. This resort will offer many outdoor activities, including direct access to the ski slopes and a rich wellness concept. In addition, the property is within walking distance of the après-ski area in Crans, which is world-class."
Aksel Azrac, senior partner of 1875 FINANCE, responsible for the Family Office, added, "We are delighted to be able to assist and guide our investors in collaborating with Six Senses on a project of this scale and providing a boost to the region."
Spectacular location in an all-year-round resort with an extensive wellness offering
Perched in the middle of a breathtaking natural landscape, the resort offers incomparable panoramic views that stretch from the Matterhorn to Mont Blanc. The climate is also pleasant: up to 300 days of sunshine per year. In addition to the various winter sports, Crans-Montana is a haven for golf lovers in summer. Nearby is the Crans-sur-Sierre Golf Club with its two golf courses (9 and 18 holes) where the Omega European Masters, one of the most famous golf tournaments in Europe, is held every year.
Six Senses Crans-Montana will feature two restaurants, a bar and a magnificent terrace with awe-inspiring views.
Six Senses Spa Crans-Montana will measure 21,527 square feet (2,000 square meters) and focus on uniquely adapted alpine therapies and treatments. Guests and residents will have access to a gym, a swimming pool and a relaxation area. A separate spa area for children and teenagers will also be included with treatments adapted for younger guests.
Six Senses Crans-Montana will also offer unforgettable and unique off-site experiences, individually adapted to the wishes and requirements of guests, whether it be bespoke excursions into nature, sports activities, social or cultural events moments and experiences that will be remembered forever.
Six Senses Crans-Montana proves that luxury can work in harmony with sustainability. As a result, the furnishings and the elegant design meet the highest standards of excellence – even by Swiss standards. Everything is handmade, the majority using local materials that reflect the natural surroundings and the region; the result is a clever combination of refined simplicity and elegance. Energy-efficient systems are perfectly integrated throughout, with modern energy and water technologies playing a central role in the conception and design process. Efficient lighting and lighting control, ozone protection and renewable energies are present throughout the building.