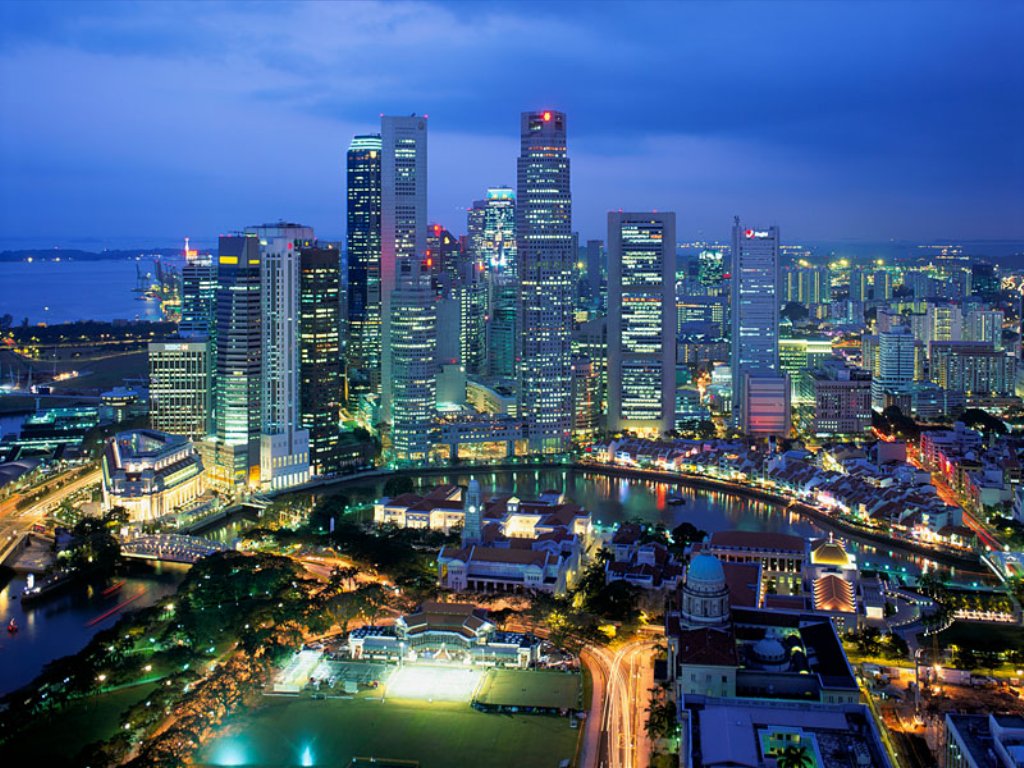 KAYAK.co.uk's new Winter Escape Formula shows the overall costs for a week-long holiday, from airfares and hotel, to local drinks and transport, so Brits know where to go to seek the sun for less.
Now summer is over, many Brits will be turning their attention to where to go for some sun this winter. To help, the travel search engine KAYAK.co.uk has analysed its data and collected it into a Winter Escape Formula. The formula includes flights, 3-4 star hotel accommodation, food, drinks, and public transport, to reveal the overall cost of the best getaways for some winter sun this year.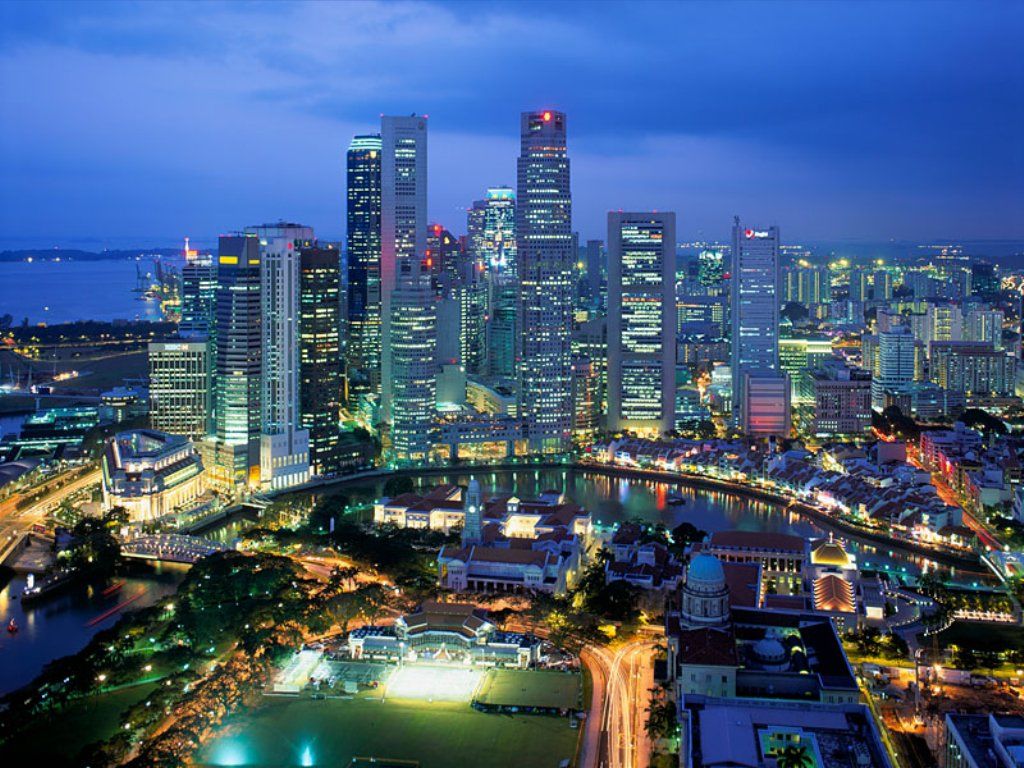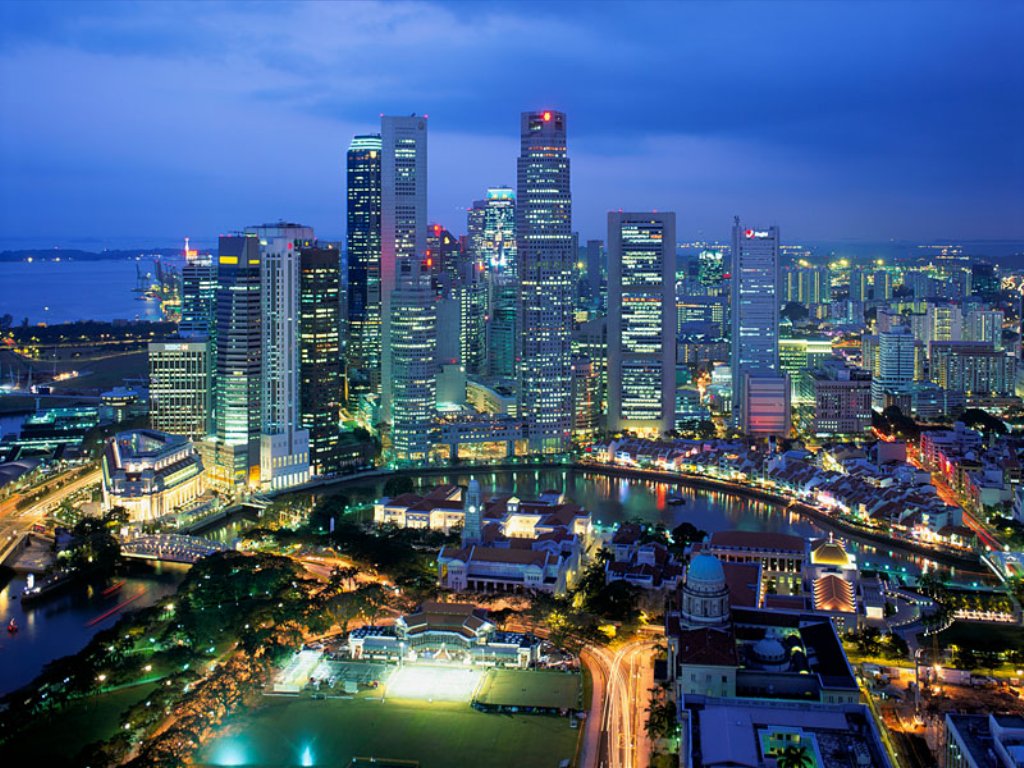 Kuala Lumpur is the cheapest overall warm getaway destination this winter
Malaysia's capital is the cheapest destination for a hot break this winter. British holidaymakers can enjoy a week-long break for a total cost of around £923 – less than much closer-to-home destinations such as Tenerife.
India also stands out as a cheap destination this winter, with three of the top ten cheapest destinations there. Expenses in Kochi (on the coast of Kerala) are a steal – Brits can enjoy a morning coffee and an evening beer for less than just £2 per day, and lunch and dinner for around £3 per day.
Fortunately, a sunny getaway doesn't have to involve a really long flight. Espargos in Cape Verde, or Tenerife are around a 4.5 and 5.5 hour flight away respectively, offering mild temperatures and total average costs of just over £1,000 for a week.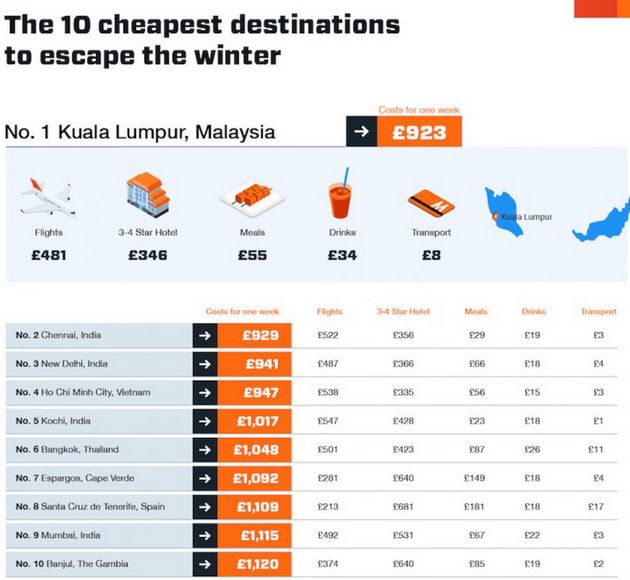 The most popular destination to flee the winter is Bangkok
Looking at the top ten most popular destinations, Bangkok isn't just the number one favourite, it's also the cheapest. While flight prices aren't the lowest of the most popular, cheaper 3-4 star accommodation helps to keep costs down, at an average of around £60 per night.
Four of the most popular winter destinations for this year are in Australasia; Sydney, Auckland, Melbourne and Perth. Unsurprisingly these further afield destinations are also the most expensive destinations of the top picks. Sydney is the priciest overall, around twice the price of Bangkok. Cape Town has expensive accommodation but makes up for it with reasonable flights and expenses.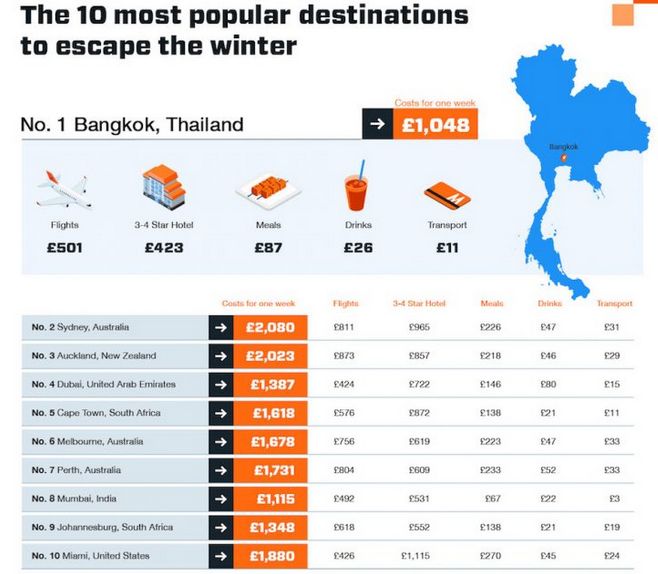 When it comes to eating out, Mumbai is the best bargain, with lunch and dinner each day coming in for under £10. For drinks, South African destinations have the cheapest prices for a daily coffee and local draft beer.
Singapore and Ho Chi Minh City have seen the biggest increase in flight searches year on year
Flight searches to Singapore have increased by 93% this winter compared to last winter, making it the top trending destination – but it's not the cheapest holiday option with overall costs around £1,429. For a similar-length flight, Brits can have a cheaper stay in the second top trending city of Ho Chi Minh in Vietnam. While average flight prices are higher, hotel accommodation is less than half the price, and all expenses are around one third of the price.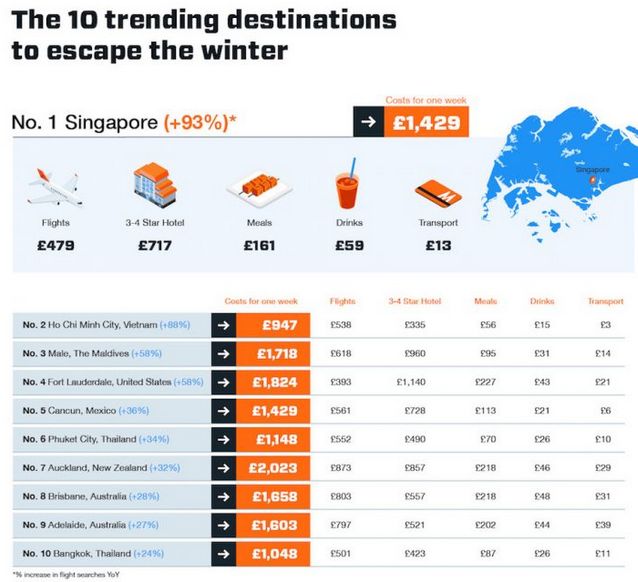 While 58% more travellers are searching for flights to the Maldives this year compared to last, they'll be shelling out a fair amount for this stunning destination, with total costs coming in around £1,718, largely thanks to high hotel prices. Ho Chi Minh City is the cheapest overall of the trending destinations at an average of £947 for a full week, and even further away, three destinations in Australasia complete the top trending list – Auckland, Brisbane and Adelaide.