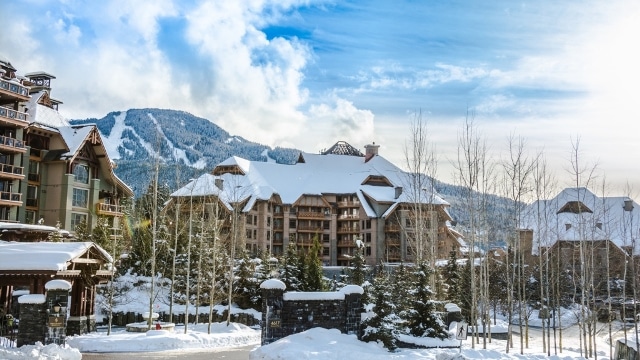 This winter, visit one, or all, of the Four Seasons Hotels and Resorts Mountain Collection properties. Gearing up for the 2018-2019 winter season, Four Seasons Resort and Residences Vail, Four Seasons Resort and Residences Whistler, Four Seasons Resort and Residences Jackson Hole and Four Seasons Resort Rancho Encantado Santa Fe are offering a plethora of ways to experience the world's most breathtaking mountain resorts.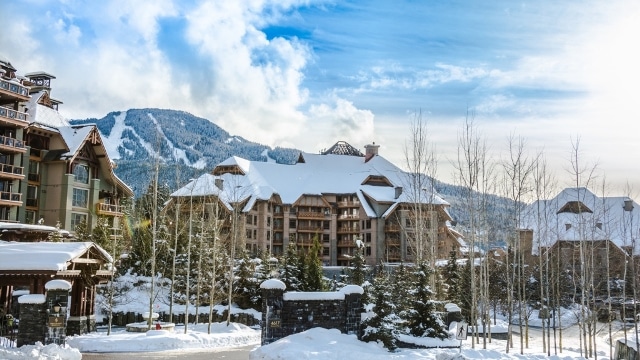 Take Après Outside
In celebration of the beloved alpine tradition of après, the resorts will introduce enticing activities to take après outdoors for guests and locals alike to relish in the beautiful mountain scenery.
Bubbles on the Snow – Ski up to the "Clicquot in the Snow" pop-up bar in Jackson Hole after a day on the slopes to enjoy some bubbles outside the newly renovated Westbank Grill in Jackson Hole. Champagne will be offered by the glass and bottle, and this year Clicquot's rosé will be available. Cheers!
Vintage Après Camper – The picture perfect Patio Camper is back for the winter season with a snowy make-over from Whistler's own visionary Ola Smazynski of Flock Events. The 1965 retro camper will serve hot chocolate, including sly ones for the adults, and cook-your-own s'mores, making the patio the perfect place to warm up after a crisp day on the slopes.
Après Elevated – This winter, Flame Restaurant inside Four Seasons Resort and Residences Vail will elevate après Fridays and Saturdays from 3:00 to 5:00 pm. Head to the Flame terrace and take in the breathtaking views of Vail Mountain while enjoying the Resort's world-famous Haute Chocolate, live music and raw bar.
Après at Terra – Santa Fe's award-winning restaurant Terra will be hosting a cosy après-ski experience out by the stunning fire pit daily from 5:00 to 7:00 pm. Delicious après-ski beverages, such as mulled wine and Boozy Hot Chocolate will be served alongside snacks, s'mores for two, and fondue for two.
Awaken Your Spirit Animal
Especially important in mountain towns, the resorts in Whistler, Jackson Hole and Vail are helping guests awaken their spirit animals.
Meet Moala, Whistler's Alaskan malamute. Enjoy a meet and greet with her every afternoon in the Resort's lobby, and make sure to take her home as a souvenir – a stuffed animal version of her of course.
At Four Seasons Resort Jackson Hole, make sure to meet Tillie the Resort's bernese mountain dog. In celebration of her first Jackson Hole winter, Tillie has launched theTillie of the Tetons cartoon book. The book is carefully crafted by local artist Greta Gretzinger and features fun facts about the Tetons, along with engaging activities for the Resort's youngest guests. Starting this December, cuddle and hang with Tillie in the Resort's library for après stor ytime, where hot cocoa and cookies will be served.
When in Vail, make sure to visit the Resort's life-size wire bears, located right outside off Meadows Drive. Created by renowned artist Rupert Till, the bears have been a "must see" since arriving to the Resort for its opening in December 2010. Meet Issy – named after Four Seasons Hotels and Resorts founder Isadore Sharp; Snowflake, representing Vail as one of the single largest mountain ski resorts in the United States; and Flower, who represents Vail's dazzling warmer months. Snap a photo and post to your social media channels, tagging #FSVailBears.
Wellness Your Way
Find wellness post-ski with these rejuvenating therapies at the Resorts' award-winning spas.
Find namaste at the The Spa at Four Seasons Resort Santa Fe this winter. Introducing "snow-ga," yoga in the snow, on Wednesdays from 9:30 to 10:30 am. The Resort will provide guests with cosy mittens to keep hands warm during the class.
Vail's Forbes Five Star Spa has created Colorado and mountain-inspired treatments, certain to aid in sleep, altitude adjustment and boosting energy while in Vail. Book, one or all, of the Mountain Cures, featuring the Sweet Dreams Sleep Cure, the Altitude Adjustment Cure and the Energy Cure.
Taking après to a holistic level, The Spa at Four Seasons Resort Jackson Hole will be offering an Après Ski Body Ritual, the perfect remedy to on mountain pursuits. The 80 minute ritual includes a Himalayan salt body soak, followed by a combination of massage techniques including the use of hot stones, followed by a willow bark wrap which is akin to being placed in a warm cocoon.
The SPA at Four Seasons Resort Whistler is all about heating up and relaxing after an exhilarating day on the mountain. The Après Mountain full body massage uses warm stones, hot towels and peppermint foot mask to ease inflammation and soreness while special emphasis is placed on the legs to rejuvenate tired muscles. Take the heat outside with the poolside SIDECUT barrel sauna made from northern western red cedar.
Ski Off Competition
Back by popular demand, the properties in Vail, Jackson Hole and Whistler will once again ask guests to compete against each other in a Ski Off competition. Guests will log vertical feet from a day on the slopes with their respective Ski Concierges. Then check the property Facebook page to see whose guests have accumulated the most vertical feet throughout the winter season. Follow along using #FSSkiCon and #FSAlpine.
Ready to book an epic ski experience? Enjoy these exclusive offers: