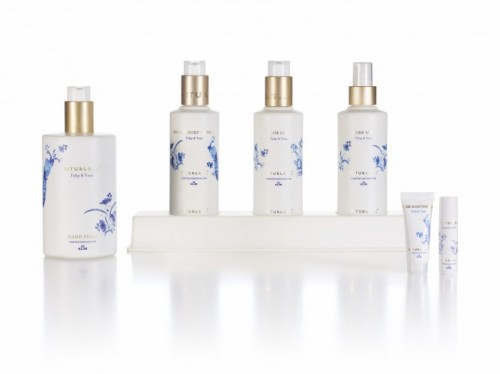 KLM has presented new exclusive Rituals product line 'The Amsterdam Collection' on Sunday 28 October. These Rituals products have been specially developed for KLM customers and are composed of products that evoke the ultimate feeling of relaxation, both during and after the flight.
'The Amsterdam Collection' was inspired by 'Where the Far East and the historic West first met'. The smells from the new line are a reflection of Dutch tulips and Japanese yuzu. The Rituals products will be available on board from Sunday 28 October 2018.
The look & feel of 'The Amsterdam Collection' is inspired by the design of 'De Dekselvaas' (dated 1695-1700) by the artist Gerrit Pietersz. Comb. The vase has been owned by the Rijksmuseum since 1969.
Rituals in World Business Class & Economy Class
All the products are available exclusively on KLM flights. The World Business class customers will have access to hand foam, hand lotion, hair gel and body mist in the lavatories. In addition, they will receive a set of face moisturizer and lip balm. Economy passengers will get hand foam in the lavatories.
Tulips and Yuzu
The tulip is known for its soothing effect on dry and sensitive skin. This flower helps to protect against free radicals and has moisture-inducing properties, which help prevent aging of the skin. The juice of the yuzu is often used medicinally as a painkiller and for relaxation. The fruit is very rich in anti-oxidants.
For KLM, cooperation with Rituals is a new step towards giving KLM customers a memorable travel experience, with which they arrive fresh, equipped and full of energy at their destination.