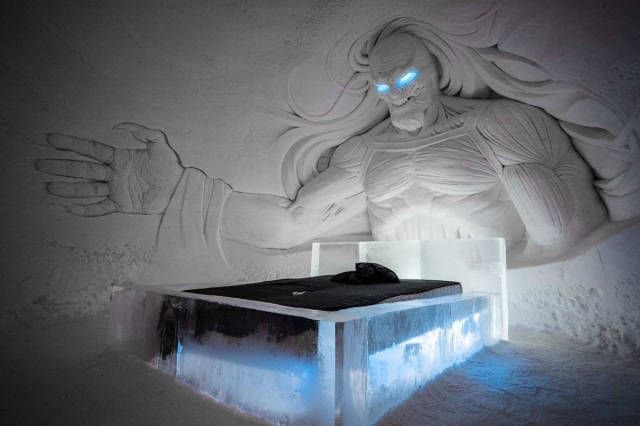 The ice hotel was built in collaboration with HBO, the television network behind the series, and is located at Lapland Hotels SnowVillage. Carved entirely out of ice and snow, the 14 bedrooms and ten suites each have incredible sculptures and carvings that showcase popular characters and themes from Game of Thrones.
Temperatures in the hotel are kept at minus five degrees Celsius, so guests are only advised to stay one night in the ice rooms. Anyone wanting to enjoy the experience for longer can book into one of the separate log cabins, which are heated and still offer access to the Snow Village.
The village is open for visitors daily and has a cinema, a chapel, an arctic bar that serves drinks in glasses carved from ice, and a restaurant with frozen dining furniture and a menu featuring reindeer steak.
Rooms at the hotel start from £148 per night, with an additional £15 fee for entry to the Snow Village.