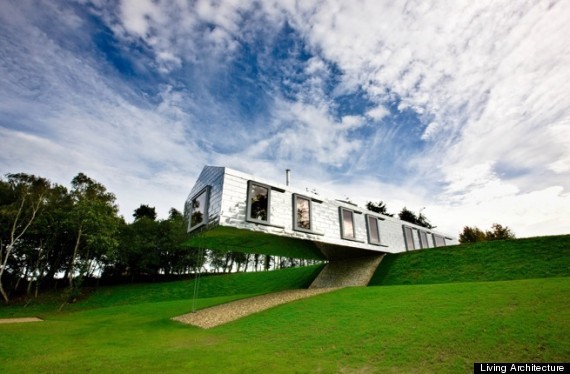 Not everyone wants the typical room service, continental breakfast, and double bed of a chain hotel. Whether you still harbor a childhood dream of living in a treehouse, or you love wine so much you'd give anything to sleep inside a giant empty wine barrel, there's a crazy hotel out there that fits your vacation needs. Sometimes, something whacky is called for. Here are 15 of the world's most craziest, eye-popping, weird, and wonderful hotels.
La Villa Hamster, Nantes, France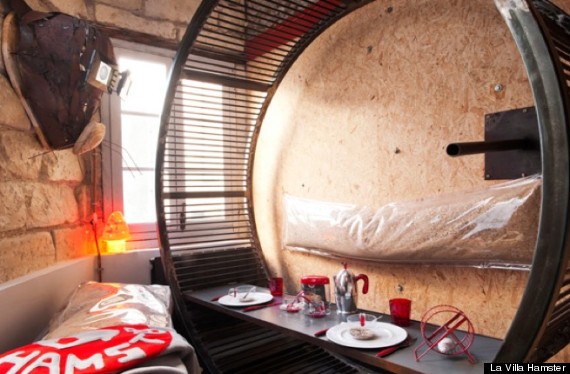 "Is it possible to put myself in the place of my hamster?" queries the website of this whacky gîte tucked on a humble Nantes side-street. If this question resonates with you, La Villa Hamster holds the answer–and with its woodchip-lined bathroom, haystack beds, giant suspended foot-operated water bottle, and trés romantique hamster wheel for two, the answer seems to be yes. Yes, you can be a hamster for a night if that's what you want, right down to the fur–the front desk equips each guest with hamster masks upon check-in.
Bubble Tree, France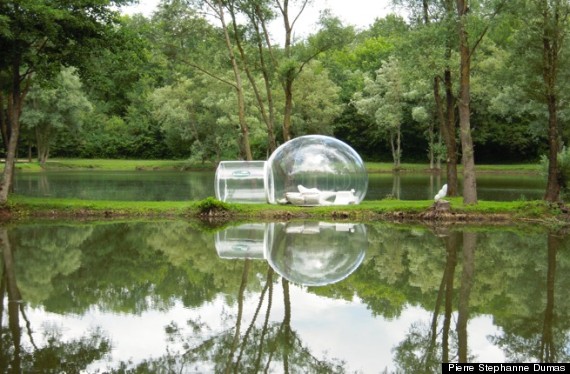 Living in a bubble isn't just for Glenda the Good Witch anymore. In France, you can see what it's like for at least a night by booking a stay in one of designer Pierre Stéphane Dumas's inflatable private pods. The see-through, surreal shelters are floating all over France in eight different nature-y locations, including 16th-century castle Château de la Forêt. Guests have options when it comes to privacy (half-translucent bubbles are available) and size–a "Bubble Lodge" can be created by combining a smaller bubble to the main one, or a "Grand Lodge" by attaching two full-sized bubbles. And with a filter that removes all bugs, moisture, and allergens, along with ultraviolet-proof plastic, these glamorous orbs provide protection from the elements that's much better than that of an actual bubble.
Grand Canyon Caverns Suite, Arizona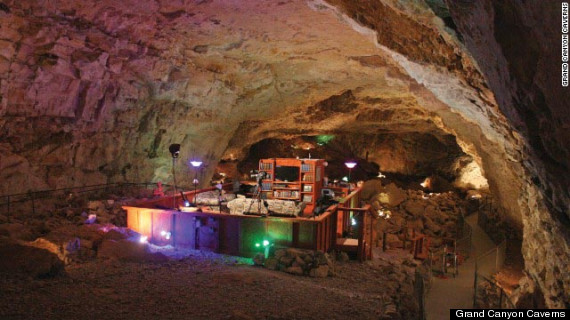 For true privacy on your next retreat, it'd be hard to beat the Grand Canyon Caverns Suite, which at 220 feet is so deep underground and devoid of natural light that absolutely nothing lives there. Thanks to the mammoth limestone cavern that contains it, the room's air is dry and filtered; and along with the beds, attached living area, and bathroom, the cavern is perfectly fit for human hospitality. In fact, the cavern functioned as a Cold War-era bomb shelter fit to support 2,000 survivors for a month. Nowadays, it's part of a larger, 48-room motel at the Grand Canyon and is a truly unique way to experience some of the last vestiges of Earth's most unspoiled territory.
Propeller Island, Berlin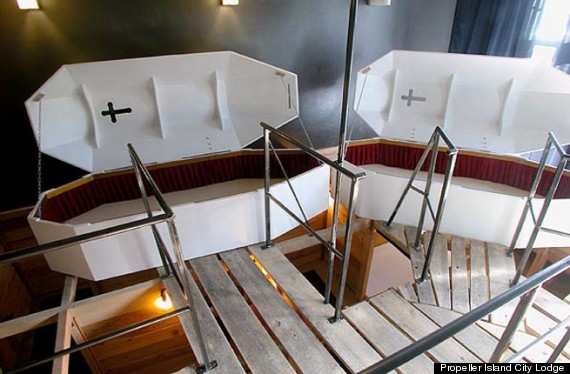 If the kooky, avant-garde ethos of Berlin could be captured in one hotel, it would be in the Propeller Island City Lodge. In fact, there's a reason "hotel" isn't in its name–a stay at Propeller Island is more akin to spending the night in a work of art. Every room comprises a radically unique ambience constructed entirely from the handiwork of German artist Lars Stroschen, including a peppy prison cell complete with coffin beds, a suite enveloped in mirror fragments, and a room where upside-down furniture dangles from the ceiling as you unpack your sunken bed from within the floor below.
Save the Beach Hotels, multiple locations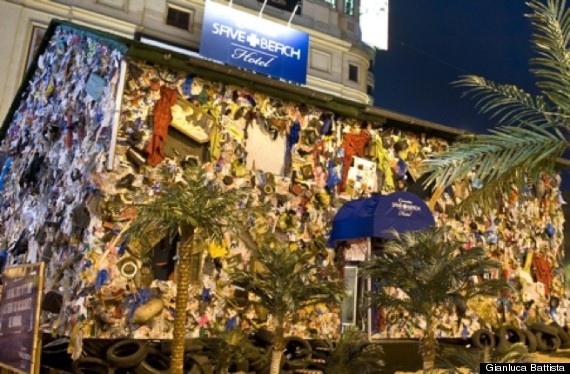 Who would have thought a hotel that's literally made of trash would have advocate-guests as well-heeled as Bar Refaeli, and Helena Christensen? Apparently German artist HA Shult foresaw a glamorous future in repurposing refuse as refuge-his mobile hotel creation, placed first in Rome in 2010 and then in Madrid in 2011, is constructed from 12 tons of litter found on beaches throughout Europe. The idea is to revitalize European beaches by cleaning them up, and the hotel is the mission's vibrant manifestation, with walls studded with everything from plastic bottles and crushed cans to abandoned instruments and limbs of discarded mannequins.
Sala Silvermine Underground Suite, Sweden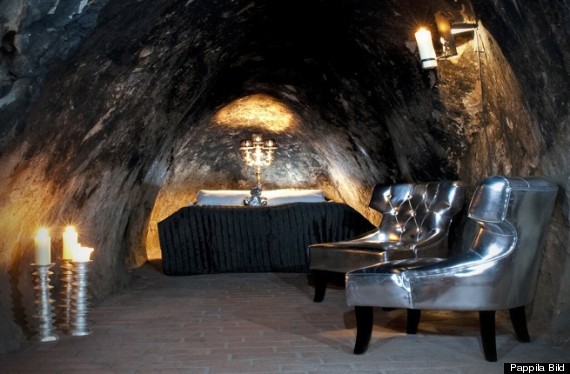 All that glitters is not gold–sometimes it's silver. Although, we're not sure if there's even enough light at 500 feet underground to cast a sparkle on anything. That's the depth of the Sala Silvermine Underground Suite, but the one-room hovel is mesmerizing if only for being the deepest hotel in the world, carved in an abandoned 18th-century Swedish silver mine and sparsely furnished with silver-hewn pieces. Guests are treated to a brief tour and then left to weather the chilly, 36-degree room for the night–not a suite for the faint of heart.
Dog Bark Park Inn, Idaho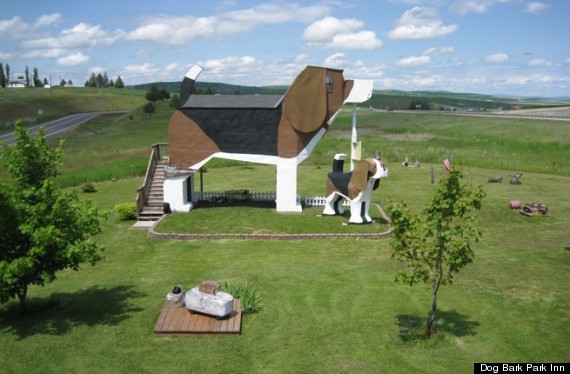 It's Clifford-sized, Snoopy-colored, and you can spend the night inside of it. It's a Trojan Dog of sorts, located on the Idaho prairie, along with a porta-potty disguised in a giant red fire hydrant. The Dog Bark Park Inn itself is a nine-meter tall beagle named "Sweet Willy" that houses a canine-themed wonderland, complete with 26 carved dogs and dog-shaped cookies. Guests sleep in a single room with a queen bed and an adjacent loft with two twin beds–probably the nicest doghouse you'll ever sleep in.
The Balancing Barn, England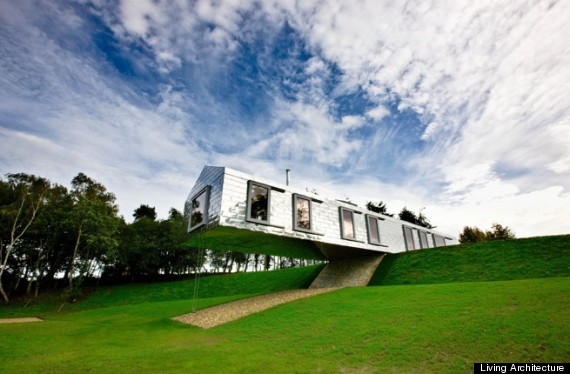 Vacation exists to strike a balance between work and play in life, so why not take that as literally as possible by booking a stay in the Balancing Barn? Perched on a picturesque hillside in Suffolk, England–which you can view through its panoramic windows framed by futuristic metallic tiles-The Balancing Barn is the manifestation of Alain de Boton's philosophy of the "architecture of happiness," built by UK conceptual architecture group Living Architecture. From its peaceful teetering point on the edge of a nature reserve, the eight-person sleeper has won a series of travel and design awards.
Palacio de Sal, Bolivia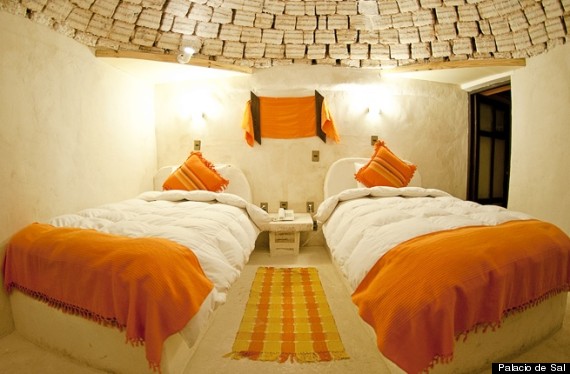 Stay far away from the Palacio de Sal if you're trying to cut back on sodium intake. The place is constructed from pure salt, from walls to floors to furniture. The chalk-white huts blend into the desolate ivory landscape of the Great Salar de Uyuni, which stretches into salty oblivion in all directions and provides excellent grounds for stargazing and popcorn-eating. Or French-fries, or potato chips…you get the picture. It's a land of salt, and lots of it. Just don't bring your pet slug.
CasAnus, Belgium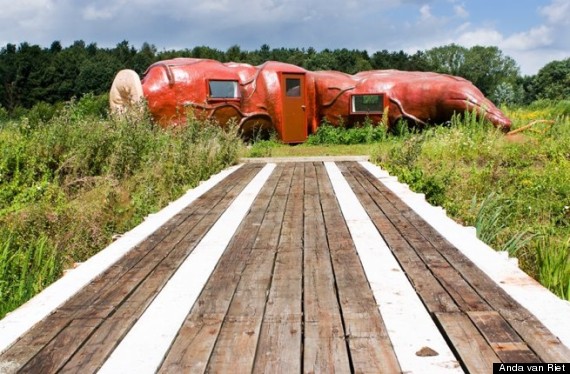 We're not sure why you would, but if you're ever compelled to spend the night in a giant sculpture of the human intestine, head to CasAnus in Belgium. The jaw-droppingly weird, bulbous sculpture is anatomically correct right down to the veins and lies coiled in a remote Belgian field. But the place is definitely no "dump": unlike human bowels, guests can enjoy a double bed, electricity, heat, and a full bathroom with hot water. Explains artist and CasAnus creator Joep Van Lieshout, "Our presentation is unfinished, in motion, unpolished, contradictory, untidy, complex, inharmonious,"–kind of like the human intestine, right?
Capsule Hotel, the Netherlands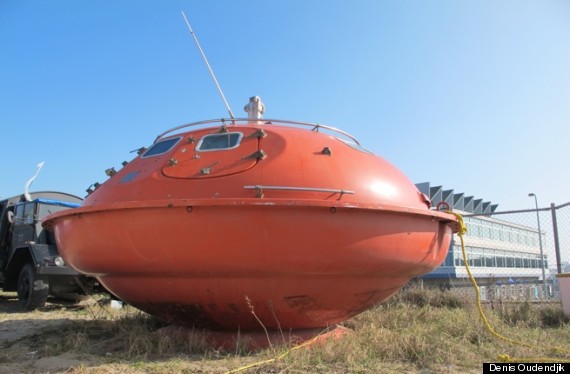 These quaint orange capsules resemble something out of Wes Anderson's The Life Aquatic, but they were actually rescue pods for an oil rigger back in the 70's. Artist Denis Oudendijk got the idea to transform them into floating hotels for an art project, and that's what they became–moored in the Hague, these 4.25 meter wide survival pods remain unchanged except for the addition of a lock and an "emergency" chemical toilet inside.
Giraffe Manor, Kenya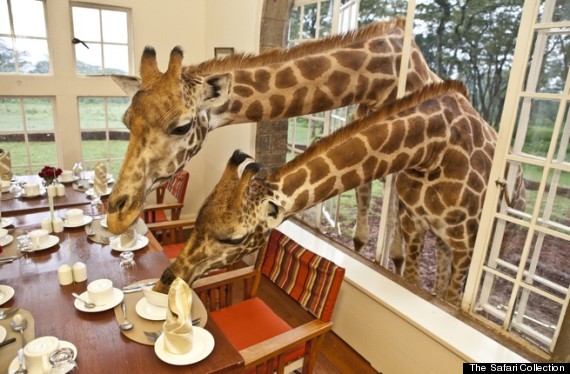 You can't be stingy with your brunch at Kenya's Giraffe Manor–one of the eight spotted, long-necked creatures who dwell on this sanctuary-like property will probably poke his head in for a snack, lick your plate clean and then amble away. The friendly giraffes make this East African hotel, which dates to the 1930s, a surreal yet uniquely nostalgic historical establishment. Other safari animals abound on the 140-acre property–if you're so inclined, stop by the David Sheldrick Elephant Orphanage and adopt a baby elephant before returning home.
Karostas Cietums/Karostas Guardhouse, Latvia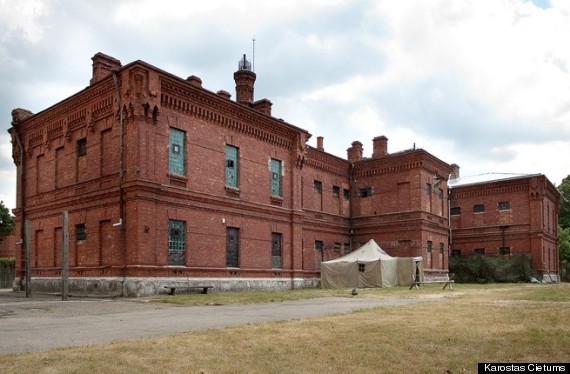 This naval port prison closed in 1997 after nearly a century-long run as a dank and dangerous lockup for military prisoners, but it's said to still be haunted by the ghosts of its grim tsarist past. Spooky Soviet remnants fill the dark, barren metal cells, and actors in military garb recreate the environment of the brig with terrifying realism. Guests can choose whether to take a tour with "elements of spectacle," engage in a full-on, participatory "reality show" called Behind the Bars, or truly place themselves in a prisoner's shoes by spending a dismal night at the prison in which they're processed just like prisoners would have been.
Treehotel, Sweden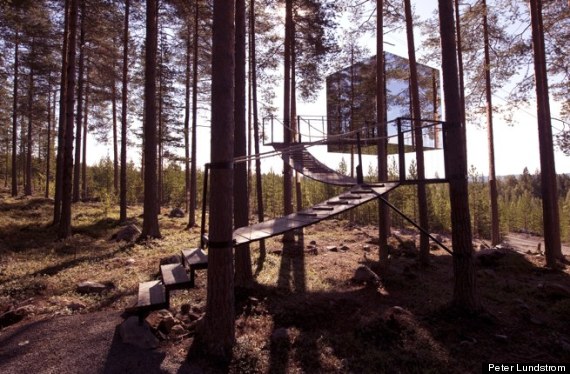 Having to haul your luggage up to a treetop perch is worth it when the dwelling is as undeniably cool as Sweden's Treehotel. The vertiginous lodgings float ethereally in the evergreen forest outside of tiny Harads village, designed by top Swedish architects to present the ultimate in design innovation. There's a bird's nest lookalike suite, an alien UFO suite, and a particularly futuristic suite that reflects the trees on all sides from its mirrored cubical walls. Guests ascend to their treetop roosts via ramp, bridge, or electric stairs. You might not want to leave the room, but just outside the Northern Lights, dog-sledding, and snow shoeing tempt in the winter, while summer touts excellent fishing and kayaking.
Hôtel de Glace, Canada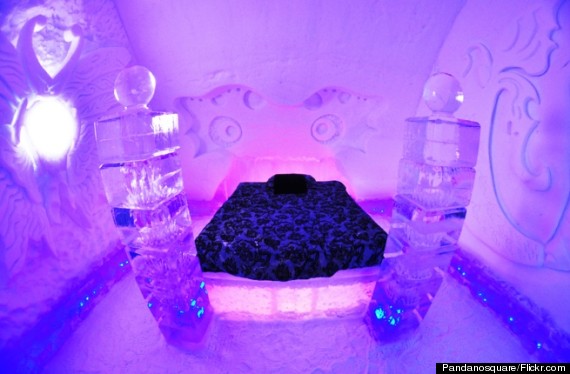 You don't need to live in an igloo to get the full Canadian experience, but it would probably be fun anyway. For a few months each year you can experience this sensationalized Eskimo lifestyle in this Québec City hotel, constructed entirely of ice and snow. Even the bedframes are freezing to the touch here, where 500 tons of ice and 15,000 tons of snow comprise soaring 18-feet ceilings and intricately carved furniture.
Source: huffingtonpost.com