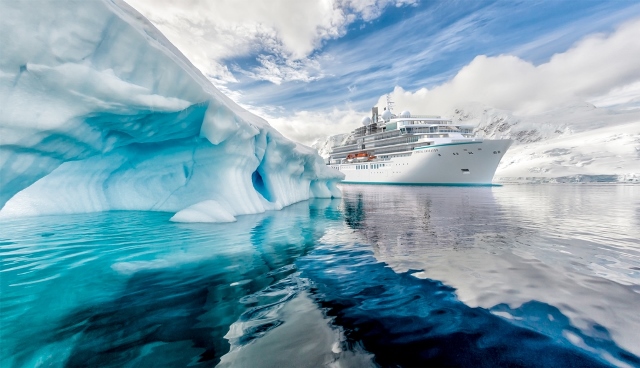 Today, Crystal announced the much-anticipated inaugural deployment of Crystal Endeavor, the first groundbreaking ship for Crystal Expedition Cruises. As the first and only true luxury expedition yacht to restart cruising in the Arctic and Northern Europe, Crystal Endeavor will sail five 10-night immersive voyages circumnavigating Iceland's most dramatically beautiful and fascinating locales beginning July 17, 2021. The Luxury Iceland Expedition voyages will sail round-trip from the ship's homeport of Reykjavík, affording travelers convenient air options, just six hours from New York City, three hours from London and with frequent non-stop flights from many major cities in the U.S. and Europe. Reservations for Crystal Endeavor's Luxury Iceland Expedition journeys open April 13.
The 20,200-GRT vessel is designed to the highest standards of renowned German engineering, with a focus on the luxurious details that have earned Crystal the travel industry's highest accolades for more than 30 years. Built at a cost of more than half a billion U.S. dollars, Crystal Endeavor will be the most spacious, fastest and most powerful expedition ship in the industry, with a Polar Class 6 (PC6) classification that enables her to sail in the Arctic and Antarctic regions.
Crystal Endeavor is designed to accommodate just 200 guests with a one-to-one crew-to-guest ratio delivering the personal and genuine service for which Crystal is known. Her luxurious design features expansive personal and social spaces, with 100 gross tons per person and 10,000 cubic feet per guest for a passenger space ratio of more than 100, making her the most spacious luxury expedition ship in the industry. This spaciousness will be further enhanced as she embarks on the Luxury Iceland Expedition Iceland voyages with reduced capacity.
Intensive, Enriching Expeditions
Designed to take travelers far off the beaten path of traditional cruise routes, the Luxury Iceland Expedition voyages offer intensive exploration of massive glaciers, breathtaking wildlife and stunning landscapes of the region during the season of endless daylight. Expert-led expeditions may include zodiac landings to rarely explored coastlines and treks to remote hidden locales.
Among the highlights of the itinerary are overnight stays in Reykjavík and Akureyri; a call to Grímsey Island and crossing the Arctic Circle; the unspoiled Arnarfjörður fjord, cascading Dynjandi Waterfall and famous geothermal springs of Vopnafjörđur and Seyđisfjörđur. The itinerary – which sails through peak whale migration in the region July through mid-September – also visits Patreksfjörđur, and pink- and red-sand Rauðasandur Beach; Iceland's whale-watching capital of Húsavík; and Heimaey, home to a beluga whale sanctuary. Birder havens include "puffin paradise" Hafnarhólmi; Flatey Island, a floating nature preserve that is home to thousands of puffins, Eider ducks, Black Guillemots and Arctic Terns; Vigur and the Látrabjarg Cliffs, where thousands more puffins reside.
Guests will have the rare opportunity to stand on the Bridge Between Two Continents, which spans the Mid-Atlantic rift and connects North America with Eurasia. Two of Iceland's three UNESCO World Heritage Sites are also featured: Þingvellir National Park and sailing around volcanic Surtsey Island.
A pre- and post-cruise luxury hotel program at the Hotel Borg in Reykjavík allows guests to extend their Crystal vacation in the heart of Iceland's captivating capital city. Located in the beautiful square of Austurvöllu and across from Althing, the Icelandic Parliament, the Hotel Borg is within walking distance from creative hubs of art, design and culture, including the city's burgeoning music scene. History buffs will relish museums and sites dedicated to Iceland's rich maritime and Viking past, while foodies will find innovative local fare ranging from fine cuisine to globally influenced fusion restaurants. Guests have the option of one-, two- or three-night stays, with inclusive transfers between Crystal Endeavor, the hotel and the airport and all taxes and resort fees.